Main content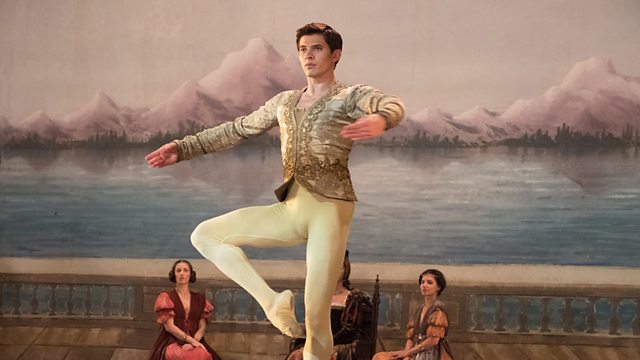 The White Crow reviewed and tackling difficult issues in theatre
Ralph Fiennes' new film The White Crow reviewed, two playwrights on tackling contentious issues in the theatre
Ralph Fiennes' third film as director is The White Crow, the story of how Russian ballet dancer Rudolf Nureyev came from a peasant upbringing to be one of the greatest dancers, and how whilst on tour in Paris in 1961 he defected to the West from the Soviet Union. Critic Sarah Crompton reviews.
Last week dozens of well-heeled American parents, including actresses Felicity Huffman and Lori Loughlin, were charged with involvement in a scheme to fabricate academic and athletic credentials to get their children into prestigious universities. And last week Joshua Harmon's play 'Admissions' opened here. It's about a woman who, devoted to improving diversity at her elite school, finds herself somewhat challenged when her son doesn't get into Yale - but his mixed race best friend does. And this week another American play, 'Downstate' by Bruce Norris, opens at the National Theatre. This is set in a group home where four men, convicted of sex crimes against children and tagged, live. A man comes to confront his abuser, but our sympathies are not only with him. With Samira Ahmed the two playwrights discuss how and why, far from being escapist, the theatre is where contentious issues are imaginatively examined today.
Presenter : Samira Ahmed
Producer : Dymphna Flynn
Last on
The White Crow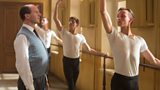 The White Crow, certificate 12 A, is in UK cinemas from 22 March 2019.
Main Image: Oleg Ivenko (Rudolf Nureyev)
Image: Ralph Fiennes (Alexander Ivanovich Pushkin)
Image Credit: StudioCanal
Covering contentious issues in drama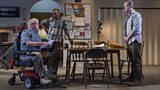 Downstate is at the National Theatre: Dorfman Theatre until 27 April 2019. It is a co-production with Steppenwolf Theatre Company. Full details can be found on the website. 
Admissions is on at Trafalgar Studios until 25 May 2019.  Full details can be found on the website. 
Image: (From L to R) - Francis Guinan (Fred), K. Todd Freeman (Dee) and Tim Hopper (Andy)Image Credit: Michael Brosilow
Mosul Book Bridge
The Mosul Book Bridge campaign set up by Dr Alaa Hamdon, has been set up to replace all the destroyed books in Mosul University Library. Full details can be found on their
website
.
Broadcast