Main content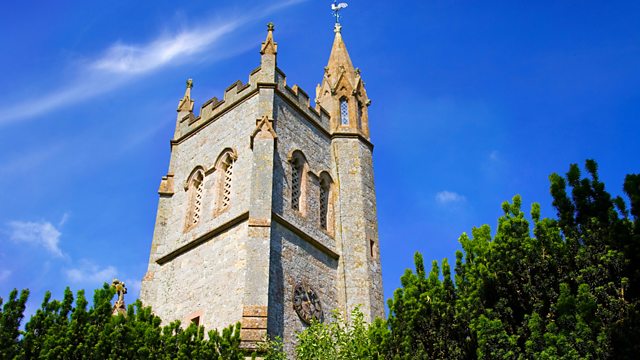 Invitation to Service
In an increasingly divided society the bible calls individuals, churches and communities to build bridges between loneliness and belonging. Preacher: Bishop Harold Miller.
Bishop Harold Miller is the preacher live from Down Cathedral in Northern Ireland as Radio 4's worship services continue their journey through Lent. In an increasingly divided society the bible calls individuals, churches and communities to build bridges between loneliness and belonging - this week, through the invitation to Service.
Readings: Isaiah 55:1-3, 6-9; John 19: 28-30.
How lovely is your dwelling place, O Lord of hosts to me
I heard the voice of Jesus say
Be thou my vision
Christ be our light
O Christ the same, through all our story's pages
The service is led by the Dean Henry Hull. The Director of Music is Michael McCracken and the organist, Stephen Hamill.
Producer: Bert Tosh. A link to resources for individuals and groups can be downloaded from the Sunday Worship web pages.
Script
This script cannot exactly reflect the transmission, as it was prepared before the service was broadcast. It may include editorial notes prepared by the producer, and minor spelling and other errors that were corrected before the radio broadcast.
It may contain gaps to be filled in at the time so that prayers may reflect the needs of the world, and changes may also be made at the last minute for timing reasons, or to reflect current events.
OPENING ANNOUNCEMENT
BBC Radio 4. It's time for Sunday Worship which on this St Patrick's Day comes live from Down Cathedral in Northern Ireland. The preacher is the Bishop of Down and Dromore, the Right Reverend Dr Harold Miller and the service is introduced by the Dean of Down, The Very Revd Henry Hull:
DEAN: Cead Mile Failte romhaibh go Dun Paidrai  augus
Lá Fhéile Pádraig Shona
The warmest of welcomes to Downpatrick
and Happy St Patrick's day !!
This is a very special day as we celebrate our patron Saint whose burial place is here on the hill of Down where our Cathedral Church stands.
Over the centuries this has been, and still is,
 a place of pilgrimage, prayer and worship
and a significant part our ministry to welcome and offer hospitality to the thousand of visitors who come here each year
from all over the world.
We are delighted that you are joining us for our worship today.
We begin with the hymn I heard the voice of Jesus say
HYMN  I heard the voice of Jesus say,
'Come unto me and rest; (Irish traditional melody)
DEAN "Building bridges between loneliness and belonging is the theme taken by Radio 4's worship programmes during Lent.
Today's service reflects this week's  theme 'Invitation to Service' in our readings, interview and sermon
Peter Chambers won a silver medal at the 2012 London Olympics and Gold at the European Championships for rowing so his body is in optimum condition, and he knows better than most people just how essential proper hydration is.
Yet for all his training nothing could quite prepare him for what he discovered in South West Uganda.
Travelling with a Christian charity Peter and his professional athlete brother Richard stayed for a week in a village in the mountains and tried to keep up with two young girls Doreen  and Givlette as they went about their daily routine of fetching water for their families.
Interview insert 
IN They basically live in a…
OUT …you get the water to survive  DUR 1.32
DEAN A longer version of Peter's interview can be heard on the Sunday Worship web site or on BBC Sounds. There are also Lent resources for individuals and small groups prepared by the Bible Society and a link to the resources can be found from the Sunday Worship website or by searching "Lent 2019 Bible Society."
St Patrick who was no stranger to loneliness and deprivation, especially during his time in captivity, began his writings, his Confession, explaining how hardship had brought him back to God.
READER My name is Patrick.
I am a sinner, a simple country person,
and the least of all believers..
I was taken prisoner. I was about sixteen at the time.
It was among foreigners that it was seen how little I was.
It was there that the Lord opened up my awareness of my lack of faith. Even though it came about late, I recognised my failings. So I turned with all my heart to the Lord and he looked down on my lowliness and had mercy on my youthful ignorance.
DEAN Let us today also turn to the Lord
recognising our failings and confessing our sins to God
CHOIR Penitential Kyries
Lord have mercy, Lord have mercy
Christ have mercy, Christ have mercy
Lord have mercy Lord have mercy
BISHOP May the Father of all mercies cleanse you from your sins, and restore you in his image to the praise and glory of his name, through Jesus Christ our Lord.  Amen.
HYMN How lovely is your dwelling place,
O Lord of hosts, to me  (Irish traditional melody)
READER A reading from Isaiah Chapter 55
Ho, everyone who thirsts,
    come to the waters;
and you that have no money,
    come, buy and eat!
Come, buy wine and milk
    without money and without price.
 Why do you spend your money for that which is not bread,
    and your labour for that which does not satisfy?
Listen carefully to me, and eat what is good,
    and delight yourselves in rich food.
  Incline your ear, and come to me;
    listen, so that you may live.


 Seek the Lord while he may be found,
    call upon him while he is near;
   let the wicked forsake their way,
    and the unrighteous their thoughts;
   let them return to the Lord, that he may have mercy on them,
    and to our God, for he will abundantly pardon.
      For my thoughts are not your thoughts,
    nor are your ways my ways, says the Lord.
     For as the heavens are higher than the earth,
    so are my ways higher than your ways
    and my thoughts than your thoughts.
This is the word of the Lord
Thanks be to God
HYMN Christ be beside me, Christ be before me,
Christ be behind me, King of my heart.  (Scottish) traditional melody)
READER John Chapter 19
 After this, when Jesus knew that all was now finished, he said (in order to fulfil the scripture), 'I am thirsty.'  A jar full of sour wine was standing there. So they put a sponge full of the wine on a branch of hyssop and held it to his mouth.  When Jesus had received the wine, he said, 'It is finished.' Then he bowed his head and gave up his spirit.
This is the word of the Lord
Thanks be to God
BISHOP Sermon
It is surely one of the most ironic aspects of the life of Jesus Christ that the one who has declared; 'If anyone is thirsty, let him come to me and drink', should also cry out in utter pain and anguish form the cross of Calvary, 'I am thirsty'. The God who says 'Ho, everyone who thirsts, come to the waters', when he is reigning from the tree has himself nothing to drink. The great Irish hymn writer, Cecil Frances Alexander, who wrote, 'All things brought and beautiful', and 'There is a green hill far away', also wrote a hymn on this theme:
His are the thousand sparkling rills (small streams)
which from a thousand fountains burst,
with music filling all the hills,
and yet he saith 'I thirst'
And, if that isn't ironic enough, the one whose first miracle is turning water into the most exquisite of wines at the wedding feast in Cana of Galilee, is given only cheap wine vinegar to drink from a sponge in his last minutes of life.
One of the liturgies I value most in the Christian year is the Three Hours service on Good Friday when we have the opportunity to sit reflectively at the foot of the cross and hear preaching on the seven words of Christ. When it comes to 'I thirst', I always think it is the one which expresses the total humanity of Jesus. His needs are our needs, he identifies with our sufferings, he really understand our human condition. Of course at the same time, Jesus Christ is fully divine, and John's Gospel makes clear at every point that he is in control of what is happening -as he completes God's prophesied plan, and finishes the work of salvation for us:
After this, when Jesus knew that all was now finished, he said
(in order to fulfil the scripture) 'I am thirsty'.
and, in fulfilment of Psalm 69:21, they gave him vinegar to drink.
The need for something to drink is surely one of the most basic and fundamental of human needs. We see it even in a newborn baby. That's why the Olympic silver medallist, Peter Chambers told us of his remarkable experience in Uganda earlier in today's worship. Young girls walking a long distance, uphill, with heavy containers, to get water and carry it back to their families. We simply cannot survive without liquid. Our bodies are about 60% water. We might survive for three weeks without food, but barely seven days without water. Not surprising that aid agencies so often
get involved in boring wells, in communities which do not have them, so that people can have a supply of clear pure water, safe to drink.
What we see before us on the cross of Calvary is the dying Jesus - in the words of Psalm 22: his strength dried up and his tongue sticking to his jaws-, in the hot midday sun and the trauma of crucifixion, with his very life draining away, simply and movingly speaking out his felt human need.
When the pilgrims arrive each year at this Cathedral, having come from the place at Saul where Patrick planted his first church in a barn, to this hill where he is most probably buried, the first words they see just as they enter, are these:
I was a stranger, and you welcomed me.
-words of hospitality from Matthew 25, which we seek to live out here in this place.
Just before those words in that passage of scripture, it says this:
I was hungry, and you gave me food,
I was thirsty, and you gave me drink.
Because the soldiers were gambling, often cynical, hardened, cruel, I used to think that giving Jesus wine vinegar was part of their cruel, inhumane way of acting. I no longer think so. Jesus had been offered a drink before the crucifixion, 'wine mixed with gall', probably to ease the pain, and poison him or make him less conscious. This he had refused, because he wanted to be totally present in his suffering. But now he is given, even with a degree of kindness from his enemies, a little bit of the cheap solders' drink, probably wine vinegar mixed with water, on a soaked sponge on a piece of hyssop. Those around could have ignored him, jeered at him, reminded him that he had refused the first drink, whatever, because to crucify someone, you have to dehumanise them in your mind. But for that moment, they didn't.
There is therefore a challenge for Christians in this. If even an unbelieving soldier was momentarily touched by the human need of Jesus, how do we, who believe, in the strap line of the aid agency which sent Peter Chambers and his brother out to Uganda, 'follow Jesus where the need is greatest'? Human need can simply overwhelm us, or numb us, or desensitise us. But the one hanging on the cross who needs a drink, is also the one who drinks his own cup of suffering for our needs.
St Patrick in his Confession puts it like this:
'What return can I make to him for all his goodness to me?
What can I say or what can I promise to my Lord…
Suffice it for him to look into my heart and mind;
for I am ready and indeed greatly desire it
that he should give me his cup to drink
as he gave it to others who loved him.
When the pilgrims leave this Cathedral tomorrow, they will see facing them something which was not there last year. A most impressive replica, in Mourne granite, of the Celtic high cross which stood here when the cathedral was a Benedictine abbey. It is large and imposing and very beautiful. But, for me, the most remarkable thing about it is that there is a handprint worked into its base, where pilgrims to this place are invited to place their hand to connect with the cross. When it was dedicated the Catholic bishop and I placed our hands there as a sign of our common commitment to Christ.
Perhaps the pilgrim will say something like this:, 'Lord, Jesus, thank you that you thirsted, suffered and died for me, now let me drink from the wells of your salvation, and live to serve you and the needs of other people all my days. That would be a great and life-changing -
ANTHEM – Be Thou my Vision (Irish traditional melody arranged Bob Chilcott)
DEAN Let us affirm our faith in these words of St Patrick
There is no other God, nor will there ever be,
nor was there ever, except God the Father.
He is the one from whom all beginnings come,
the one who holds all things in being
And his son, Jesus Christ, whom we testify has always been,
since before the beginning of this age,
He became a human being; and, having overcome death,
was welcomed to the heavens to the Father.
The Father gave him all power over every being,
both heavenly and earthly and beneath the earth.
Let every tongue confess that Jesus Christ, is Lord and God
He is judge of the living and of the dead
He has generously poured on us the Holy Spirit
who makes believers and those who listen
to be children of God and co-heirs with Christ
This is the one we acknowledge and adore
one God in a trinity of the sacred name.
HYMN  Christ, be our light! (Bernadette Farrell)
REV JULIE BELL Intercessions
Heavenly Father,
you clothed your servant Patrick
with power to carry the gospel of Christ
out to the very ends of the earth,
and with humility and compassion
to walk among those who had taken him captive;
grant to us, the inheritors of Patrick's mission,
this same power, humility and compassion,
to reveal your Son in lives of reconciling grace,
that as a people prepared we may turn our hearts to the Lord.
Almighty God,
you are the creator and provider of all things,
and yet in your Son you became a human being, dependent on others;
bless the work of all who serve the needs of the poor,
and restore in our world a humble dependence on you and on one another,
that we may both give and receive the hospitality of Christ,
for his glory's sake.
Father of all,
in your Son you invite everyone who is thirsty to come;
and anyone who wishes to take the water of life as a gift;
may all who hear your name today thirst for this living water,
and find in it the gift of forgiveness, joy and peace,
through Christ who took our thirst upon himself,
that we may thirst no more.
As our Saviour Christ has taught us, so we pray
Our Father in heaven,
hallowed be your name,
your kingdom come,
your will be done,
on earth as in heaven.
Give us today our daily bread.
Forgive us our sins
as we forgive those who sin against us.
Lead us not into temptation
but deliver us from evil.

For the kingdom, the power, and the glory are yours
now and for ever. Amen.
HYMN I cannot tell why He, whom angels worship,
  Should set His love upon the sons of men,  (Irish traditional melody)
BISHOP
God, who in days of old
gave to this land the benediction of his holy Church
fill you with grace to walk faithfully in the steps of the saints
and to being forth his glory:
and the blessing of God almighty,
the Father, the Son and the Holy Spirit,
be upon you and remain with you always.  Amen.
ORGAN:  St Patrick's Breastplate
Sunday Worship came live from Down Cathedral. The preacher was the Bishop of Down and Dromore Harold Miller and the leader was the Dean Henry Hull: The Director of Music was Michael McCracken and the organist Stephen Hamill. The producer was Bert Tosh. Next week Sunday Worship comes live from Kerith Community Church, Bracknell and takes as its theme 'Invitation to Hope'. Lent resources complementing the programme themes for individuals and groups can be found on the Sunday Worship website.  
How an Olympic medal-winning rower lost a challenge to a 12-year-old girl
"We walked for peace, to proclaim the possibility of peace in that fought-over land."