Main content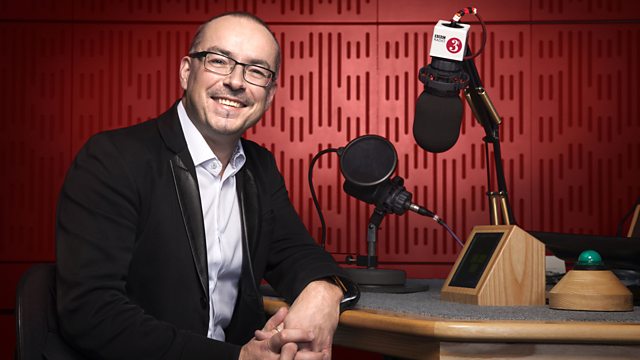 Andrew McGregor with Tom Service and Erik Levi
The best new classical releases, plus Tom Service picks a favourite recording of Brahms's Piano Concerto No 2 and Erik Levi reviews Wilhelm Furtwangler's wartime Berlin recordings.
with Andrew McGregor
09.30
Building a Library: Tom Service picks a personal favourite from among the recordings of Brahms's Piano Concerto No. 2 in B-flat major, Op. 83.
At once majestic and virtuosic, introspective and symphonic, Brahms teasingly described his near hour-long, four-movement concerto as a 'tiny, tiny piano concerto with a tiny, tiny wisp of a scherzo.' It's an endlessly recorded staple of the repertoire, a challenge to soloist, conductor and orchestra alike.
10.50
Erik Levi sifts through 'Wilhelm Furtwängler: The Radio Recordings 1939-1945'. The 22-CD set, issued by the Berlin Philharmonic, the orchestra Furtwängler had led since 1922, includes symphonies and concertos by Beethoven, Brahms, Bruckner and Schubert, plus works by the legendary conductor himself.
11.45
Andrew chooses an outstanding new release as his Disc of the Week.
Last on

Record Review
9.00am

'French Music for Ballet' – Sauget: Les Forains; Massenet: Ballet suite from Hérodiade; Ibert: Les Amours de Jupiter
Estonian National Symphony Orchestra
Neeme Järvi (conductor)
Chandos CHAN20132
https://www.chandos.net/products/catalogue/CHAN%2020132

'Colorature' – Coloratura arias by Offenbach
Jodie Devos (soprano)
Münchner Rundfunkorchester
Laurent Campellone (conductor)
Alpha 437
https://outhere-music.com/en/albums/colorature-alpha437/tracks

Haydn: String Quartets Op.71 + Scottish folk music by Fraser, Gow, Skinner, Smith & MacGregor arranged for string quartet
Maxwell Quartet
Linn CKD 602
https://www.linnrecords.com/recording-haydn-string-quartets-op-71

'Desires' – Choral music setting the words of the Song of Songs by Brumel, Clemens, Gabriel, Ceballos, White, Grier, Gombert, Victoria, Dove, Vivanco, Palestrina, Esquivel & J. Barber
ORA Singers
Suzy Digby (conductor)
Harmonia Mundi HMM 905316
http://www.harmoniamundi.com/#!/albums/2505

9.30am – Building a Library – Tom Service on Brahms's Piano Concerto No.2
Composer: Johannes Brahms
Reviewer: Tom Service
Recommended Recording:

Krystian Zimerman (piano)
Wiener Philharmoniker
Leonard Bernstein (conductor)
DG E4153592
Other Recommended Recordings:

Artur Schnabel (piano)
BBC Symphony Orchestra
Adrian Boult (conductor)
Naxos 8110665

Stephen Kovacevich (piano)
London Symphony Orchestra
Colin Davis (conductor)
Philips 4421092

Maurizio Pollini (piano)
Vienna Philharmonic Orchestra
Claudio Abbado (conductor)
DG 4194712

Artur Rubinstein (piano)
RCA Victor Symphony Orchestra
Josef Krips (conductor)
RCA 09026614422
10.20am – New Releases
Bach: Violin Concertos BWV 1052R, 1042, 1060R, 1056R, 1041 & 1043 + Trio Sonatas BWV 529 & 527, Overture No.2 BWV 1067 & Sinfonia BWV 1045
Isabelle Faust (violin)
Bernhard Forck (violin & direction)
Xenia Loffler (oboe and recorder)
Jan Freiheit (cello)
Raphael Alpermann (harpsichord)
Akademie für Alte Musik Berlin
Harmonia Mundi HMM902335.36 (2 CDs)
http://www.harmoniamundi.com/#!/albums/2506

Salonen: Cello Concerto
Yo-Yo Ma (cello)
Los Angeles Philharmonic
Esa-Pekka Salonen (conductor)
Sony 19075928482

'Joseph Haydn and his London Disciples' – Haydn: Sonatas Hob.XVI:50 & XVI:52; Haigh: Three Canconettas for Pianoforte after Haydn, Fantaisie for the Pianoforte & Sonata II in B-flat major for the Pianoforte; Latrobe: Three Sonatas for the Pianoforte, Op.3
Rebecca Maurer (fortepiano & harpsichord)
Genuin Classics GEN 19650
http://www.genuin.de/en/04_d.php?k=499

Rachmaninoff: The Isle of the Dead & Symphony No.1 in D minor
London Philharmonic Orchestra
Vladimir Jurowski (conductor)
LPO Live LPO-0111
https://www.lpo.org.uk/recordings-and-gifts/5409-cd-rachmaninoff-the-isle-of-the-dead.html


10.50am – New Releases with Erik Levi
Wilhelm Furtwängler: The Radio Recordings 1939–1945
Berliner Philharmoniker BPHR180181 (22 SACDs + download code & 184 page booklet)
https://www.berliner-philharmoniker-recordings.com/radio-recordings.html

11.45am – Disc of the Week
'Revelations: Complete Beethoven String Quartets, Vol.2' – Beethoven: String Quartets Nos.2, 8, 9, 10 & 15
Cuarteto Casals
Harmonia Mundi HMM 902403.05 (3 CDs)
http://www.harmoniamundi.com/#!/albums/2507

Broadcast