Main content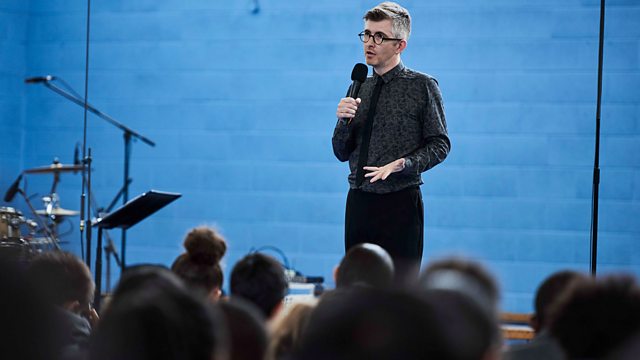 The school next to Grenfell Tower asks Gareth Malone to help pupils create a concert to mark the reopening of their building. They find they have a unique and moving story to tell.
"We are typical teenagers who happened to be in the area Grenfell happened." In June 2017, Kensington Aldridge Academy, the school next to the tower, had to relocate following the fire that claimed 72 lives. Five of the victims were students of the school.
In this two-part series, we hear from the pupils of KAA as choirmaster Gareth Malone helps them create a concert to mark their return.
In episode one, principal David Benson invites Gareth to spend the summer term in KAA's temporary home – a collection of swiftly assembled temporary accommodation a mile away. David hopes the school will return to their original site in September and wants to mark the occasion with a concert. KAA specialises in performing arts and David believes passionately in the value of music and singing. He asks Gareth to help the students produce a performance that will celebrate their pride in the community, their happy memories and the courage and resilience they have shown.
Gareth gets to work with the existing choir. It is small but rehearses once a week after school. In his first session Gareth discovers one pupil is named Lyric and asks the 14-year-old if, with a name like that, she has ever written any. Suddenly Lyric performs a song she has penned as a tribute to lost friends. Lyric has never sung it to anyone and her best friend and fellow choir member Olivia is moved to tears.
Olivia's mum, Svetlana, describes how her daughter is coping: she has good days and bad days. If the school hadn't been so quick to provide support, she would have suffered a lot more.
What impresses Gareth about Lyric's song is that it comes from her own experience. He is convinced the return performance should be created by the children. It can tell the story of KAA from its beginnings, and look ahead to the future. When he shares the plan for an original musical with the head, David is taken aback. This is more risky than the covers of pop songs he imagined, but he recognises it could be much more powerful.
Meanwhile the Grenfell Inquiry has started and David comes under pressure as a small but vocal minority of parents express concern about the plan to return to the original building. They have questions about safety and the emotional effect on students. David wants parents to be confident his focus is on the kids and that consultation about the move back is gradual and careful. He worries that Gareth's work with the pupils could give the impression that the outcome is already decided. He instructs Gareth to scale back, limiting him to taking only the weekly choir rehearsals.
Despite the restriction, Gareth finds at the next rehearsal that the choir is growing. He has a new goal for them: to create a song to be performed at the end of term assembly. The kids respond immediately.
Gareth is encouraged by the songwriting, and is particularly impressed by 14-year-old Adil, who was at the forefront of the creative process and came up with 'Life is short, your days are limited, you want to be the best you can be.' Adil tells us these words are drawn from his own life. He has been in foster care since he was three, with a succession of foster parents. He has been with his present foster family for four years.
Adil admits his experiences have set him back at school, and we learn from his teacher that he can be disruptive in class and confrontational with staff. He has strong emotions but doesn't know how to cope with them. He finds it hard to trust people due to the upheaval in his life, and to make matters worse, he is now having a tough time at his current foster placement.
The process of safety checks and consultation about the move back concludes. In a poll of students and parents, an overwhelming majority vote to return. Gareth gets back to promoting the final performance. He organises a lunchtime open mic session for the whole school as a chance to have fun, and to show that the concert is for everyone, not just the choir.
The song the choir will perform at end of term assembly is coming together, with two Year 10 boys, Jeriel and Cam'ron, contributing spoken word sections. Adil hasn't been back to choir, but turns up on the day before the assembly. He tells Gareth he has been moved to a new foster placement. It is two hours from school and he doubts he will make it in time for the performance.
Without space for all 1,000 pupils to gather, KAA borrows the sports hall of the neighbouring school for the assembly. For the choir, it is the first time they put their original material to the test. Adil arrives in time, but won't join the choir. Gareth can't persuade him - all he can do is use his introduction to credit Adil for his contribution.
The performance starts, but something no one could predict halts the singers mid-flow. For Adil, the interruption is an opportunity to reflect on his place in the choir.
More episodes
Previous
You are at the first episode
Clips

Credits
| Role | Contributor |
| --- | --- |
| Participant | Gareth Malone |
| Series Producer | Vicky Mitchell |
| Director | Ben Rumney |
| Production Company | Twenty Twenty Productions |
| Narrator | Natasha Little |