Main content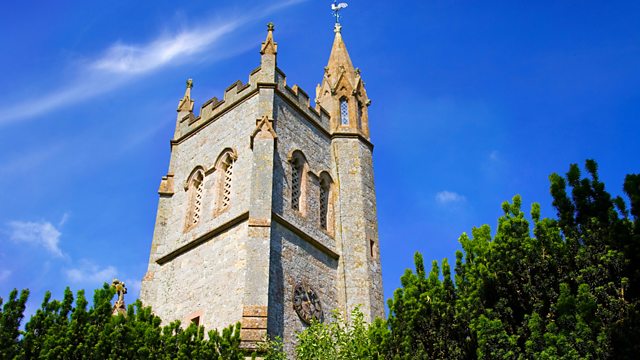 Invitation to forgiveness
In an increasingly divided society, the Bible calls individuals, churches and communities to build bridges between loneliness and belonging. Preacher: Dr Krish Kandiah.
Dr Krish Kandiah is the preacher live from St Mary's Church in Bowdon as Radio 4's worship services begin the journey through Lent. In an increasingly divided society the bible calls individuals, churches and communities to build bridges between loneliness and belonging - this week, through the invitation to forgiveness. Reading: Luke 23:32–38. Leader: The Revd Jess Piper; Musical Director: Michael Dow; Producer: Janet McLarty. A link to resources for individuals and groups can be downloaded from the Sunday Worship web pages.
Rachel Riddall explains how she forgave the driver who killed her 11-year-old son.
Script
Please note:
This script cannot exactly reflect the transmission, as it was prepared before the service was broadcast. It may include editorial notes prepared by the producer, and minor spelling and other errors that were corrected before the radio broadcast.
It may contain gaps to be filled in at the time so that prayers may reflect the needs of the world, and changes may also be made at the last minute for timing reasons, or to reflect current events.
Opening Announcement [from Continuity]
BBC Radio 4.  Time now for Sunday Worship to mark the first Sunday in Lent. It  comes live from St Mary's Church in Bowden, Cheshire.  The service is led by the curate, the Reverend Jess Piper and begins with the anthem 'Lord for thy tender mercy's sake, lay not our sins to our charge'.

Choir anthem: Lord, for thy tender mercy's sake (Farrant)

Jess:
Good morning and a very warm welcome to St Mary's, a diverse and active Anglican church to the south of Manchester.  This morning, we meet for worship in the parish church – the oldest and largest of our buildings.  But if you came here on any other Sunday, you would discover differing styles of worship taking place across all 3 of our sites. This is something we have deliberately sought to do in recent years, so as to connect with as many people as possible from across our Parish community. 

We are delighted to welcome Dr Krish Kandiah as our guest preacher this morning, a well-known author of several faith-based books.  This morning he'll be speaking on the subject of forgiveness – the first in a series of Lenten reflections he's written for the Bible Society which can be accessed from the Sunday Worship website.
Grace, mercy, and peace from God our Father and the Lord Jesus Christ be with you all.
All: and also with you.

 
Brothers and sisters in Christ:  since early days, Christians have observed with great devotion the time of our Lord's passion and resurrection.  It became the custom of the Church to prepare for this by a season of penitence and fasting.

At first this season of Lent was observed by those who were preparing for Baptism at Easter and by those who were to be restored to the Church's fellowship from which they had been separated through sin.  In course of time, the Church came to recognise that, by a careful keeping of these days, all Christians might take heart to the call to repentance and the assurance of forgiveness proclaimed in the gospel, and so grow in faith and in devotion to our Lord.

I invite you, therefore, [[in the name of the Church]], to the observance of a holy Lent, by self-examination and repentance; by prayer, fasting, and self-denial; and by reading and meditating on God's holy word.

Let us pray:
Almighty and everlasting God
you hate nothing that you have made
and forgive the sins of all those who are penitent.
Create and make in us new and contrite hearts,
that, lamenting our sins
and acknowledging our wretchedness,
we may receive from you, the God of all mercy,
perfect forgiveness and peace;
through Jesus Christ our Lord,
who is alive and reigns with you and the Holy Spirit,
one God, now and forever.
Amen.

We sing our first hymn "Forty days and forty nights" after which Krish Kandiah will introduce his series for Lent.

Choir &  congregation:       Forty days and forty nights
Krish: 
Our nation is facing an epidemic of loneliness.  According to a 2016 survey by the Red Cross, a fifth of the UK population – a shocking 9 million people – say that they are always or often lonely.     And in 2017, the Office of National Statistics found that 7.7 million people in the UK live alone.  Alongside this growing personal problem of loneliness, there are on-going issues regarding a sense of community across our nation:  who is included and who is excluded with questions around integration and identity. The Bible has a lot to say about community and loneliness, which offers great hope and challenges us all.
I recently discovered that the last seven recorded words of Jesus from the Cross have a little-known common theme:  they are intrinsically linked to one another because all of them relate to the practice of hospitality.  This may seem a strange theme for someone facing imminent death.  But on closer examination, it is exactly what makes this particular death so significant.

This Lent, in our six Sunday worships, we invite you to consider more deeply the meaning of forgiveness; service; adoption; solidarity; hope and trust.

There are materials available for you to dig deeper into these themes by searching "Bible Society Lent 2019", or on the BBC website. 

There, you can also hear a longer version of a conversation I had with Martin & Rachel Riddel about forgiveness.  They're a Christian couple whose 11-year old son, Sam, was killed in a hit and run incident on his way home back from Youth Club.  They chose to learn to forgive the driver

INSERT: IN:  "After 10 o'clock …"
OUT: "… the more the forgiveness comes."
DUR:  1'27"

Choir anthem: Remember not Lord our offences
Jess 
The sacrifice of God is a broken spirit;
a broken and contrite heart God will not despise.
Let us come to the Lord who is full of compassion,
and acknowledge our transgressions in penitence and faith.
We confess to you our selfishness and lack of love:
fill us with your Spirit
Lord have mercy.
Lord have mercy.
We confess to you our fear and failure in sharing our faith:
fill us with your Spirit.
Christ have mercy.
Christ have mercy.
We confess to you our stubbornness and lack of trust:
fill us with your Spirit.
Lord have mercy.
Lord have mercy.

ABSOLUTION
Jess 
May God who loved the world so much
that he sent his Son to be our Saviour
forgive us our sins
and make us holy to serve him in the world.
through Jesus Christ our Lord.
Amen.
Bible reader: 
A reading from the gospel of Luke chapter 23 verses 32-38
Two others also, who were criminals, were led away to be put to death with him.  When they came to the place that is called "The Skull", they crucified Jesus there with the criminals, one on his right and one on his left.  Then Jesus said: "Father forgive them; for they do not know what they are doing."  And they cast lots to divide his clothing.  And the people stood by, watching; but the leaders scoffed at him, saying "He saved others; let him save himself if he is the Messiah of God, his chosen one!"  The soldiers also mocked him, coming up and offering him sour wine, and saying, "If you are the King of the Jews, save yourself!"  There was also an inscription over him, "This is the King of the Jews."
Jess:
The Choir and congregation sing a hymn which personalises the events of Good Friday, My Song is Love Unknown.
Hymn: My song is love unknown,
SERMON
Krish : 
This morning we begin by looking at the invitation to forgiveness.
A shocking picture of a nine-year-old girl running naked in absolute terror away from the Napalm attack on her village is said to have played a pivotal part in changing opinions about America's intervention in the Vietnam War. The famous black and white photograph was taken by Nick Ut, who won a Pulitzer Prize for the image in 1973. Kim Phuc, the subject of the photograph is still alive today and openly speaks about her road to forgiveness.
Kim became a Christian after reading the New Testament. She explained "In Christmas 1982, I accepted Jesus Christ as my personal Saviour. It was an amazing turning point in my life. God helped me to learn to forgive — the most difficult of all lessons. It didn't happen in a day and it wasn't easy. But I finally got it. Forgiveness made me free from hatred. I still have many scars on my body and severe pain most days but my heart is cleansed… Napalm is very powerful but faith, forgiveness and love are much more powerful."
In 1996 Kim agreed to speak at the Veterans Day ceremonies at the Memorial Wall in Washington, DC. She stood before the soldiers who had rampaged through her home country and expressed forgiveness for what they had done. She even mentioned how she could forgive the pilot who dropped the bombs on her town of Trang Bang that day. To everyone's surprise, a note was suddenly handed to her from someone in the crowd. It read: "Kim, I am THAT man." The Rev John Plummer publicly collapsed into her arms, soaking up her repeated words of forgiveness.
Like Rachel and Martin who came to forgive the driver who killed their son, Kim also was inspired to forgive because of her experience of the forgiveness of Jesus. But how can one man's brutal death on a cross 2000 years ago offer such a powerful inspiration across the globe? And if it can help those facing atrocities in South Vietnam and Bristol, can it also help
us as individuals and a nation?
As Jesus was dying, hatred was being expressed all around Him. There were no words of comfort, or even a revered silence. No as he suffered severe physical pain and unimaginable spiritual distress, Jesus was also tortured with mockery and verbal abuse from all sides. He chose not to retaliate. He chose to pray. And not for Himself – but for his enemies
Perhaps you have suffered at someone else's hands. Perhaps you know what it is like to be isolated or even persecuted. Maybe you know something of the challenge of standing up for good when you are surrounded by evil. If so, you probably also know something of the temptation to retaliate, and the turmoil of forgiveness.
Jesus as well as suffering the torture of crucifixion, also faced scorn from the soldiers present, ridicule from the religious leaders, the mockery of an unsympathetic crowd, and became the butt of a political joke. Pontius Pilate's idea of entertainment was to have a sign affixed to the cross: 'THIS IS THE KING OF THE JEWS' as though this death was a satirical cartoon that needed a punch-line.
Jesus had spoken about a new Kingdom but when he didn't solve the political problems of the day he was literally hung out to dry on the town's rubbish dump surrounded by angry people.
After all that hate, Jesus' response is astonishing. He asks God to forgive. To whom is Jesus offering forgiveness? His executioners, who were soldiers just doing their jobs? The crowds who joined the bandwagon to scapegoat this preacher from Nazareth. The politicians or the religious leaders who should have known better?
Or is Jesus offering forgiveness for everyone, the whole of humankind, whose betrayal against God had brought him to the cross at all?
There does not seem to be a limit. Jesus' prayer for forgiveness seems to be aimed at all those who are mocking, wounding, insulting, murdering, betraying and opposing Him.
There is a stark contrast here. One side very much alive but spitting insults, gloating and taunting, the other dying yet speaking grace and compassion.
I find Jesus' actions and words deeply challenging. He invites us to both receive forgiveness from Him, and to offer forgiveness to others.
As Christians we know what it means to ask God for his forgiveness for the way we have treated him. His grace to us inspires us to pass on forgiveness to others. Even the words of the Lord's prayer remind us of the inseparable link: "forgive us our sins as we forgive those who sin against us." There is to be a cascade of grace, love and forgiveness into our lives and out and on to others, even those deemed to be our enemies.
Kim Phuc, Rachel and Martin claim that following the footsteps of Jesus can help us with this even in the most severe of situations.  In these polarised times we need a cascade of grace and forgiveness. In the fractured relationships within our families, neighbourhoods and nation, we need to embrace a revolution of forgiveness.
SEGUE
Choir: How deep the Father's love for us (Townend) – 2 verses
PRAYERS OF INTERCESSION (followed by the Lord's Prayer)
Leader: We pray to the Lord for courage to give up other things
and to give ourselves to him this Lent.
Give your Church the courage
to give up her preoccupation with herself
and to give more time to your mission in the world.
May the blood and water flowing from the side of Jesus
bring forgiveness to your people
and help us to face the cost of proclaiming salvation.
Lord, meet us in the silence,
All: give us strength and hear our prayer.
Give your world the courage
to give up war, bitterness and hatred,
and to seek peace.
May the shoulders of the risen Jesus,
once scourged by soldiers
bear the burden of political and military conflict in our world.
Lord, meet us in the silence,
All give us strength and hear our prayer.
Give us the courage to give up our fear of death
and to rejoice with those who have died in faith.
May the feet of the risen Lord Jesus, once nailed to the cross,
walk alongside the dying and bereaved.
Walk also with us and all your Church
through death to the gate of glory.
Lord, meet us in the silence.
All give us strength and hear our prayer.
We bring before God our nation and our politicians at this time of change and uncertainty.
Uniting these and all our prayers together, as our Saviour taught us,
so we pray:
All 
Our Father, who art in heaven,
hallowed be thy name;
thy kingdom come;
thy will be done;
on earth as it is in heaven.
Give us this day our daily bread.
And forgive us our trespasses,
as we forgive those who trespass against us.
And lead us not into temptation;
but deliver us from evil.
For thine is the kingdom,
the power and the glory
for ever and ever.  Amen.
Jess 
Thank you for joining our church community here in Bowden and for marking the beginning of the holy season of Lent with us. Our final hymn is another favourite of the season…  "When I survey the wondrous cross"
Hymn: When I survey the wondrous cross
BLESSING
Jess 
Christ give you grace to grow in holiness,
to deny yourselves, take up your cross and follow him;
and the blessing of God Almighty,
the Father, the Son and the Holy Spirit,
be among you and remain with you, always,
Amen

Organ voluntary  J.S. Bach 'Erbarm' dich mein, O Herre Gott (BWV 721)