Main content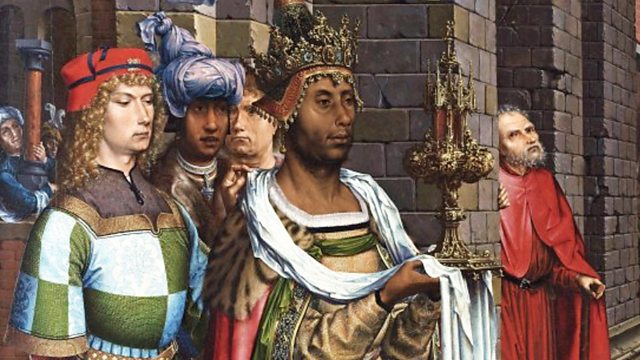 The Adoration of the Kings by Jan Gossaert
Musical angels... mysterious kings... joyful shepherds! Take the closest of looks at Jan Gossaert's masterpiece, The Adoration of the Kings. With Cathy FitzGerald.
Cathy FitzGerald invites you to discover new details in old masterpieces, using your phone, tablet or computer.
Each thirty-minute episode of Moving Pictures is devoted to a single artwork - and you're invited to look as well as listen, by following a link (below) to a high-resolution image made by Google Arts & Culture. Zoom in and you can see the pores of the canvas, the sweep of individual brushstrokes, the shimmer of pointillist dots.
Episode two takes us to the ruins of a building on a cold, clear winter's day. That's the setting for Jan Gossaert's Flemish masterpiece The Adoration of the Kings from the collection of The National Gallery, London. The picture shows the three kings giving their gifts - Caspar kneels on the ground, Melchior stands behind him with his retinue and Balthazar is on the left. Above, the sky is full of angels, with fluttering, sunset-coloured wings and, in the far, far background, there are joyful shepherds and their sheep.
Get up close to this jewel-bright masterpiece and see how Gossaert recreates the king's sumptuous costumes and crowns in oil paint. Discover the mysterious character, so cleverly concealed by the artist, he was over-looked for years - the hidden angel.
Interviewees: Susan Foister, Paula Nuttall, Lorne Campbell and Leslie Primo.
Producer and Presenter: Cathy FitzGerald
A White Stiletto production for BBC Radio 4
Jan Gossaert, The Adoration of the Kings (c) The National Gallery, London. Bought with a special grant and contributions from the Art Fund, Lord Glenconner, Lord Iveagh and Alfred de Rothschild, 1911