Main content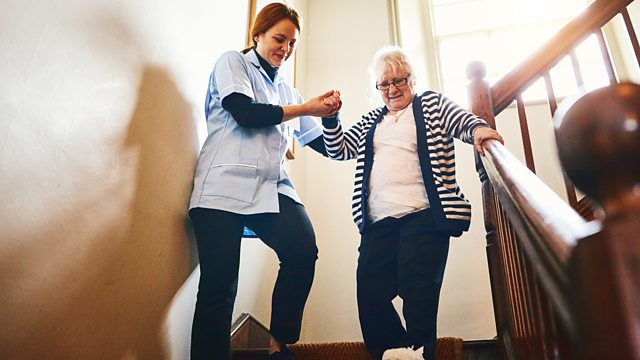 Care staff crisis, Smart glasses, Energy tariffs
The new Government drive to find more care workers. How smart glasses are changing theatre-going for people with hearing problems. Is switching energy supplier still worth it?
We report on the Government's new £3 million recruitment drive to fill hundreds of thousands of vacancies in the care sector in England.
Right now there are 110,000 vacancies for care staff. It's means eight in every hundred jobs is left unfilled.
The Department of Health and Social Care says that, by 2035, we'll need 650,000 more care workers than we've got now to look after our ageing population.
That's a 40 per cent increase on the number of people working in care at the moment.
We speak to Lyn Romeo, the Chief Social Workers for Adults, about the Government's campaign to attract new people into care. We also examine how low pay and high demands are making these jobs hard to fill.
People who are deaf or have hearing problems may soon be able to experience theatre performances in a new way. The National Theatre in London is already offering new 'smart glasses' that can be used at any show, from any seat, without the need for pre-booking. Our reporter, Carolyn Atkinson, goes to a matinee of the Stephen Sondheim musical, Follies, to find out what people trialling the new technology think of it and whether it should be rolled out more widely.
An investigation by You and Yours has discovered that energy prices have narrowed between suppliers since the introduction of the new price cap in January this year.
Research commissioned for the programme has found the discounts now offered to switchers aren't as much as they were a year ago.
The most competitive deals are now priced around £50 to £150 below the most expensive tariffs.
We speak to Robert Buckley from Cornwall Insight who carried out the research.
Presenter: Winifred Robinson
Producer: Tara Holmes