Main content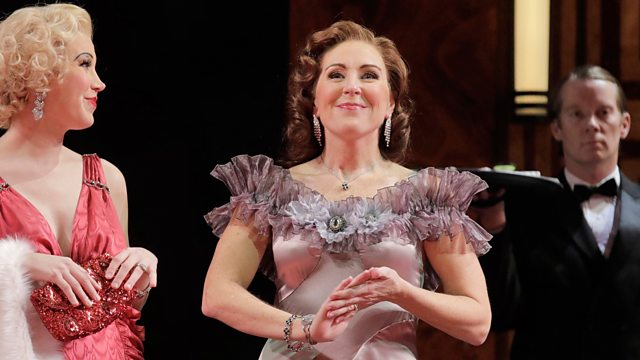 William Bolcom's Dinner at Eight
Sean Rafferty presents Dinner at Eight, William Bolcom's new opera with a libretto by Mark Campbell from the 2018 Wexford Festival Opera.
Sean Rafferty presents "Dinner at Eight" from Ireland's National Opera House at the 2018 Wexford Festival Opera.
It's Manhattan in the 1930s and society hostess, Millicent Jordan is immersed in the crucial social trivialities of arranging "Dinner at Eight." William Bolcom's opera is a tragicomedy based on the 1932 Broadway hit by George S. Kaufman and Edna Ferber.
Millicent's planning is deft, skilled, obsessed and oblivious. While the lives of her family and guests are in crisis (husband, Oliver is suffering from a fatal heart disorder and her daughter's love life is fast approaching tragedy) all that matters is that cook's pièce de résistance, a lobster in aspic, has come crashing to the kitchen floor!
This is a new work that weds American musical comedy and opera with a brilliant, fast-paced score and witty libretto by the Pulitzer-Prize and Grammy Award-winning composer, William Bolcom and the Pulitzer-Prize winning librettist, Mark Campbell.
Dinner at Eight ... Cocktails with Sean Rafferty and his guests William Bolcom and Mark Campbell from 6.30!
Millicent Jordan.....Mary Dunleavy (soprano)
Oliver Jordan......Stephen Powell (baritone)
Paula Jordan.....Gemma Summerfield (soprano)
Carlotta Vance.....Brenda Harris (soprano)
Dan Packard.....Craig Irvin (baritone)
Kitty Packard.....Susannah Biller (soprano)
Lucy Talbot.....Sharon Carty (mezzo-soprano)
Dr Joseph Talbot.....Brett Polegato (baritone)
Larry Renault.....Richard Cox (tenor)
Max Kane.....Ashley Mercer (bass-baritone)
Gustave.....Sheldon Baxter (baritone)
Miss Copland.....Maria Hughes (soprano)
Tina.....Laura Margaret Smith (mezzo-soprano)
Miss Alden.....Claire Egan (soprano)
Eddie.....Ranald McCusker (tenor)
Mr Hatfield.....Henry Grant Kerswell (bass)
Wexford Festival Chorus
Wexford Festival Orchestra
David Agler (conductor)
Last on
Music Played
William Bolcom

Dinner at Eight Act II

Singer: Mary Dunleavy. Singer: Stephen Powell. Orchestra: Wexford Festival Opera Orchestra. Conductor: David Agler.

Felix Mendelssohn

String Quartet No. 6 op. 80

Ensemble: Calidore String Quartet.
Synopsis
Scene one: The drawing room of the Jordan home –9 a.m., Friday
Socialite Millicent Jordan opens her morning mail while conversing with her husband Oliver. She receives a radiogram from Lord and Lady Ferncliffe, who will soon arrive in New York on the Aquitania. They have accepted an invitation from the Jordans for a dinnerparty occurring the following Friday, and Millicent is jubilant. Immediately, she starts to imagine the guestlist. Dr Joseph and Lucy Talbot immediately spring to mind, as well as the celebrated former actress Carlotta Vance; Oliver also suggests inviting Dan Packard and his wife Kitty for reasons related to his business. The Jordans' daughter, Paula, enters and puts off a shopping trip with her mother scheduled for that afternoon. After Oliver and Paula leave for work, Millicent telephones the Talbots and the Packards, and they eagerly accept the invitation to the party. Millicent reveals the many details of the dinner party.
Scene two: Oliver Jordan's business office in lower Manhattan – 1 p.m., Friday
Carlotta Vance visits Oliver at his company, Jordan Shipping Lines, and reveals that she is suddenly
destitute and wants to sell her shares of Jordan stock. Jordan explains his own financial concerns, knowing that other shareholders wish to liquidate as well. As Carlotta leaves, Dan Packard enters and Oliver asks him for a loan. After Dan exits, Oliver expresses his concerns about weathering the Depression.
Scene three: Kitty's bedroom in the Packard penthouse – 4 p.m., Friday
Kitty Packard luxuriates in bed, claiming to be ill. Her husband Dan strides in and announces that he's going to Washington, D.C. to meet with the President. Dan also discloses his secret intention to take over Oliver's business. Dr Talbot makes a house call to Kitty who bemoans his absence during their ongoing affair.
Scene four: The drawing room of the Jordan home – 3 p.m., the following Wednesday
Millicent and Dr Talbot's wife, Lucy, return from shopping and learn that one of the party guests has cancelled. Millicent invites Larry Renault, who is in town rehearsing a play on Broadway, and he immediately accepts the invitation. Paula speaks to Larry on the telephone, revealing that they are having an affair.
Scene five: Larry Renault's room in the Hotel Versailles – 2 p.m., Friday, the day of the dinner party
Paula visits Larry at his hotel. She wants to break it off with her fiancé and go public with their relationship, but Larry resists the idea. Paula leaves as Max Kane, Larry's agent, arrives. He tells Larry that he has been replaced in the cast of the Broadway play. Larry demands that he ask the producer for a secondary role. After Max leaves, Larry orders another bottle of whiskey, and now completely out of cash, pays with his cufflinks. As he drinks, he tries to persuade himself that he isn't a failure.
Scene six: The drawing room of the Jordan's home – 4 p.m., Friday
A crash is heard from the kitchen. The doorbell rings. Carlotta has unexpectedly stopped by to see Oliver. The bell rings again, and a dozen roses from the Ferncliffes are delivered. Carlotta confesses to Oliver that she has sold her stock and Oliver learns by telephone that others have followed suit, revealing a potential takeover. Millicent also receives terrible news. The Ferncliffes have cancelled and the music company telephones to tell her that the string quartet she engaged to play at the party will be replaced by a lone Hungarian violist. Worst of all, Gustave informs her that the lobster aspic has been dropped, ruining it completely. Paula reveals that she doesn't want to marry her fiancé after all, and Oliver tries to beg off attending the dinner party due to chest pains. Millicent collapses in utter despair.
ACT II
Scene one: Dr Talbot's office – 5 p.m., Friday
Oliver visits Dr Talbot to discuss his chest pains. After Oliver leaves, Lucy looks in and, hearing her husband on the phone with Kitty, confronts him about his philandering. After she leaves, it is revealed that Oliver has a serious coronary condition, with weeks to live. Dr Talbot feels guilty and resolves to change his ways.
Scene two: The drawing room of the Jordan's home – 6:15 p.m., Friday
Millicent calls Delmonico's to have them make a dinner and deliver it to her home.
Scene three: Kitty's bedroom in the Packard penthouse – 7 p.m., Friday
Kitty is preparing for the dinner party. Dan reiterates his intention to pursue politics in Washington and Kitty protests. She confesses that she is having an affair and will not leave New York. Dan threatens to destroy her reputation. Kitty, in turn, promises to reveal his shady business practices and ruin his career.
Scene four: The drawing room of the Jordan's home – 7:45 p.m., Friday
Millicent puts the final touches on the dinner party.
Scene five: Larry Renault's room in the Hotel Versailles – 8 p.m., Friday
Larry learns from Max that he didn't get the secondary role in the play. The hotel manager informs him that his room needs to be vacated the next day. Realizing he has no career and no money left, he leaves the gas burners going in his fireplace.
Scene six: The drawing room of the Jordan home – 8:15 p.m., Friday
Millicent welcomes the guests to her party: the Packards, the Talbots, and Carlotta. As the evening progresses, all of the events from the preceding week come to light with startling consequences.
— Synopsis by Mark Campbell
Broadcast