Main content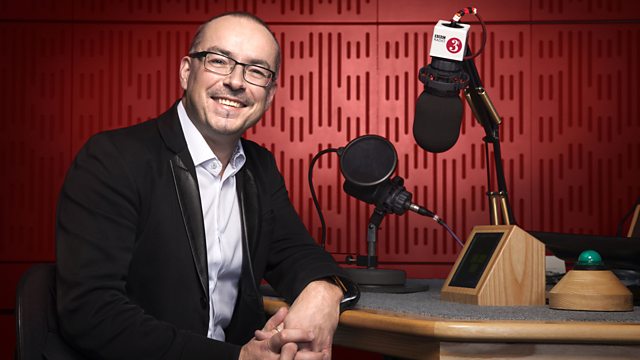 Andrew McGregor with Richard Wigmore and Tom McKinney
Building a Library on Mozart's Clarinet Quintet in A, K581, and Tom McKinney reviews Berlioz reissues from Warner Classics and Deutsche Grammophon.
with Andrew McGregor.
09.30
Building a Library: Richard Wigmore discusses with Andrew recordings of Mozart's Clarinet Quintet.
Mozart's Clarinet Quintet, was written in 1789 for the clarinettist Anton Stadler. Like the Clarinet Concerto, also written for Stadler, it was actually written for the basset clarinet, which has an extended lower range, and so there are various decisions to be made about exactly what instrument you play it on. This is one of the great pieces of Mozart's last years, full of a mellow yearning which suits the sound to the clarinet to perfection.
10.30
Andrew talks to Tom McKinney about two big boxes of Berlioz reissues that have been brought out by Warner Classics and DG to mark the 150 years since the composer's death.
11.45
Andrew chooses an outstanding new release as his Disc of the Week.
Last on

Record Review
9.00am

Bassoon Concertos by Hummel, Mozart, Winter & Rossini
Jaakko Luoma (bassoon)
Tapiola Sinfonietta
Janne Nisonen (concertmaster)
Ondine ODE 1324-2
https://www.ondine.net/?lid=en&cid=2.2&oid=6220

J.H. Roman: The Golovin Music
Dan Laurin (recorders)
Höör Barock (ensemble)
BIS2355 SACD (Hybrid SACD)
http://bis.se/performers/laurin-dan/jh-roman-the-golovin-music

Martinů: Songs on One Page, Songs on Two pages, The Slovak Songs & New Chap-Book
Martina Janková (soprano)
Tomáš Král (baritone)
Ivo Kahánek (piano)
Supraphon SU 4235-2
https://www.supraphon.com/album/448092-martinu-songs
9.30am – Building a Library – Richard Wigmore on Mozart's Clarinet Quintet
Composer: Wolfgang Amadeus Mozart
Reviewer: Richard Wigmore
Recommended Recording:
Romain Guyot (basset clarinet)
Players from the Chamber Orchestra of Europe (string quartet)
Mirare MIR183
Other Recommended Recordings:

Thea King (basset clarinet)
Gabrieli String Quartet
Hyperion CDA 66199

Julian Bliss (basset clarinet)
Carducci string quartet
Signum SIGCD552
10.20am – New Releases
Braunfels: Fantastical apparitions of a theme by Hector Berlioz & Sinfonia Brevis
Deutsche Staatsphilharmonie Rheinland-Pfalz
Gregor Bühl (conductor)
Capriccio C5354
http://capriccio.at/walter-braunfels-fantastisch

'The Romantic Horn' – Beethoven: Horn Sonata & other works for horn and piano by F. Strauss, R. Strauss, Schumann, Glazunov, Scriabin, Dukas, Poulenc & Vintner
Richard Watkins (horn)
Julius Drake (piano)
Signum Classics SIGCD556
https://signumrecords.com/product/the-romantic-horn/SIGCD556/

'Desires' – Choral music setting the words of the Song of Songs by Brumel, Clemens, Gabriel, Ceballos, White, Grier, Gombert, Victoria, Dove, Vivanco, Palestrina, Esquivel & J. Barber
ORA Singers
Suzy Digby (conductor)
Harmonia Mundi HMM 905316
http://www.harmoniamundi.com/#!/albums/2505

Brahms: The Piano Quartets
Primrose Piano Quartet
Meridian CDE84650 (2 CDs)
http://www.meridian-records.co.uk/acatalog/CDE84650_Brahms_The_Piano_Quartets.html
10.50am – Tom Mckinney on Berlioz anniversary sets

Daniel Barenboim: Complete Berlioz Recordings on Deutsche Grammophon
Orchestre de Paris
Daniel Barenboim (conductor)
Various others
DG4836412 (10 CDs)
https://www.deutschegrammophon.com/gb/cat/4836412

Hector Berlioz: The Complete Works
Various musicians
Warner Classics 9029561444 (27 CDs)
http://www.warnerclassics.com/release/552506,0190295614447/berlioz-hector-hector-berlioz-the-complete-works

11.45am – Disc of the Week
Vierne & Franck: Violin Sonatas
Alina Ibragimova (violin)
Cédric Tiberghien (piano)
Hyperion CDA68204
https://www.hyperion-records.co.uk/dc.asp?dc=D_CDA68204
Broadcast