Main content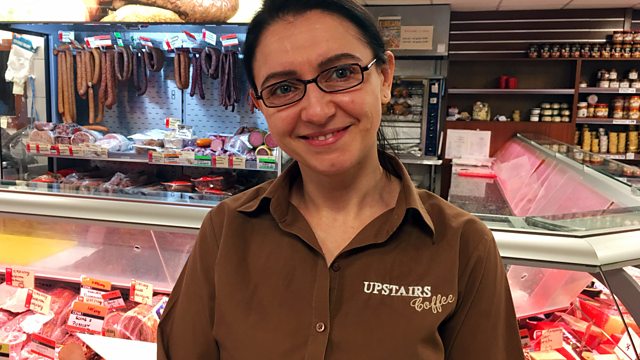 Cardiff's Melting Pot
Grangetown is now officially the most diverse part of Cardiff, overtaking that of neighbouring Butetown. Selma Chalabi talks to the residents to find out how they're getting along.
Last on
More about the programme
It's not Butetown anymore.
Grangetown is now the most diverse part of Cardiff, according to new research by Cardiff University. 
Given that Cardiff is the most diverse city in Wales, Grangetown is thus the most diverse part of Wales.
Dr Richard Gale, a human geographer at Cardiff University, conducted the research:
"It gives it a very special status in terms of wider debates about identity, Welshness and belonging. We need to understand Grangetown as an expression of Wales's history in terms of identity. "
In this programme, reporter Selma Chalabi, who lives in Grangetown, talks to some of its residents:
Monika (pictured) runs a Polish delicatessen in the area with her husband called Delikatesy Mis. She came to Wales 15 years ago when free movement opened up in Poland.
"I was very young at that time. I always wanted to leave and try new things. Because I knew English, it was much easier for me to come to the UK. I've always felt welcome. I've never felt that people want to send me back home."
32 year old  Pradyuman Halai lives in the area and is vice secretary of the largest Hindu temple in Wales – the Shree Swaminarayan temple.
"When you come to a melting pot like Grangetown, you see different people living their lives in a different way. Yet they're proud that they're in this country. You'll see people living aside one another peacefully."
Ali Abdi was born in Grangetown to parents from Somaliland.  He now works for Cardiff University as part of the Gateway Project. His job is to build a partnership between the university and the communities in Grangetown, which involves the development of a new community space in Grange Gardens.
"This space is going to be open to people of all faiths and no faith. It's a very exciting time for Grangetown. It's the up and coming place. In a time where politically there are a lot of people looking for division, we should be looking at what unites us."
Marilyn Jenkins, owner of Davies Framing. She was born in Grangetown in 1953.
"I feel nostalgic for the past. Families knew each other then. We had more independent shops."
Broadcasts