Main content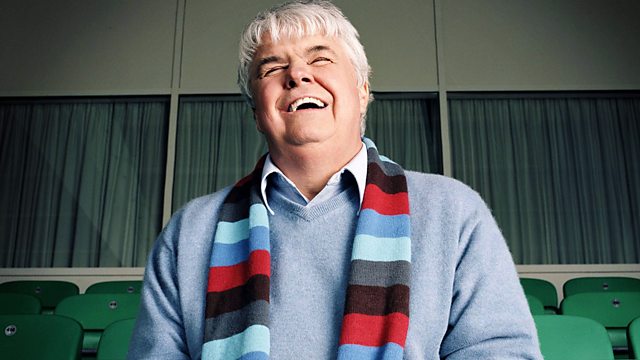 11/03/2019
In No Triumph No Tragedy Peter White, himself blind from birth, interviews people with disabilities who have bucked the odds: this week he meets Paralympic swimmer Victoria Arlen.
In the first programme of the series Peter White, blind from birth, meets Victoria Arlen, the Paralympic gold medallist who is now a successful sports commentator. As a child she contracted two rare auto-immune conditions which caused swelling in her brain and spinal cord. She was left in a persistent vegetative state, but what her parents and doctors did not know was that she was conscious and aware of everything going on around her.
Victoria lived in her 'locked-in' world for almost four years. By the time she was fifteen her condition had worsened to the point where she was having almost non-stop seizures throughout the day and night. It was a chance readjustment of medications aimed at reducing these that eventually led to her being able to move her eyelids for the first time. She could communicate at last:
'I took a look around and was like: "This is freedom. My Mum walked over and I locked eyes with her - I have these big brown eyes and ever since I was a baby you could tell what I was thinking and feeling based on my eyes. My Mum lent over and asked if I could blink, to send a signal that I was there."
Victoria blinked furiously, and for the first time in years her family had hope. Her recovery involved relearning everything, from wiggling her fingers to making noises with her vocal cords. Doctors told her that some of the damage would be permanent, leaving her paralyzed from the waist down. She adapted to life in a wheelchair, returning to school and to swimming, the sport she had loved as a child: two years after her brothers put her in a life jacket and lifted her into a hydrotherapy pool, she qualified for the US Paralympic team.
At London 2012 she won a gold medal and set a new World Record in 100m freestyle - narrowly beating the British swimmer, Ellie Simmonds. The tears which followed as family and friends watched on from the spectator stands were the first tears of hope and joy since the illness struck.
"I just put my head down, said a prayer and touched - when I looked up I saw the one next to my name and the world record not too far from that and it was an incredible moment. If you'd told me two years prior to this that I'd be swimming on the world stage, winning a gold medal, I'd have probably rolled over in my life jacket, or been sitting there thinking that's not very nice, I can't even hold me head up right now and I'm just learning how to float again
"And then to look up and see my family in the stands and it was this first time in this whole journey of nearly six years, that we were crying tears of joy and crying from happiness. So the medal had such a big meaning because it solidified that I'd made it and I'd survived and now it was time to live and move forward."
Which is what Victoria has been doing every day since: she is recovering physically, is a successful sports broadcaster, has written a book about her experiences called 'Locked In,' and is also modelling an underwear range.
All of those selected for this programme raise issues connected with their own disability and the challenges they've faced. The format allows Peter to explore their motivation and experiences and the slight air of irreverence gives the programmes a very original and winning feel, with listeners enjoying hearing him ask the questions others might be too embarrassed or politically correct to ask.
Recent interviewees include Cyrus Habib, who lost his eyesight to cancer when he was eight but has gone on to become America's first blind Lieutenant Governor; the new Government Minister, Robert Halfon, who was born with spastic diplegia and faced particular problems when out campaigning and the CBeebies Presenter Cerrie Burnell, who became the victim of a disturbing online campaign after parents complained that she was scarring toddlers by not wearing a prosthetic arm.
Producer: Sue Mitchell