Main content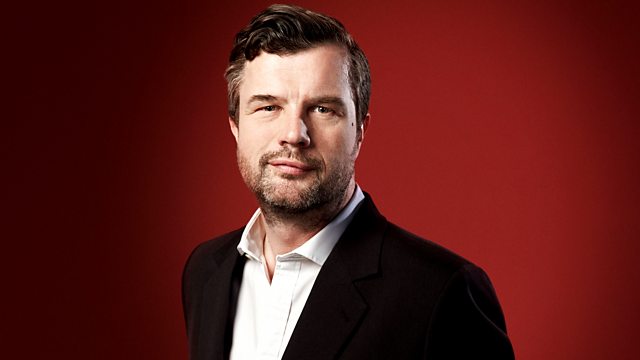 Wednesday - Petroc's classical commute
Petroc Trelawny presents Radio 3's classical breakfast show, featuring listener requests.
Email 3breakfast@bbc.co.uk
Last on

Music Played
Arthur Bliss

2 Studies for Orchestra Op.16, no.2 - Adagio ma non troppo

Orchestra: Orchestra of Opera North. Conductor: David Lloyd-Jones.

Bliss – Cello Concerto & Music for Strings.
Naxos.
7.

Dmitry Shostakovich

Prelude and Fugues no.7 Op.87 in A major

Performer: Alexander Melnikov.

Shostakovich The Preludes & Fugues Alexander Melnikov Piano.
Harmonia Mundi.
13.

Nicolò Paganini

Sonata No 4 in A major (Centone di sonate)

Performer: Gil Shaham. Performer: Göran Söllscher.

111 Years Of Deutsche Grammophon The Collector's Edition Vol.2.
Deutshe Grammophon.
13.

Johann Sebastian Bach

St Matthew Passion, BWV244: Make me clean, my heart, from sin

Singer: Stephen Roberts. Orchestra: Thames Chamber Orchestra. Conductor: Sir David Willcocks.

Gustav Holst

The Planets - suite (Op.32), Neptune, the mystic

Choir: New England Conservatory Chorus. Orchestra: Boston Symphony Orchestra. Conductor: William Steinberg.

William Herschel

Symphony No 12 in D major (1st mvt)

Orchestra: London Mozart Players. Conductor: Matthias Bamert.

Herschel: Symphonies - London Mozart Players/Bamert.
CHANDOS.
4.

Arthur Sullivan

The Elements

Lyricist: Tom Lehrer. Singer: Tom Lehrer.

Dr Demento's 30th Anniversary Collection.
Rhino.
3.

Maurice Ravel

Introduction and Allegro

Performer: Osian Ellis. Ensemble: Melos Ensemble.

Pyotr Ilyich Tchaikovsky

The Nutcracker (Waltz of the Flowers)

Conductor: Lorin Maazel. Orchestra: The Cleveland Orchestra.

Tchaikovsky: Romeo & Juliet, Nutcracker Suite; Maazel, the Cleveland Orchestra.
Telarc.
9.

Traditional American

Black Is The Colour Of My True Love's Hair

Singer: Nina Simone. Performer: Lisle Atkinson.

Jazz Masters 17: Nina Simone.
Verve.
1.

Hugo Wolf

Auch kleine Dinge (Italienisches Liederbuch)

Performer: Edwin Schneider. Singer: John McCormack.

The Art of John McCormack.
EMI.
13.

Hugo Wolf

Und willst du deinen Liebsten sterben sehen (Italienisches Liederbuch)

Singer: Jonas Kaufmann. Performer: Helmut Deutsch.

Jean‐Féry Rebel

Le Chaos from Les Elements

Ensemble: Tempesta di Mare. Orchestra: Philadelphia Baroque Orchestra. Director: Gwyn Roberts. Director: Richard Stone.

Comédie et Tragédie, Vol. 1 - Tempesta di Mare.
Chaconne.
13.

Zara Levina

Klaviersonate No. 1

Performer: Maria Lettberg. Performer: Yury Revich. Performer: Gernot Adrion. Performer: Ringela Riemke.

Levina: Chamber Music.
Capriccio.
1.

Marianna Martines

Overture in C major (3rd mvt)

Ensemble: La Floridiana. Conductor: Nicholeta Paraschivescu.

Pauline Viardot

The Rose Duet (The Last Sorcerer)

Performer: Myra Huang. Singer: Adriana Zabala. Singer: Camille Zamora.

Le Dernier Sorcier.
Bridge.
31.

Alexander Borodin

Polovtsian Dances (Prince Igor)

Orchestra: Toronto Symphony Orchestra. Choir: Toronto Mendelssohn Choir. Conductor: Sir Andrew Davis.

Teng Yu-Hsien

Four Taiwanese Songs: Rain Night Flower

Music Arranger: Wei Chieh Lin. Ensemble: Formosa Quartet.

From Hungary To Taiwan.
Bridge.
18.

Thomas Tallis

In jenunio et fletu

Choir: Alamire. Director: David Skinner.

Guy Woolfenden

Illyrian Dances

Ensemble: Ithaca College Wind Ensemble. Conductor: Rodney Winther.

Camille Saint‐Saëns

Allegro appassionato in C sharp minor Op.70

Performer: Bertrand Chamayou.

Saint Saens: Concertos 2 & 5; Solo Piano Works.
ERATO.
11.

Felix Mendelssohn

Violin Concerto in E minor, Op 64 (3rd mvt)

Performer: James Ehnes. Orchestra: Philharmonia Orchestra. Conductor: Vladimir Ashkenazy.

Mendelssohn: Violin Concerto/Octet: James Ehnes.
Onyx.
3.
Broadcast