Main content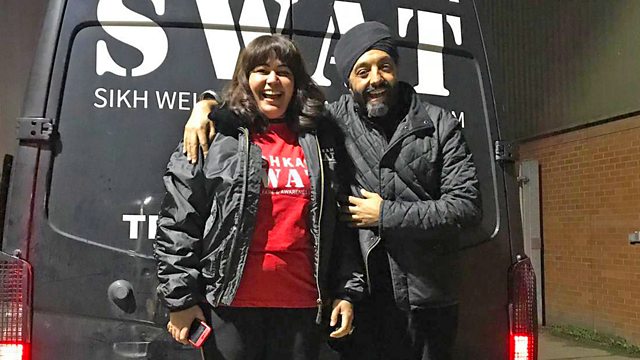 A different kind of S.W.A.T team
Nishkam S.W.A.T is the first UK Sikh charity to take the concept of 'Langar' to the streets of our towns and cities. Chef Romy Gill sees what difference their volunteers have made.
10 years ago, Randeep Singh and his colleagues had a moment of realisation. More than 200 people in their immediate local community were living without a home. They were hidden from normal life, living beneath bridges or in refuse collection rooms. Together, they decided they could do something to help them, and they begun a project cooking hot meals and sourcing food donations. Their volunteer base grew and by 2012, they'd helped many of the people off the streets.
But they didn't stop there. Nishkam S.W.A.T (Sikh Welfare & Awareness Team) was only in it's infancy. A decade on, Randeep and his central team now co-ordinate a fleet of vans, and more than 1000 volunteers, who gather several times a week to provide food and drinks, health services and support at locations across the country and the world. The project comes from the Sikh concept of 'Langar', a volunteer run kitchen found in Sikh temples, and inspired by the message of Guru Nanak. But this is food for anyone who needs it.
In this programme, chef Romy Gill cooks with some of the volunteers, and becomes part of the S.W.A.T team serving people in central London. She hears how volunteers have gravitated towards the project, inspired by the difference the project is making, and meets people coming to eat.
Presented by Romy Gill.
Produced in Bristol by Clare Salisbury.
Last on
Broadcasts