Main content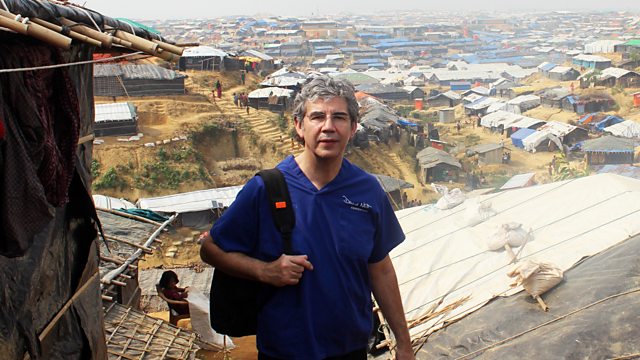 The battle against so-called Islamic State
Kirsty Wark on self-sacrifice, public duty and volunteers in the Middle East with David Nott, Joana Cook, Azad Cudi and Claire Foster-Gilbert.
David Nott's holiday plans are not like most. For 25 years the surgeon has used unpaid leave to volunteer as a war doctor. His work has taken him from Sarajevo under siege to rebel-held Aleppo, and to the aftermath of natural disasters in Haiti and Nepal. He tells Kirsty Wark how a combination of bravery, compassion and the thrill of danger inspired him to risk his life helping others.
Azad Cudi had war forced upon him as a conscript in the Iranian army. A decade later he volunteered in the fight for an independent Kurdistan: as a sniper fighting against so-called Islamic State. His memoir, Long Shot, describes the fighters, activists and intellectuals he worked alongside. He asks what will happen to the Kurdish cause as Western powers look to pull out of Syria and Iraq.
Men are not the only volunteers in the Middle East - and the causes that influence people are not always positive. Joana Cook from the International Centre for Radicalisation Studies has examined the large number of women and teenagers who have become "affiliates" of the so-called Islamic State. Some women were inspired by the healthcare, education and job opportunities offered to volunteers. Others became powerful agents of radicalisation. Cook urges politicians to consider these nuances when they decide what to do with volunteers who now wish to return home.
The morality of public duty and public service is the topic of an upcoming lecture by Claire Foster-Gilbert, director of the Westminster Abbey Institute. She argues that public servants in politics and beyond make moral choices every day; but that if we fail to scrutinise these properly, we could fail prey to anger, vengeance and injustice.
Producer: Hannah Sander
David Nott
David Nott is a Welsh consultant surgeon, specialising in general and vascular surgery.  For more than twenty-five years he has volunteered to work in disaster and war zones. He was appointed an Officer of the Order of the British Empire in 2012 and in 2016 he received the Robert Burns Humanitarian Award and the Pride of Britain Award.
His book,
War Doctor: Surgery on the Front Line
, published by Picador, is out now and was recently
Radio 4's Book of the Week
.    
Claire Foster-Gilbert
Claire Foster-Gilbert is the Director of the Westminster Abbey Institute.  She is an author and expert on Medical and Research ethics.
She will deliver the Westminster Abbey Institute lecture, "Can Institutions Be Just?" on 12th March 2019. 
Azad Cudi
Azad Cudi is a 35-year-old British national from a Kurdish background who travelled to Syria after the Civil War broke out to work as a social worker, but as war expanded he became a fighter in the volunteer army fighting ISIS.
His book Long Shot: My Life as a Sniper in the Fight Against ISIS, published by Orion Books, is out now.

Joana Cook
Dr. Joana Cook is a Senior Research Fellow at the International Centre for the Study of Radicalisation (ICSR).   Her research focuses on women in violent extremism, countering violent extremism, and counter-terrorism practices in Yemen and the wider MENA region.
She holds a BA in Political Science from the University of Regina, and a MA in Conflict, Security and Development from King's College London. In 2016 she was a recipient of the Canadian Centennial Scholarship Fund (CCSF).