Main content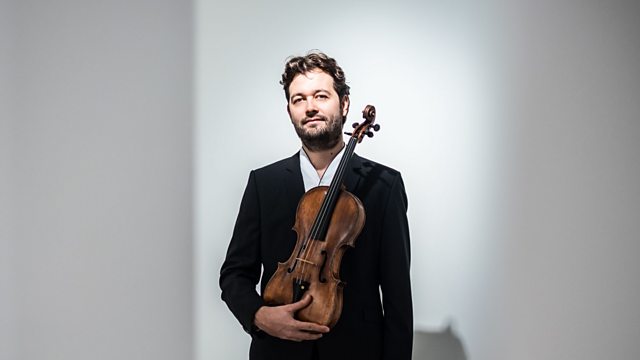 Battling Baroque and Buenos Aires Tango
Acclaimed violist Lawrence Power directs his exciting new ensemble Collegium in a colourful programme including Biber's La Battalia and Piazzolla's Four Seasons of Buenos Aires.
Acclaimed violist Lawrence Power is soloist-director of Collegium, an exciting new ensemble formed from Europe's finest young musicians. Together, they perform a colourful programme, ranging from seventeenth-century central Europe to mid-century Argentina.
Biber's La Battalia is a sort of compendium of Baroque-style extended techniques for stringed instruments. Biber asks his players to conjure up vivid martial scenes, from canon fire to drum tattoos, by instructing them to hit the strings with the wood of the bow, pluck strings so hard they slap against the fingerboard and insert paper to make the strings buzz. Astor Piazzolla's Four Seasons of Buenos Aires, here interspersed with songs by Brahms and Schubert, harks back to the Baroque by taking Vivaldi's concertos as its inspiration for an exotic, tango-infused journey through a year in the Argentinian capital. The starting point for Thomas Larcher's 2003 'Still' for viola and chamber orchestra is a frozen image from a video film. 'The interesting aspect of video stills', says Larcher 'is usually the details, the patterns which one can observe and which one does not naturally see, or which one perceives differently when it is in motion,' and the work deals with movement and cessation of movement, introspection and activity.
Recorded last week at Southampton's Turner Sims Concert Hall and introduced by Georgia Mann.
Biber: La Battalia
Thomas Larcher: Still (UK premiere)
Interval:
Music from CD by Piazzolla's teacher, Nadia Boulanger: 3 pieces for organ performed by Paul Jacobs.
Piazzolla: Four Seasons of Buenos Aires (arr. Leonid Desyatnikov)
Brahms and Schubert songs arranged for viola and strings
Brahms: Sommerabend
Piazolla: Summer
Brahms: Im Herbst
Piazolla: Autumn
Schubert: Der Leiermann
Piazolla: Winter
Schubert: Frühlingstraum
Piazolla: Spring
Collegium
Lawrence Power (violin, viola and director)
Featured in...
We broadcast more live and specially-recorded concerts and opera than any other station.