Main content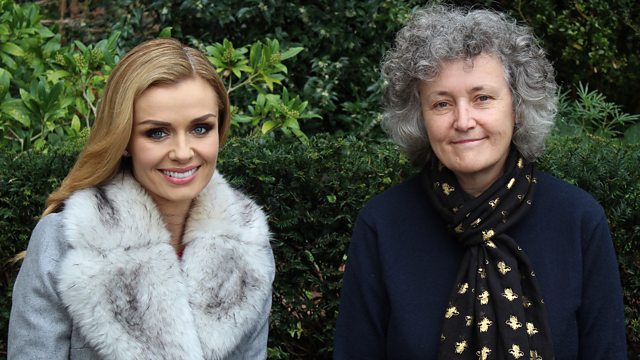 Churches Go Green
Katherine Jenkins meets the Christian who gave up plastic for Lent, and Josie d'Arby helps create recycled stained-glass windows.
Katherine Jenkins visits one of Britain's most eco-friendly churches and meets the Christians who are caring for God's creation by going green. Josie d'Arby joins a crafty family who are turning old glass and lead into beautiful, eco-friendly stained-glass creations. As we enter Lent we meet a Christian who went plastic free for 40 days last year, and Katherine discovers how churches are helping third-world farmers as part of Fair Trade Fortnight. Katherine also finds out how an inner-city church in London is saving energy and has brought wildlife back into the heart of the capital.
Music:
All Things Bright and Beautiful, St Michael's Church, Southampton
I The Lord of Sea and Sky, St Elisabeth's Church, Reddish
Beautiful One, Ruach City Church, Brixton
All Creatures of Our God and King, The Church of St Cross, Winchester
In Christ Alone, Aled Jones and Russell Watson
Praise to the Lord, The Almighty, St Patrick's Church, Dungannon
Immortal Invisible, St Macartin's Cathedral, Enniskillen
Stories
Eco Church
Most churches are not known for their  green credentials. Expensive to heat, badly insulated and generally  under used.   But St James's church  on Piccadilly in London has recently become a gold standard eco church.  Lucy Winket has been the Rector here at St James for the past 9 years. She's passionate that the church should lead by example on green issues.  

Eco Stained Glass
Andrew Seddon has been working with stained glass for over 25 years and has produced and restored windows in hundreds of churches and homes across the UK.   90% of the glass and lead is recycled and the stained glass can now be encapsulated in a double glazed unit to improved insulation.  

It's a real family business and working alongside Andrew is his daughter Katie.  Andrew and a lot of his family attend Kings Church in Bolton.  One of Andrew's favourite commissions is in the Manchester Dioecies' offices.  

When they built a chapel so staff could go somewhere for quiet reflection, they turned to Andrew to create the focal point.  The Rt Rev Mark Ashcroft is the Bishop of Bolton and is a fan of Andrews's window.  Like St James  (see story above) many of the churches in the Manchester diocese are also going eco church awards.  The Bishop believes churches can do more  to be eco-friendly including recycling..  

Plastic Free Lent
Many Christians are using Lent as an incentive to reduce the amount of plastic which they use.  The Rev. Grace Thomas is an assistant curate at St Edmunds' Whalley Range and St James' Church in Moss Side , Manchester.  She reduced the amount of plastic she consumed over the 40 day period, using simple techniques in and around the home.

Fairtrade Fortnight
This year Fairtrade fortnight runs from 25 Feb until the 20 March 2019.    The Fairtrade foundation was formed by a number of non-profit organisations including Traidcraft, Christian Aid and the Catholic charity CAFOD.   Their products are commonly found in churches and  the charity now operates in 74 countries and benefits 1.6 million who people who grow and make produce for the foundation.

Credits
| Role | Contributor |
| --- | --- |
| Presenter | Katherine Jenkins |
| Presenter | Josie d'Arby |
| Producer | Andrew Fenner |
| Series Producer | Matthew Napier |
| Executive Producer | Cat Lewis |
| Executive Producer | Emyr Afan |
| Production Company | Avanti Media |