Main content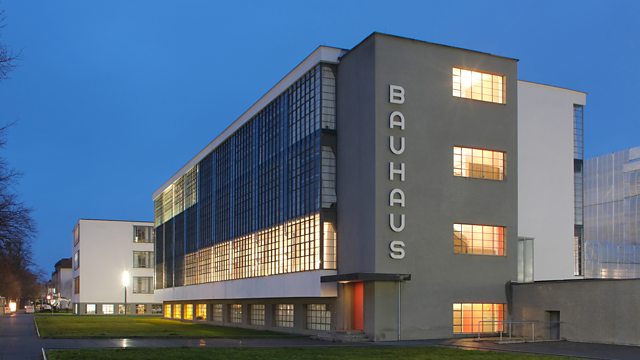 Eleanor Bron reads Fiona McCarthy's biography of the visionary founder of the Bauhaus, Walter Gropius. Today - Exile
Eleanor Bron reads Fiona McCarthy's biography of the Bauhaus founder, Walter Gropius.
Gropius was a man of extraordinary charisma. For more than twenty years, from 1910 to 1930, he was at the very centre of European modern art and design. His buildings are still strikingly experimental, his influence on post-war architecture in America and internationally was enormous. As the founder and director of the Bauhaus, he invented a form of creative education that influenced art schools worldwide. But the Bauhaus was more than an art school - it was the birth of a whole new philosophy of art.
In the final episiode, the rise of the Nazi party forces Gropius into exile. Nazi artistic censorship extended to architects as well as artists whose work was considered un-German - that is to say, purist and functional in appearance, as opposed to traditional and countrified, in tune with the Nazi mythology of nationhood. Gropius may not have been Jewish, but his views on architecture were becoming increasingly unacceptable. At the end of 1933, he saw his opportunity to leave Germany, and requested an official permit to work - as he claimed - temporarily in England. The permit was granted.
Walter Gropius and his wife Ise arrived in London on October 18th, 1934. But they were faced with a very different scene from the one they had known in continental Europe. As a British journalist commented at the time, "We do not understand the modern movement and we do not like it." Commissions were not forthcoming and the couple were very short of money. And so, just over two years later, Walter Gropius accepts an offer from Harvard University to become a Professor of Architecture.
Once he reached America, Gropius managed to reinvent himself, not so much as an architect but as a philosopher, an educational sage. Over the next thirty years he became an enormously influential figure. He also designed the Pan Am building, an opulent tower block on Park Avenue, a vast minimalistic structure of glass, bronze and polished granite.
Reader: Eleanor Bron
Producer: Elizabeth Burke
Executive Producer: Joanne Rowntree
A Loftus Media production for BBC Radio 4
More episodes
Next
You are at the last episode