Main content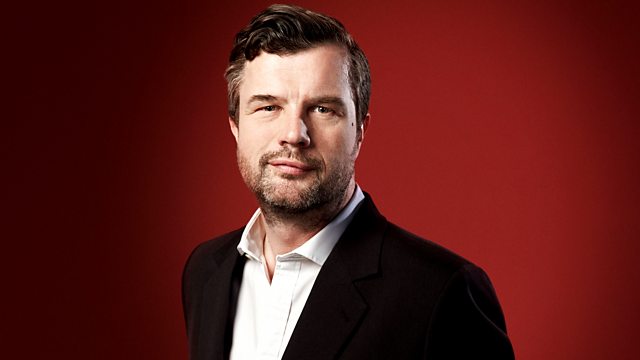 Petroc Trelawny - International Women's Day
Petroc Trelawny is joined in the studio by conductor Stephanie Childress in a special edition of Breakfast for International Women's Day. Email 3breakfast@bbc.co.uk
Petroc Trelawny presents a special edition of Breakfast for International Women's Day.
Stephanie Childress joins Petroc in the studio as one of the seven conductors on air throughout the day as part of Women In Front. Stephanie will share music by female composers close to her heart and she will play a track she has selected from the BBC Archive. International Women's Day is marked with music by women for 24 hours.
Email 3breakfast@bbc.co.uk
Last on

Music Played
Caterina Assandra

Haec dies (Motetti a due e tre voci, Op 2)

Performer: Claudia Nauhem. Performer: Mechthild Winter.

Grażyna Bacewicz

String Quartet No 3 (3rd mvt)

Ensemble: Silesian String Quartet.

Natasa Paulberg

A Star

Ensemble: UCD Choral Scholars. Director: Desmond Earley.

Perpetual Twilight.
Signum Classics.
6.

Louise Farrenc

Sextet in C Minor, Op.40 (2nd mvt)

Performer: Éric Le Sage. Ensemble: Les Vents Français.

Les Vents Français - Winds & Piano.
Warner Classics.
105.

Hildegard von Bingen

Columba aspexit

Singer: Emma Kirkby. Performer: Doreen Muskett. Choir: Gothic Voices. Director: Christopher Page.

Judith Weir

Arise, Arise! You Slumbering Sleepers

Ensemble: The Schubert Ensemble.

Jocelyn Pook

How sweet the moonlight (The Merchant of Venice)

Singer: Andreas Scholl. Performer: Siobhán Armstrong. Performer: Elizabeth Kenny. Ensemble: Baroque String Quartet.

Leonora Duarte

Sinfonia de Decimi toni

Ensemble: Transports Publics.

The Duarte Circle.
Musica Ficta.
1.

Rebecca Clarke

Morpheus

Performer: Philip Dukes. Performer: Sophia Rahman.

Mystery Minute

Judith Bingham

The darkness is no darkness

Choir: VOCES8.

Ruth Gipps

Horn Concerto, Op.58 (2nd mvt)

Performer: David Pyatt. Orchestra: London Philharmonic Orchestra. Conductor: Nicholas Braithwaite.

British Horn Concertos: Jacob/Arnold/Bowen/Gipps/Vinter.
Lyrita.
11.

Vítězslava Kaprálová

Suita Rustica (3rd mvt)

Orchestra: Brno Philharmonic Orchestra. Conductor: Jiří Pinkas.

Kaprálová: Composer´s Portrait.
Supraphon.
7.

Roxanna Panufnik

Zen Love Song (Wild Ways)

Ensemble: VOCES8. Performer: Loli Day. Conductor: Barnaby Smith.

PANUFNIK, R.: Love Abide.
Signum Classics.
401.

Delia Derbyshire

Mattachin

Ensemble: The BBC Radiophonic Workshop.

Delia Derbyshire

Towards Tomorrow

Performer: Delia Derbyshire.

BBC Radiophonic Music.
BBC RECORDS.
24.

Delia Derbyshire

Pot au feu

Performer: Delia Derbyshire.

Friday Poem

"Because I could not stop for Death" by Emily Dickinson, read by Eleanor Tremain

Lili Boulanger

Nocturne

Performer: Alina Ibragimova. Performer: Cédric Tiberghien.

Vierne; Franck: Violin Sonatas.
Hyperion.
10.

Poldowski

L'heure exquise

Singer: Philippe Jaroussky. Performer: Jérôme Ducros.

Green - Mélodies françaises.
Erato/Warner Classics.
128.

Jessica Curry

So Let Us Melt (Great Friends)

Orchestra: Studio Orchestra. Choir: Choir.

Clara Schumann

Three Romances, Op.22

Performer: Tasmin Little. Performer: John Lenehan.

C. Schumann; Smyth; Beach.
CHANDOS.
5-7.

Elizabeth Maconchy

Concertino no 2 for clarinet

Performer: Janet Hilton. Orchestra: BBC Scottish Symphony Orchestra. Conductor: Nicholas Kraemer.

BBC Archive Recording from 17/12/1985.

Fanny Mendelssohn

String Quartet in E flat major (4th mvt)

Ensemble: Quatuor Ébène.

Felix & Fanny Mendelssohn: String Quartets Op. 13 in A minor, Op. 80 in F minor:.
Virgin.
8.

Peggy Lee

What a Dog; He's a tramp (Lady and The Tramp)

Composer: Sonny Burke. Performer: Peggy Lee. Ensemble: Peggy Lee And The Mello Men.

Lady And The Tramp.
Walt Disney.
19.

Dobrinka Tabakova

Cello Concerto (Longing)

Performer: Kristina Blaumane. Orchestra: Lietuvos kamerinis orkestras. Conductor: Maxim Rysanov.

String Paths.
ECM NEW SERIES.
003.

Pinar Toprak

Waking Up (Captain Marvel)

Performer: Studio Orchestra & Chorus.

Barbara Strozzi

Chi brama in amore (Amante loquace)

Singer: Emőke Baráth. Ensemble: Il Pomo d'Oro. Conductor: Francesco Corti.

Mary Lou Williams

Swingin' for Joy

Performer: Mary Lou Williams. Performer: Booker Collins. Performer: Ben Thigpen.
Broadcast