Main content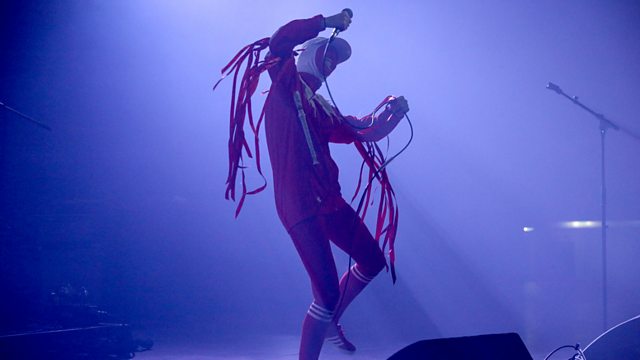 Late Junction Festival - Gazelle Twin and Pulled By Magnets
Verity Sharp presents music from the first night of the inaugural Late Junction Festival, including sets by Gazelle Twin and Pulled By Magnets.
The first-ever Late Junction Festival came into the world last week - two nights of music from leading lights of the left-field, presented on stage at EartH in East London by our triple-threat: Verity Sharp, Max Reinhardt and Nick Luscombe.
Tonight, highlights from the first night. Electronic artist Gazelle Twin has developed a unique voice in the British musical landscape. Her latest LP Pastoral digs deep into the English psyche, channelling its darkness and lacing it with satire, all performed in a costume which is half court jester, half football hooligan.
Drummer Seb Rochford's new band Pulled By Magnets perform their first major venue with a set of new songs exploring the margins of composed and improvised music. The group features his long-time collaborator, saxophonist Pete Wareham (Polar Bear, Acoustic Ladyland) and bass-player, Neil Charles.
Verity Sharp is our guide in the studio.
Produced by Chris Elcombe.
A Reduced Listening production for BBC Radio 3.
Last on
Music Played
Gazelle Twin

Little Lambs

Pulled By Magnets

Nowhere Nothing

Pulled By Magnets

Breath of Fire

Pulled By Magnets

Those among us, walk either side

Rudi Fischerlehner

Ghost

15 8 SLUM.
Not Applicable.

Leveret

Ellis Knowles' No.7 / The Honey Moon

Diversions.
Rootbeet Records..

Allison de Groot & Tatiana Hargreaves

Beaufort County Jail

Allison de Groot & Tatiana Hargreaves.
Free Dirt Records.

Saba Alizâdeh

Colors Wove Me In Tehran

Scattered Memories.
Karlrecords.

Marco Rosano

Requiem

Performer: Andreas Scholl.

Gazelle Twin

Better In My Day

Ignacy Podgórski

&

Jego Nadzwyczajna Ork

Polska go Lwowa (Polka from Lviv)

I Wouldn't Sell You to Anyone: Eastern European Immigrant Musics in the U​.​S​.​.
Canary Records.

EVHA

Todo Su Cuerpo Brilla

El Viejo Hombre de los Andes.
AYA.
Broadcast