Main content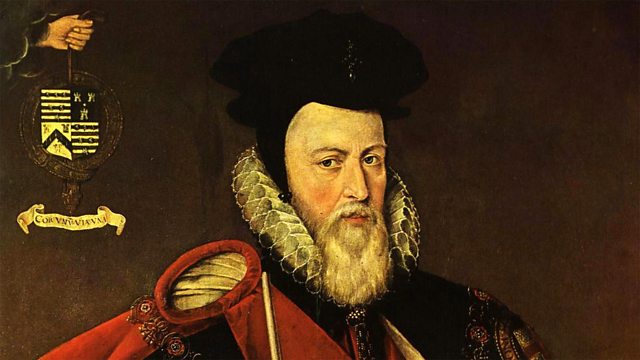 William Cecil
Melvyn Bragg and guests discuss the life and influence of the 1st Baron Burghley, Elizabeth I's powerful Secretary of State who advanced England's interests throughout her reign
Melvyn Bragg and guests discuss the impact on the British Isles of William Cecil, 1st Baron Burghley, the most poweful man in the court of Elizabeth I. He was both praised and attacked for his flexibility, adapting to the reigns of Protestant and Catholic monarchs and, under Elizabeth, his goal was to make England strong, stable and secure from attack from its neighbours. He sought control over Ireland and persuaded Elizabeth that Mary Queen of Scots must die, yet often counselled peace rather than war in the interests of prosperity.
With
Diarmaid MacCulloch
Professor of the History of the Church at the University of Oxford
Susan Doran
Professor of Early Modern British History at the University of Oxford
and
John Guy
Fellow of Clare College, University of Cambridge
Producer: Simon Tillotson
Last on
LINKS AND FURTHER READING
Diarmaid MacCulloch at the University of Oxford
John Guy at the University of Cambridge
Susan Doran at the University of Oxford
William Cecil – History Learning Site
READING LIST:
Stephen Alford, Burghley: William Cecil at the Court of Elizabeth I (Yale University Press, 2008)
B.W. Beckingsale, Burghley: Tudor Statesman (Macmillan, 1967)
John Cooper, The Queen's Agent: Francis Walsingham at the Court of Elizabeth I (Faber & Faber, 2012)
Susan Doran, Elizabeth I and Her Circle (Oxford University Press, 2015)
Michael A.R. Graves, Burghley: William Cecil, Lord Burghley (Longman, 1998)
John Guy, Elizabeth: The Forgotten Years (Penguin, 2017)
John Guy, My Heart is My Own: The Life of Mary Queen of Scots (Fourth Estate, 2004)
Norman Jones, Governing by Virtue: Lord Burghley and the Management of Elizabethan England (OUP, 2015)
David Loades, The Cecils: Privilege and Power behind the Throne (Bloomsbury, 2009)
Wallace T. MacCaffrey, Elizabeth I: War and Politics 1588-1603 (Hodder Arnold, 1993)
Broadcasts

Featured in...
Browse the 16th Century era within the In Our Time archive.

Historical themes, events and key individuals from Akhenaten to Xenophon.