Main content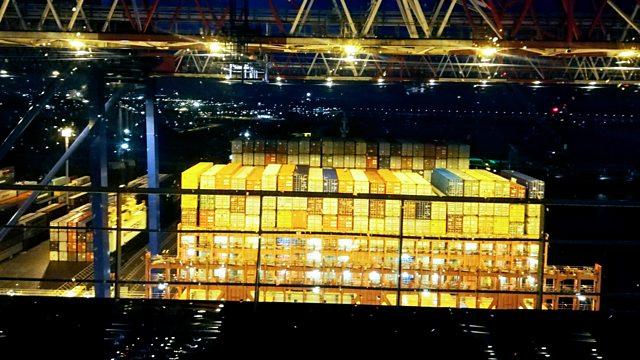 Container Ship Karaoke
Nathaniel Mann joins lonely seafarers on a giant container ship for some modern sea shanties. No bottles of rum, but some heart breaking ballads and deep water sounds.
Is karaoke the modern sea shanty?
Containers are the nearly invisible carriers of 90% of the goods on earth – yet we know so little about them, or the people on board. The crew who power globalisation, are unsung heroes. Now we hear them sing, and capture something of that strange, lonely, heroic life.
Sea shanties are a relic of the past – today it's far more likely to be karaoke soothing the soul and powering the arm of the modern sea farer.
Instead nearly all ships have a karaoke machine on board - and rumour has it, competition is ferocious.
In search of the modern sea shanty, Nathaniel Mann, award winning singer and song collector, who has long avoided taking part in karaoke, boards a state-of-the-art container ship in Gdansk shipyard… the Maribo Maersk, to sing along with the Filipino sea men, ship's cook Valiente, and able-seaman Ariel.
He also 'plays the ship' - discovering acoustic possibilities from the engine room to the Monkey Island (the platform above the bridge), attaching contact microphones which revel the rhythms hidden behind heavy metal walls.
He climbs out on the 'catwalk' to watch the stevedores at work, the giant cranes crashing a container into the hold every 2 minutes, 24 hours a day - until all 18,272 have been shifted - with all the complexity of a game of Tetrus.
The company offers mainly 5 month contracts to the 20 or so sailors on board, and discovering how the team pass those months at sea, Nathaniel hears tales of home-sickness, made even more poignant by the choice of songs the crew prefer to sing.
We hear from an international crew about life at sea in this giant vessel – you can't even hear the sea from the decks above. Tales of dark skies, longed for loved ones, learning the shape of the world from water - we hear a fluid mix of the sounds of the ship, the crew singing karaoke, and Nathan's own new songs, gleaned from his observations on board.
We also hear from Suffolk shanty singers Des and Jed, who wonder if karaoke might be an updated version of an older form of shanty.
About the presenter: Nathaniel Mann is an experimental composer, sound artist, performer and sound designer - known both for his experimental trio Dead Rat Orchestra, and most recently as embedded composer at the Pitt Rivers Museum. He also won the Arts Foundation's 25 Anniversary Fellowship 2018.
In 2015 he won the George Butterworth Prize for Composition, and much of his experience as an accomplished and imaginative percussive master, as well as singer, will be integral to this programme - a symphony of singing, the sea, the ships and the songsters.
Producer: Sara Jane Hall
With thanks to the crew of the Maribo Maersk, especially:
Chief Officer: Morten Fløjborg Hansen
CPT: Stig Lindegaard Mikkelsen
2nd Officer: Francis Umbay Dela Cerna
4th Engineer: Campbell John Dooley
Chief Cook: Valiente Panopio Peralta
AB: Ariel Dallarte Martin