Main content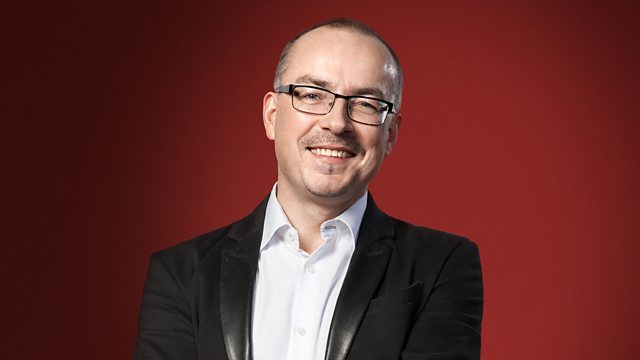 Andrew McGregor with Stephen Johnson and Sara Mohr-Pietsch
Andrew McGregor rounds up the best new and recent releases, and in Building a Library Stephen Johnson compares recordings of Tchaikovsky's Souvenir de Florence, Op 70.
with Andrew McGregor.
09.30
Building a Library: Stephen Johnson listens to and compares some of the available recordings of Tchaikovsky's string sextet Souvenir de Florence, Op.70.
Tchaikovsky subtitled his String Sextet in D minor, Op.70, 'Souvenir de Florence' because he sketched one of the work's main themes during the 3-month visit he made to Florence in Italy in 1890 during which he mainly devoted his energy to composing his opera, The Queen of Spades. Despite its conception in Italy, the Souvenir de Florence is decidedly Russian in character. It's not a work that Tchaikovsky found easy to complete, partly because of the scoring for 2 violins, 2 violas and 2 cellos, a texture that he found sometimes more orchestral than comprising 6 independent contrapuntal voices. Tchaikovsky composed the Sextet in 31 days and it received its first public performance in December 1890 at the St Petersburg Chamber Music Society, which had commissioned the work. Tchaikovsky was not entirely happy and revised the work during the following 2 years. Its final version was premiered in 1892 at the St Petersburg Imperial Russian Musical Society, by a sextet led by Leopold Auer.
11.00
In the run-up to International Women's Day, Sara Mohr-Pietsch reviews some of the most exciting new releases of the female composers.
11.45
Andrew chooses an outstanding new release as his Disc of the Week.
Record Review
9.00am
Knudage Riisager: Violin Concerto & Etudes for violin
Ian van Rensburg (violin)
Aarhus Symphony Orchestra
Andreas Delfs (conductor)
DaCapo 8.226145
https://www.dacapo-records.dk/en/recordings/riisager-violin-concerto-etudes
Sibelius: Symphony No.1 & En Saga
Gothenburg Symphony
Santtu-Matias Rouvali (conductor)
Alpha 440
https://outhere-music.com/en/albums/symphony-no-1-en-saga-alpha440

Johanna Senfter: Violin Sonata in G minor, Violin Sonata in A major, Two Suites for two violins, Op.91
Friedemann Eichhorn (violin)
Alexia Eichhorn (violin)
Paul Rivinius (piano)
Paladino Music PMR0101 (2 CDs)
https://www.paladino.at/cds/pmr-0101

'Songs of Renewal' – Jonathan Dove: The Passing Year; Will Todd: Songs of Renewal plus choral songs by Judith Weir, Tarik O'Regan, Cecilia McDowall, Huw Watkins & Roderick Williams
Bath Camerata (choir)
Benjamin Goodson (conductor)
Somm Recordings SOMMCD 0195
https://www.somm-recordings.com/recording/songs-of-renewal/
9.30am – Building a Library – Stephen Johnson on Tchaikovsky's Souvenir de Florence
Composer: Pyotr Ilyich Tchaikovsky
Reviewer: Stephen Johnson
Recommended Recording:
Borodin Quartet
Alto ALC1295
Other Recommended Recordings:

Chamber orchestra

Norwegian Chamber Orchestra
Iona Brown (conductor)
Chandos CHAN 9708
10.20am – New Releases
'Dmitri Shostakovich: Under Stalin's Shadow' – Shostakovich: Symphonies Nos.6 & 7; Incidental music to 'King Lear'; Festive Overture
Boston Symphony Orchestra
Andris Nelsons (conductor)
Deutsche Grammophon 483 6728
https://www.deutschegrammophon.com/gb/cat/4836728
Joël Bons: Nomaden
Jean-Guihen Queyras (cello)
Atlas Ensemble
Ed Spanjaard (conductor)
BIS-2073 (Hybrid SACD)
http://bis.se/performers/queyras-jean-guihen/joel-bons-nomaden
'London (Circa 1700)' – Instsrumental music by Purcell, Godfrey Finger, Giovanni Draghi, John Blow & William Croft
La Rêveuse (ensemble)
Benjamin Perrot (theorbo)
Florence Bolton (viola da gamba)
Mirare MIR368
'The Cares of Lovers' – Songs by Purcell
Rowan Pierce (soprano)
William Carter (lute/theorbo)
Richard Egarr (harpsichord)
Linn CKD592
https://www.linnrecords.com/recording-purcell-cares-lovers

10.50am – International Women's Day composers with Sara Mohr-Pietsch
Anna Thorvaldsdottir: Aequa
International Contemporary Ensemble
Steven Schick (director)
Sono Luminus DSL-92227
https://sono-luminus.squarespace.com/store/aequa

Amy Beach: Violin Sonata in A minor, Romance in A major & Invocation; Clara Schumann: Three Romances; Smyth: Violin Sonata in A minor
Tasmin Little (violin)
John Lenehan (piano)
Chandos CHAN20030
https://www.chandos.net/products/catalogue/CHAN%2020030

Charlotte Bray: Chamber and Solo Works - 'Zustande' for piano quartet, 'Beyond' for solo violin, 'Invisible Cities' for violin and piano, 'On the Other Shore' for solo cello , 'The Sun was Chasing Venus' for String Quintet
Philipp Bohnen (violin)
Barbara Buntrock (viola)
Peter-Philipp Staemmler (cello)
Huw Watkins (piano)
Mariani Klavierquartett
Amaryllis Quartett
RTF Classical IBU 08
http://junkibu.com/home-2/rtf-classical/ibu-008-bray/

Cassandra Miller: 'Just So, 'Warblework' About Bach & 'Leaving' for string quartet
Quatuor Bozzini
Another Timbre AT129
http://www.anothertimbre.com/millerjustso.html

Elizabeth Maconchy: Complete String Quartets
Hanson String Quartet
Bingham String Quartet
Mistry Quartet
Unicorn DKPCD9080/2 (3 CDs)

Florence Price: Symphonies Nos.1 & 4
Fort Smith Symphony
John Jeter (conductor)
Naxos 8.559827
https://www.naxos.com/catalogue/item.asp?item_code=8.559827

11.45am – Disc of the Week
Mahler: Symphony No.3
Gürzenich-Orchester Kölner
François-Xavier Roth (conductor)
Harmonia Mundi HMM 9053 1415 (2 CDs)
http://www.harmoniamundi.com/#!/albums/2496