Main content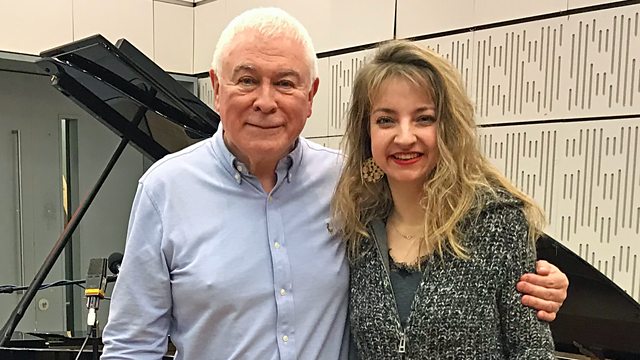 Lise de la Salle, Olivia Chaney and John Nelson
Sean Rafferty presents live music from the world's finest musicians. Today pianist Lise de la Salle and singer Olivia Chaney perform live and Sean talks to conductor, John Nelson
Lise de la Salle joins us in the studio for a live performance ahead of her concert with Royal Philharmonic Orchestra on the 5th march at the Royal Festival Hall. Live music also from singer songwriter and pianist Olivia Chaney who embarks on a UK tour with her album "Shelter". We are also joined by John Nelson as he prepares to conduct Berlioz's 'Grande Messe des Mortes', in the historic setting of St Paul's Cathedral to mark 150 years since the composer's death. The American conductor and Berlioz expert will lead a performance of over 300 musicians, featuring the Philharmonia Chorus and London Philharmonic Choir alongside the Philharmonia Orchestra on Friday 8th March.
Last on
Music Played
Johann Sebastian Bach

Violin Concerto in E Major, BWV 1042: I. Allegro

Performer: Isabelle Faust. Orchestra: Academy for Ancient Music Berlin. Conductor: Bernhard Forck.

J.S. Bach: Violin Concertos.
harmonia mundi.
105.

Sergey Rachmaninov

Étude Tableau op39 no.1 in C minor

Performer: Lise de la Salle.

Hector Berlioz

Chers Tyriens, tant de nobles travaux (Les Troyens, Act 3)

Performer: Joyce DiDonato. Choir: Choeur Philharmonique de Strasbourg. Orchestra: Orchestre philharmonique de Strasbourg. Choir: Chœur de l'Opéra national du Rhin. Choir: Badisches State Opera Chorus. Conductor: John Nelson.

Hector Berlioz

Te Deum Op.22, H118; Te Deum laudamus (Hymne)

Performer: Marie‐Claire Alain. Singer: Roberto Alagna. Choir: choeur de l'enfant de l'Union Europeenne D'Antony. Choir: Choeur de l'Orchestre de Paris. Orchestra: Orchestre de Paris. Conductor: John Nelson.

Berlioz The Complete Works.
warner classics.
002.

Joseph Haydn

String Quartet in G major, Op 77 No 1, 'Lobkowitz' (4th mvt)

Ensemble: Jerusalem Quartet.

Franz Liszt

Sonetto 104 del Petrarca, 2nd suite from Années de pèlerinage (S.160, S.161, S.163)

Performer: Lise de la Salle.

George Frideric Handel

Organ Concerto in F major, HWV295 'The Cuckoo and the Nightingale' - 5. Allegro

Performer: Peter Hurford. Ensemble: Concertgebouw Kamerorkest. Conductor: Joshua Rifkin.

Clara Schumann

Leidenschaftlich schnell (Romances for violin and piano, Op.22 No. 3)

Performer: Stephanie Childress. Performer: Kumi Matsuo.

Antonio Vivaldi

Winter (The Four Seasons)

Performer: Rachel Podger. Ensemble: Brecon Baroque.

VIVALDI: LE QUATTRO STAGIONI.
Channel Classics.

Giovanni Pierluigi da Palestrina

Magnificat primi toni a8

Choir: Choir of King's College, Cambridge. Conductor: Stephen Cleobury.

Ludwig van Beethoven

Piano Concerto No. 2 in B-Flat Major, Op. 19: III. Rondo. Molto allegro

Performer: Maria João Pires. Conductor: Bernard Haitink. Orchestra: London Symphony Orchestra.

Beethoven: Piano Concerto No. 2 & Triple Concerto.
Lso Live.
103.

Trad.

The Gardener

Performer: Olivia Chaney. Performer: Jordan Hunt.

Olivia Chaney

Roman Holiday

Performer: Olivia Chaney. Performer: Jordan Hunt.

Olivia Chaney

House on a Hill

Performer: Olivia Chaney.
Broadcast