Main content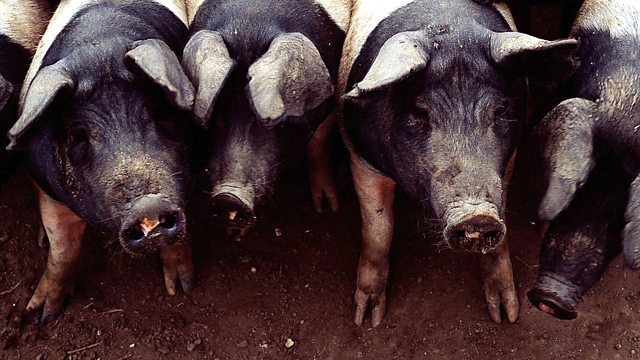 US food safety standards; farmland worm count; reactions to new farming minister.
After claims that the US has the lowest rates of food poisoning, Charlotte Smith finds out whether this applies to specifically chicken-related illnesses.
The US Ambassador to the UK, Woody Johnson, has been speaking out this week, trying to reassure British consumers about American food and farming standards - which have come to be a bit of a sticking point in conversations about a future trade deal.
Mr Johnson has been talking up the virtues of, in particular, chlorinated chicken.
In the US, chicken can be washed in disinfectant solutions at the processing stage, to kill off bacteria that can make consumers ill, such as Campylobacter and Salmonella. Under EU law, this is not permitted in the UK - the idea being that bacteria should be controlled by farmers at the production end of the chain.
US farmers argue that their process delivers a safer product - while the UK agricultural sector says it doesn't object to the wash, but to the fact that it allows lower poultry welfare and health standards on American farms. (Of course, the argument isn't solely an ethical one: if more cheaply produced American chicken was allowed into the UK, it could undercut UK poultry farmers.)
Speaking to Radio 4's Today programme about the chicken issue, Woody Johnson said he'd rather at chicken that was "clean and safe" - going on to state that the US has "the lowest level of food poisoning".
So is he right? Charlotte Smith asks Rachel Schraer from BBC Reality Check, the team that fact-checks claims in the news - and it seems it depends which figures you're looking at...
Worms are vital for soil health: they fertilize the earth and help with flood prevention.
As Farming Today continues its soil focus this week, we're finding out more about a nationwide survey into worm populations on farmland - after a pilot project last year showed four out of ten fields had a worrying lack of one crucial type of worm: the deep burrower, which helps with soil drainage. Researchers believe this could be down to excessive ploughing of surface organic matter, which worms need for food.
Jackie Stroud from Rothamstead Institute wants farmers to carry out a simple count and send her the results. Our reporter Alun Beach joined her on Overbury Farm near Tewkesbury, with farm manager Jake Freestone, for a worm hunt.
With just 22 days until we leave the EU, Scarborough and Whitby MP Robert Goodwill has been confirmed as the new Farming and Fisheries Minister, after George Eustice stepped down over concerns about a potential delay to Brexit.
Mr Goodwill comes from the Home Office, but is no stranger to the food and farming sector: his family have a farm in North Yorkshire, he's previously been a representative of the National Farmers Union, and during his time as an MEP in the European Parliament he served on the Environment, Public Health and Food Safety Committee.
Charlotte gauges the reaction to his appointment, from farming and environmental bodies - hearing from the NFU and speaking to Paul McNamee from Green Alliance, a charity and independent think tank focused on the environment.