Main content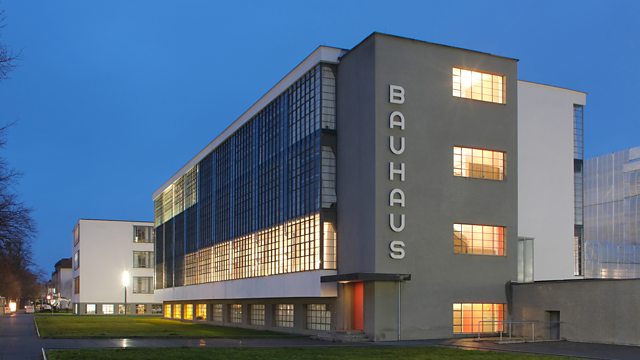 Eleanor Bron reads Fiona McCarthy's biography of the visionary founder of the Bauhaus, Walter Gropius. Today - Developing a Vision.
Eleanor Bron reads Fiona McCarthy's biography of the Bauhaus founder, Walter Gropius.
Gropius was a man of extraordinary charisma. For more than twenty years, from 1910 to 1930, he was at the very centre of European modern art and design. His buildings are still strikingly experimental, his influence on post-war architecture in America and internationally was enormous. As the founder and director of the Bauhaus, he invented a form of creative education that influenced art schools worldwide. But the Bauhaus was more than an art school - it was the birth of a whole new philosophy of art.
The Bauhaus stood for delight, experiment and creative freedom. Gropius gathered talents, including Paul Klee and Wassily Kandinsky, into an art school that became an alternative way of life. Once Hitler came to power in 1933, Gropius' situation became increasingly untenable. The Nazis opposed everything the Bauhaus stood for. Gropius' beliefs and his affiliations left him little choice but to leave Germany. His story is one of exile in a century of buffeting and conflict.
In this entertaining biography, Fiona MacCarthy argues that Walter Gropius's visionary ideas still influence the way we live, work, and think today.
Episode 1:
Walter Gropius begins to develop his vision for a new modern architecture. Through his first major commission, the Fagus shoe factory, he creates a "palace of beauty" for workers, using glass in an entirely new way so that the building appears to float in space. He also meets Alma Mahler, wife of the famous composer Gustav Mahler. The first evening they meet, they fall madly in love, and their affair, passionate and tortured, will become a defining influence in his life.
Reader: Eleanor Bron
Producer: Elizabeth Burke
Executive Producer: Joanne Rowntree
A Loftus Media production for BBC Radio 4
More episodes
Previous
You are at the first episode