Main content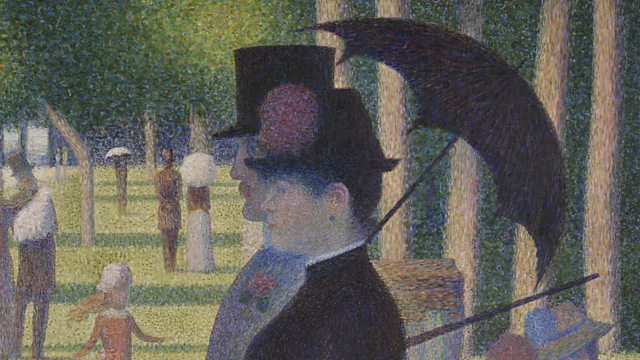 A Sunday on La Grande Jatte by Georges Seurat
Take the closest of looks at Seurat's pointillist masterpiece, A Sunday on La Grande Jatte. With Cathy FitzGerald.
Cathy FitzGerald invites you to discover new details in old masterpieces, using your phone, tablet or computer.
Each thirty-minute episode of Moving Pictures is devoted to a single artwork - and you're invited to look as well as listen, by following a link to a high-resolution image made by Google Arts & Culture. Zoom in and you can see the pores of the canvas, the sweep of individual brushstrokes, the shimmer of pointillist dots.
The new series starts with a closer look at a pointillist masterpiece - George Seurat's A Sunday on La Grande Jatte (The Art Institute of Chicago). Painted in the 1880s, it depicts a group of day-tripping Parisians enjoying the sunshine by the river Seine. Each is a character in search of a story - the boater smoking his pipe, the shop-girl with her novels, the elderly invalid, shivering despite the sun, and the soldiers, standing to attention.
Cathy takes a wander in the park and hears how Seurat created his shimmering, glimmering, light-filled work.
Interviewees: Gloria Groom, Leah Kharibian, Colin Jones, Colin Wiggins.
Producer and Presenter: Cathy FitzGerald
A White Stiletto production for BBC Radio 4
Georges-Pierre Seurat. A Sunday on La Grande Jatte (1884–86). The Art Institute of Chicago.
Last on

Broadcasts