Main content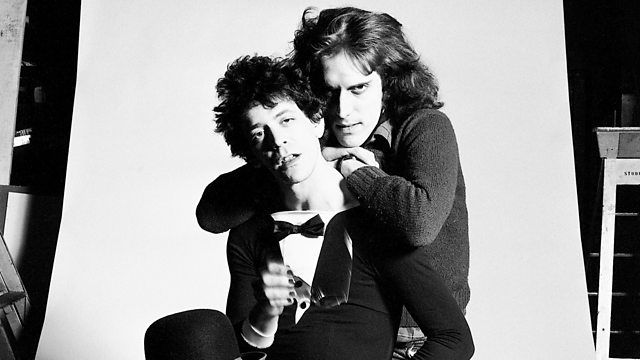 Walking the Wild Mind
On Lou Reed's birthday, singer-songwriter Suzanne Vega explores his complex life and music. She's inspired by how he observed and described New York's characters and subcultures.
Singer-songwriter Suzanne Vega explores Lou Reed's complexities with New Yorkers who knew him well.
Suzanne first saw Lou Reed perform when she was a student in New York. In that first concert she saw him intimidate and upset the audience in the first half of the show but, after the interval, he was another performer entirely. This was Lou bestowing all his charisma and talent to fans.
She explores the two sides of Lou Reed in a programme celebrating the imminent unveiling of his archive. Lou's widow, artist and musician Laurie Anderson, has donated it to the New York Public Library for the Performing Arts.
Suzanne Vega lived a couple of blocks away from Lou and Laurie and often visited them at their country home. She wanted to get him know him better, but it was obvious that he needed to protect himself. Now, Suzanne talks to other New Yorkers who knew and worked with him.
Few got to see all sides of Lou Reed. Poet Anne Waldman talks about how seriously he took his poetry and songwriting. His second wife Sylvia Reed also describes his love of literature. Biographer Anthony De Curtis talks about the R and B music Lou loved all his life. Music entrepreneur Michael Dorf, shared with Lou his love of Jewish celebrations. Garland Jeffreys, a musician who knew Lou from university days to his death in 2013, describes their love of doo wop on Brooklyn street corners. He also witnessed Lou's rage at his father.
Throughout the programme, Suzanne asks her interviewees to bring objects that remind them of Lou or talk about an item in the archive. Along with producer Judith Kampfner, she has an exclusive sneak peek at some of the archival gems - the jewel, an exclusive for the BBC, is the opening of an iconic song from a 1965 demo.
Presenter: Suzanne Vega
Producer: Judith Kampfner
Executive Producer: Jeremy Mortimer
A Corporation for Independent Media production for BBC Radio 4
Last on