Main content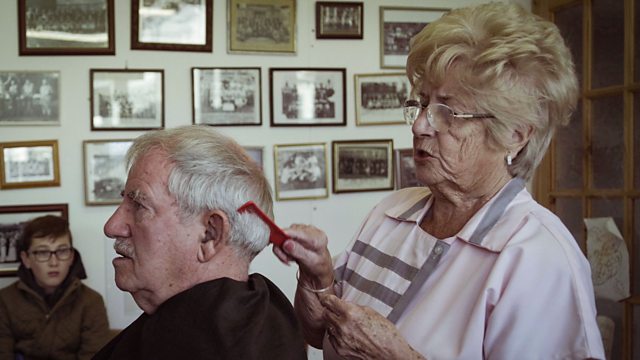 Past and present converge in a barbershop where Shirley has cut hair for 67 years, with photos reflecting generations of customers in a changing village.
A new documentary series which showcases short films made by talented new film-makers as part of It's My Shout training scheme.
Shirley Walker has been cutting hair for almost 70 years in the once vibrant mining community of Cefn Forest, and knows generations of families in the area. The treasured photographs on the shop wall are like chapters in the village history. They show a time when the village life was dominated by groups of men getting together from sports teams to brass band to homing pigeons. How things have changed.
Miners used to walk up the Black Path from their gruelling shift straight to Shirley's (and her father who barbered before her) for a short back and sides, then out to one of the local clubs - most of which are now in decline.
Present day customers, can see their forefathers on the wall, and hear stories about them from Shirley. She cut everyone's hair, and still does. There is a deep seam of loyalty from these customers who travel as far as a 200-mile round trip, and locals who now live abroad still pop in for a haircut when they come home to visit.
Two of her customers - ex miners Ray Pope and Nat Thomas - revisit the fast-deteriorating Miner's Institute which was once the heartbeat of the community. Emotions run high as they remember the 'Stute' as it was in its heyday and see the extent to which the legacy of those hard-working miners is sadly slipping away.
This is a lovesong to those men who worked underground, to Shirley, the keeper of their social and personal histories, and to the village of Cefn Fforest. It's an acknowledgement that though the community has changed, and is changing there is still one place where the heart of the past is still palpably beating.