Main content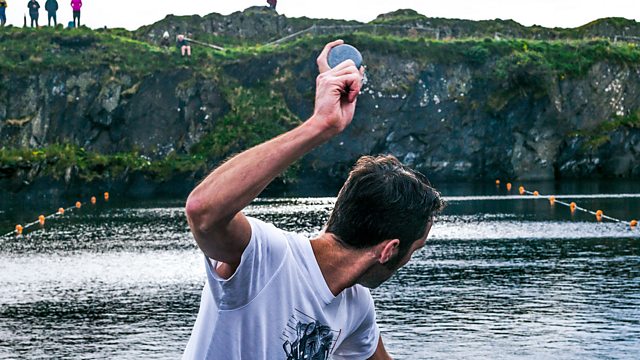 Sink or Skim
The World Stone Skimming Championship is held on the tiny Scottish island of Easdale every year. Two obsessed skimmers show us what it takes to become the world's best.
The World Stone Skimming Championships is held on the tiny west coast island of Easdale. An island blessed with millions of perfect skimming stones after its slate mining industrial past was brought to an abrupt end by a huge storm. Water filled the immense quarries and created the world's first stone skimming arena. The competition has always been, and is to this day, a community fundraising event, but tensions are now mounting between the small island community and the skimmers whose abilities have far outgrown the limitations of the 63m quarry.
As with any sport, it takes dedication hard work and a lot of practice to be the best. Stone skimming is an activity with competitive nature at its core, but little is known of the esoteric world of competition skimming and the devoted individuals who call themselves the 'Elite'.
With the coveted title of World Champion and the first ever Guinness world record up for grabs, Sink or Skim delves deep into what it takes to be 'Top Tosser' in the biggest year in the history of the sport.
The sport is at a crucial apex, it's future hangs in balance. A point where enough people are getting involved that questions are being raised about what direction the sport should move towards. This can be neatly split into two camps: people who think Easdale is the irrefutable spiritual home of the sport and should never move, and those who think it's 63m quarry is a limiting length for throwers and a hindrance to stone skimmings' potential.
There are murmurs and aspirations of it being accepted into the Olympics or Commonwealth games, and that may never happen if the sport can't leave Easdale, that being said, Easdale's survival is dependant of the money raised on the World ChampIonship weekend.
Alex Lewis and Dougie Isaacs, the two most capable competitors of hitting Easdales' 'Backwall', hail from opposite sides of these camps. Dougie accepts the limitations of the island and demonstrates a zen attitude to competition, usually his zen comes from two pints of ale. Alex on the other had, only values one thing, and that's winning. If doesn't get a competition that caters to the 100m-plus thrower he might just have to go a make one himself.
Clips