Main content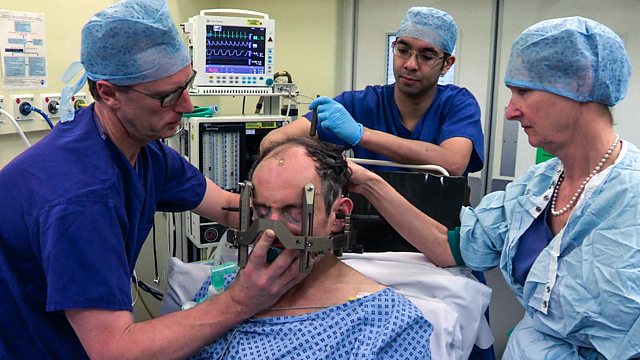 Filmed over six years, 42 people with Parkinson's take part in a groundbreaking medical trial. Can the results give hope to 10 million Parkinson's sufferers worldwide?
Filmed over six years, this series follows a group of volunteers with Parkinson's as they take part in a groundbreaking medical trial testing a drug called GDNF. Forty-two patients undergo complex brain surgery and months of infusions via a port embedded into the side of their skull. Can this clinical trial give hope to the estimated 10 million affected by Parkinson's globally?
In 2012, doctors from Frenchay and Southmead Hospitals in Bristol recruit volunteers to participate in a £3m trial, ending in 2017, to tackle the world's second most common neurodegenerative condition. 42 volunteers living with Parkinson's put their trust in Professor Steven Gill and the trial's principal investigator, neurologist Dr Alan Whone, along with their team of medical experts.
'I'm giving you my body and I want you to find a cure', says Kay Cotton, 57, from Cornwall, who has had Parkinson's for ten years. Other volunteers living with Parkinson's include Bryn Williams, 42, from Glasgow, who says it is the chance to be 'part of a trial that could truly shift medicine', whilst Ron Johnson, 72, from Oxfordshire, simply wants to 'be able to play football with my grandchildren'.
The drug being tested is GDNF – glial-cell derived neurotrophic factor. It is a naturally occurring protein found in our brains, first linked to treating Parkinson's in 1993. It was discovered in the lab that, at a high dosage, GDNF had a restorative effect on dopamine neurons, the cells affected in Parkinson's leading to slowness, rigidity and tremors, among other symptoms.
In 2001, Bristol neurosurgeon Professor Steven Gill became the first to successfully deliver a therapeutic dose of the drug in five people with Parkinson's but, controversially, the drug failed in a subsequent Phase 2 trial in the USA in 2004. This new trial sees a further 42 volunteers undergo extensive brain surgery and then be randomised to receive either GDNF or a placebo.
In this moving first episode, cameras follow Professor Gill performing surgery on all the volunteers to implant the device he has designed that enables delivery of GDNF to a deep part of the brain. The device comprises four catheters placed in the putamen (a part of the brain key in Parkinson's) that link to a port embedded in the side of the skull through which GDNF can be infused monthly.
The surgery and infusions that follow are medical firsts, offering a whole new way of delivering drugs to the brain. It leads to Pfizer, the world's biggest pharmaceutical company, investing in GDNF and the Bristol delivery system part-way through the trial.
Tom Isaacs, 44, from Hertfordshire, is one of the trial's most severely-affected volunteers, diagnosed with Parkinson's aged 27. Tom says, 'It is with you every single second of every single day'.
After five years of one of the world's most ambitious medical trials, we find out whether the drug is the breakthrough the world has been waiting for.