Main content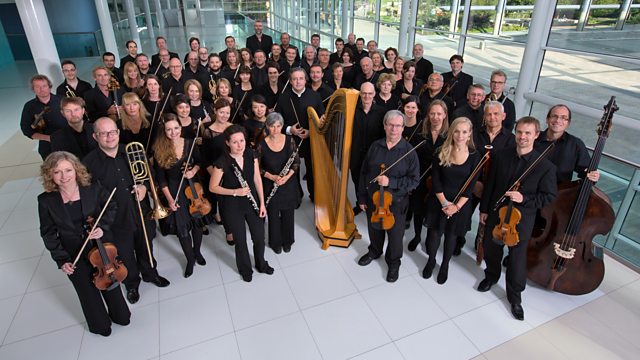 Phaeton's Journey
The BBC Philharmonic and trumpeter Hakan Hardenberger perform the premiere of Robin Holloway's 'Phaeton's Journey: Son of the Sun'. Schumann and Silvestrov complete the programme.
From the Bridgewater Hall in Manchester
Presented by Tom Redmond
Schumann: Overture, Scherzo and Finale
Robin Holloway: Phaeton's Journey: Son of the Sun (world premiere, BBC commission)
8.15 CD
Schumann: Liederkreis Op. 39 (selection)
Felicity Lott (soprano)
Graham Johnson (piano)
8.35
Silvestrov: Symphony No.5
BBC Philharmonic
John Storgards (conductor)
Hakan Hardenberger (trumpet)
Super-star trumpeter Hakan Hardenberger joins the BBC Philharmonic and John Storgards for the world premiere of Robin Holloway's 'Phaeton's Journey: son of the sun'. This BBC commission draws on one of the myths of the the ill-fated attempt of Phaeton, son of Apollo (here the Sun god) to drive his father's chariot across the heavens for a day. With the soloist portraying both sun and son the work gives a graphic portrayal of the exhilaration of the flight, of danger and disaster and finally of mourning lament. Ukrainian composer Valentin Silvestrov finished his Fifth Symphony in 1982 and its first recording developed quite a cult following in the former Soviet Union. Its meditative, transcendental atmosphere and unique sound-world draws the audience in. The programme opens with Schumann's sparkling 'Overture, Scherzo and Finale'. Conceived in the year after he was married (Clara was encouraging him to write more orchestral music) he thought of the piece as a three-movement symphony and it is full of vivacious lightness and energy.
Featured in...
We broadcast more live and specially-recorded concerts and opera than any other station.