Main content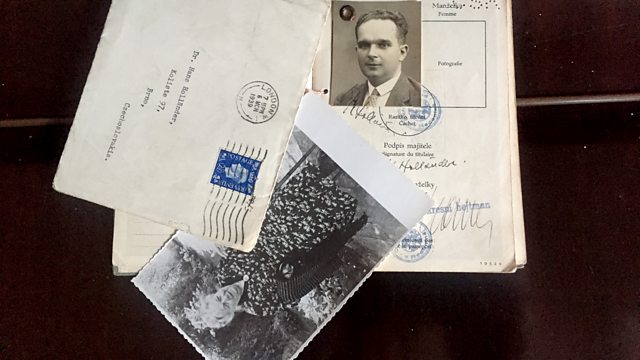 The Letter
Julia Hollander, her brother Tom and father Tony explore the emotional impact of a letter from the BBC which saved their family and spawned a rich legacy of Czech music in the UK.
Julia Hollander, her brother Tom and father Tony tell the story of a letter from the BBC, which saved their family, spawning a rich legacy of Czech music in the UK.
March 1939. Broadcaster Hans Hollander, grandfather of writer and musician Julia and actor Tom, receives a letter that becomes his family's passport to freedom. The BBC's KA Wright invites Hans to come to London to discuss Janacek and the whole of question of Czech music asking, 'How soon do you think you could come, and how long would you be able to stay?'
After years of trying to fall in with the anti-Semitic bureaucracy, the Hollanders fear for the future; the letter offers them a possible escape. On 15 March 1939 - the day Hitler's tanks roll into Prague - they take the train from Brno, constantly in terror, watching as people they know are taken off the train by the Gestapo. The BBC letter is enough to effect safe passage to Britain. Once there Hans and Kenneth Wright share their passion for Czech music with Wright orchestrating the Bohemian folk songs Hans brought with him from his homeland.
Julia Hollander goes in search of KA Wright to discover an unlikely saviour. An outsider driven by artistic curiosity and a passionate belief in the international language of music. She seeks out and revives the music Kenneth and Hans made together, and Tom reads from his grandfather's letters.
Janacek's 'In The Mists' is performed by Julia Hollander, KA Wright's 'Nocturne' is played by Peter McMullin, and 'Bohemia' sung by Julia Hollander with accompaniment by Peter McMullin, an expert in KA Wright's music. Hans Hollander's letters, translated by Anne Varty, are read by Tom Hollander.
Producer Dixi Stewart, with assistance from Hannah Dean and Mark Burman.
Last on
How a letter from the BBC to Czechoslovakia saved a family from liquidation by the Nazis.
Broadcasts