Main content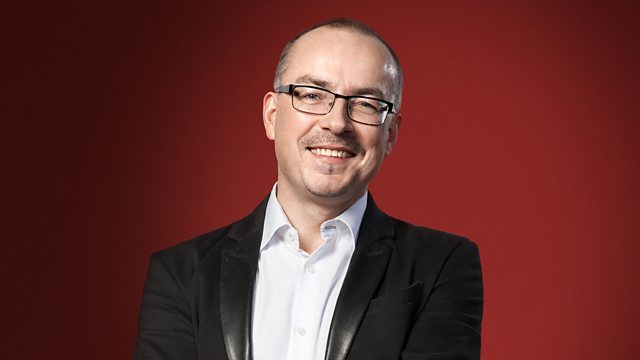 Andrew McGregor with Flora Willson and William Mival
Building a Library on Verdi's opera Force of Destiny and William Mival reviews new releases of Sibelius, Shostakovich and Tchaikovsky.
with Andrew McGregor.
09.30
Building a Library: Flora Willson listens to and compares recordings of Verdi's opera La forza del destino
La forza del destino, or The Force of Destiny, is an opera written and conceived on the grandest scale. An accidental death in the first scene ignites a drama of retribution in which the heroine, Leonora and her lover, Don Alvaro, are stalked by Leonora's vengeful brother Don Carlo. This dark tale is offset by lively scenes of daily life in military encampments and monastic orders than in many ways anticipates the great epic tableaux of Russian opera.
10.30
Andrew talks to William Mival about new releases of symphonies by Sibelius, Shostakovich and Tchaikovsky
11.45
Andrew chooses an outstanding new release as his Disc of the Week.
Record Review
9.00am
'Haydn 2032, Vol.7: Gli Impresari' – Haydn: Symphonies Nos. 9, 65 & 67; Mozart: Thamos, King of Egypt
Kammerorchester Basel
Giovanni Antonini (conductor)
Alpha 680
https://outhere-music.com/en/albums/haydn-2032-vol-7-gli-impresari-alpha680

'Baroque Journey' – Music for recorders by Handel, Bach, Sammartini, Marais, Couperin, Purcell etc.
Lucie Horsch (recorders)
Charlotte Barbour-Condini (recorder)
Thomas Dunford (lute)
Academy of Ancient Music (ensemble)
Decca 483 4722

Prokofiev: Peter and the Wolf (Arr. for jazz orchestra by Tommy Smith, text adapted by Liz Lochhead)
Scottish National Jazz Orchestra
Tommy Smith (conductor)
Tam Dean Burn (narrator)
Spartacus Records STS027
https://www.spartacusrecords.com/proddetail.php?prod=STS027
Mendelssohn: Piano Concertos Nos. 1 & 2, Variations sérieuses & Rondo capriccioso
Jan Lisiecki (piano)
Orpheus Chamber Orchestra
Deutsche Grammophon 483 6471
https://www.deutschegrammophon.com/gb/cat/4836471
9.30am – Building a Library – Flora Willson on Verdi's La Forza del Destino
Composer: Giuseppe Verdi
Reviewer: Flora Willson
Recommended Recording:
Donna Leonora           Leontyne Price (soprano)
Don Alvaro                 Richard Tucker (tenor)
Don Carlo                   Robert Merrill (baritone)
Preziosilla                    Shirley Verrett (mezzo-soprano)
Padre Guardiano         Giorgio Tozzi (bass)
RCA Italiana Opera Orchestra and Chorus
Thomas Schippers (conductor)
Sony G010003563730H(Digital download)
Recorded 1964
Other Recommended Recordings:

DVD

Donna Leonora           Anja Harteros (soprano)
Don Alvaro                 Jonas Kaufmann (tenor)
Don Carlo                   Ludovic Tézier (baritone)
Preziosilla                    Nadia Krasteva (mezzo-soprano)
Padre Guardiano         Vitalij Kowaljow (bass)
Bayerischen Staatsoper Chorus & Orchestra
Asher Fisch (conductor)
Directed by Martin Kusej
Sony 88875160649 (2 DVDs)
10.20am – New Releases
Schubert: Symphonies Nos. 3, 5 & 8 'Unfinished'
City of Birmingham Symphony Orchestra
Edward Gardner (conductor)
Chandos CHSA 5234 (Hybrid SACD)
https://www.chandos.net/products/catalogue/CHSA%205234
Zimmermann: Violin Concerto, Photoptosis & Vocal Symphony for 6 singers 'Die Soldaten'
Leila Josefowicz (violin)
Anu Komsi (soprano)
Jeni packalen (alto)
Hilary Summers (contralto)
Peter Tantsits (tenor)
Ville Rusanen (baritone)
Juha Uusitalo (bass-baritone)
Finnish Radio Symphony Orchestra
Hannu Lintu (conductor)
Ondine ODE 1325-2
https://www.ondine.net/?lid=en&cid=2.2&oid=6192
'Inamorato: Trilogia Italiana' – Italian vocal music from the Renaissance to the 18th Century including works by Marco Cara, Monteverdi, Frescobaldi etc.
Marco Beasley (vocalist)
Accordone (ensemble)
Guido Morini (conductor)
Cypres CYP9620 (3 CDs)
https://labelcypres.wordpress.com/2019/01/29/cyp9620-innamorato/
Mozart: Symphonies Nos. 40 & 41 'Jupiter'
NDR Radiophilharmonie
Andrew Manze (conductor)
Pentatone PTC 5186 757 (Hybrid SACD)
https://www.pentatonemusic.com/mozart-symphonies-40-41-jupiter-manze-ndr-radiophilharmonie
Cavalli: Missa 1660
Galilei Consort (ensemble)
Benjamin Chénier (director)
Chateau de Versailles CVS006
10.50am – William Mival on orchestral new releases
Tchaikovsky: Symphony No.4 & Mussorgsky: Pictures at an Exhibition
London Symphony Orchestra
Gianandrea Noseda (conductor)
LSO 0810 (Hybrid SACD)
https://lsolive.lso.co.uk/products/tchaikovsky-4-noseda

Shostakovich: Symphony No.5 & Four Romances on Poems by Pushkin
James Platt (bass)
Hallé
Mark Elder (conductor)
Hallé CD HLL 7550
https://www.halle.co.uk/shop/cd/shostakovich-symphony-no-5-four-romances-on-poems-by-pushkin/

Sibelius: Complete Symphonies 1-7
Orchestre de Paris
Paavo Järvi (conductor)
RCA 19075924512 (3 CDs)

11.45am – Disc of the Week

Haydn: Keyboard Sonatas Nos. 20 & 48, Partita in G major Hob.XVI:6, Variations Hob.XVII:6 & Variations on the theme 'Gott erhalte Franz, den Kaiser'
Kristian Bezuidenhout (Fortepiano: McNulty copy of A.Walter & Sohn, Vienna 1805)
Harmonia Mundi HMM 902273
http://www.harmoniamundi.com/#!/albums/2493