Main content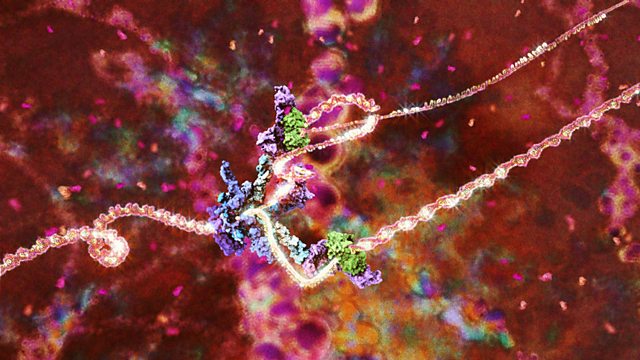 Recombinant Rhymes and DNA Art
Anna McNamee meets the poets, artists and scientists working in genetics – discovering that the connection between understanding DNA and art is more than just skin-deep.
The successful sequencing of the human genome has not only had huge implications for medicine, bio-technology and the life sciences - but it has also provoked a great and growing reaction among artists and writers.
Anna McNamee meets poets, visual artists and scientists collaborating creatively on the frontiers of DNA science in a genre that Pulitzer Prize nominated author of AI Renaissance Arthur Miller calls Art Sci.
In Melbourne, the bio-animator Drew Berry tells how his dramatic but scientifically exact visualizations of cellular and molecular processes have earned him fans around the world – including the musician Bjork.
The poet Sue Dymoke and the structural biologist Pietro Roversi reveal how their creative partnership has resulted in a three-dimensional, topsy turvy poem called DNA Time that mimics DNA's unique and complex structure.
In his lab, the Canadian experimental poet Christian Bök has successfully encoded his work into the DNA of a bacterium creating what is essentially a living poem.
While at the European Bioinformatics Institute near Cambridge, the artist and filmmaker Charlotte Jarvis and the scientist Dr Nick Goldman have stored music in DNA which they then suspended in a soap solution and used to blow bubbles, quite literally, bathing their audiences in music.
Producer and Presenter: Anna McNamee
A Whistledown production for BBC Radio 4
Image: Bjork DNA Replisome, by Drew Berry.
Last on