Main content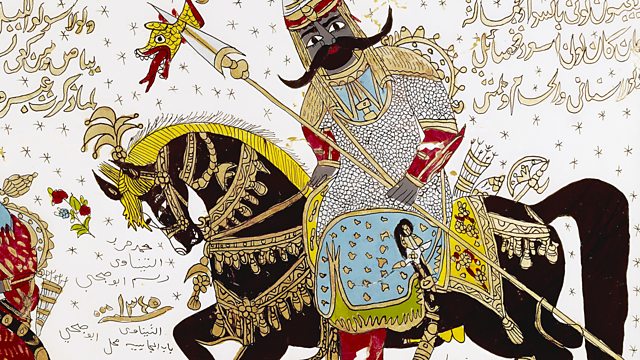 Antarah ibn Shaddad
Melvyn Bragg and guests discuss the poetry of Antarah (525-608AD), his historical context before Islam, how his work relates to other poets in that period, and his legacy
Melvyn Bragg and guests discuss the life, works, context and legacy of Antarah (525-608AD), the great poet and warrior. According to legend, he was born a slave; his mother was an Ethiopian slave, his father an elite Arab cavalryman. Antarah won his freedom in battle and loved a woman called Abla who refused him, and they were later celebrated in the saga of Antar and Abla. One of Antarah's poems was so esteemed in pre-Islamic Arabia that it is believed it was hung up on the wall of the Kaaba in Mecca.
With
James Montgomery
Sir Thomas Adams's Professor of Arabic at the University of Cambridge
Marlé Hammond
Senior Lecturer in Arabic Popular Literature and Culture at SOAS, University of London
And
Harry Munt
Lecturer in Medieval History at the University of York
Producer: Simon Tillotson
Last on
LINKS AND FURTHER READING
James Montgomery at the University of Cambridge
Marlé Hammond at SOAS, University of London
Harry Munt at the University of York
Antarah ibn Shaddad – Wikipedia
Antara's Mu'allaqa - almuallaqat.com (in Arabic)
READING LIST:
Adonis (trans. Catherine Cobham), An Introduction to Arab Poetics (Saqi Books, 2003)
Michael Cooperson and Shawkat M. Toorawa (eds.), Arabic Literary Culture: 500-925 (Thomson Gale, 2005)
Greg Fisher (ed.), Arabs and Empires before Islam (Oxford University Press, 2015)
Terrick Hamilton, Antar, A Bedoueen Romance (Forgotten Books, 2018)
Marlé Hammond, Beyond Elegy: Classical Arabic Women's Poetry in Context (Oxford University Press, 2010)
Peter Heath, The Thirsty Sword: Sīrat 'Antar and the Arabic Popular Epic (University of Utah Press, 1996)
Robert Hoyland, Arabia and the Arabs from the Bronze Age to the Coming of Islam (Routledge, 2001)
Robert Irwin, Night & Horses & the Desert: An Anthology of Classical Arabic Literature (Overlook Press, 2016)
Remke Kruk, The Warrior Women of Islam: Female Empowerment in Arabic Popular Literature (I.B.Tauris, 2013)
Malcolm Lyons (trans.), Tales of the Marvellous and News of the Strange (Penguin Classics, 2016)
M. C. Lyons, The Arabian Epic: Heroic and Oral Storytelling (Cambridge University Press, 1995)
H. T. Norris (trans.), The Adventures of Antar (Aris & Phillips, 1980)
F. E. Peters, (ed.), The Arabs and Arabia (Ashgate, 1999)
Antarah ibn Shaddad (trans. James E. Montgomery with Richard Sieburth), War Songs (New York University Press, 2018)
Peter Webb, Imagining the Arabs: Arab Identity and the Rise of Islam (Edinburgh University Press, 2016)
Broadcasts

Featured in...
Browse the Early Middle Ages within the In Our Time archive.

Popular culture, poetry, music and visual arts and the roles they play in our society.

Historical themes, events and key individuals from Akhenaten to Xenophon.