Main content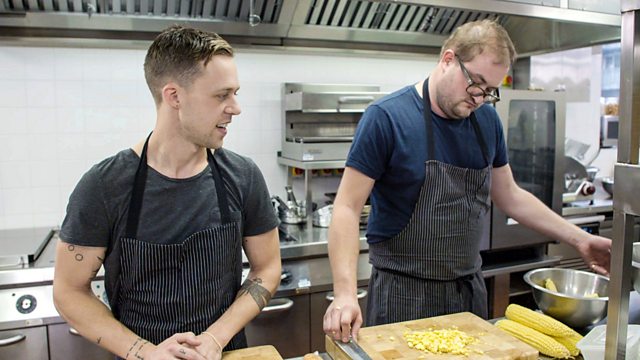 Modern British
Three new restaurant ideas battle for a life-changing investment - a Welsh concept seeking £750k, a seasonal pop-up after £200k, and a zero-waste food stall after £530k.
Fred Sirieix oversees a battle for investment between three restaurant ideas, who think their take on modern British dining will secure them the chance for big-money backing to open on the high street. First, they must pitch to four of the industry's top investors for the opportunity to open for business in Manchester - the single idea, with the most investment potential, will be given a two-day trial to prove themselves worthy of the money they are seeking. However, only those investors with the most passion and interest in the idea will follow it to Manchester.
Amongst those pitching are Adam Wood, 25, and Gethin Davies, 24, childhood friends in Wales. After school Adam left home to train as a chef under Marcus Wareing. Gethin went into law, but decided to move into hospitality after a life-changing lunch with Adam. The idea for their restaurant, Coracle, was inspired by Adam's childhood fishing trips on the River Teifi with his grandfather (a coracle is a small fishing boat). The pair are now asking for £750,000 to establish a relaxed restaurant that references their Welsh heritage with dishes like Glamorgan beef rib, calcot onions and malt vinegar.
Pitching against them is Oxalis - Michelin-star trained chef Nick Ross, 29, and former accountant Max de Nahlik, 30, are after £200,000 to take their various residencies full-time. Max was schooled at Harrow and, after five years of accountancy, decided to go into the restaurant business. Nick is Canadian and knew at an early age he wanted to be a chef. In 2015, while working together, they realised their shared passion for seasonal British food and launched Oxalis in 2017. On the menu, dishes like wild seabass, smoked broth and samphire.
Finally, chef couple Steve Huggett, 29, and Claire Hodgson, 31, are after £530,000 for their zero-waste, British seasonal concept Hodge & Huggett. Hodge & Huggett currently trades as a street food stall and a number of festivals, including Wilderness, Port Eliot, Festival No.6 and Greenwich Music Time, along with various London street food markets and weekend farmers' markets. The pair now want to open a casual relaxed restaurant, serving locally sourced sharing plates like slow roast pulled duck with heritage grains and roasted cauliflower greens.
Each of the three ideas pitches to a panel of four investors, all interested in backing the next hit Modern British idea on the high street. Charlie McVeigh has been shaping London's bar, club and restaurant scene for two decades, having started out with legendary nightclub Woody's. He ended up establishing and running the hugely successful pub chain Draft House, before selling to beer giants BrewDog in early 2018 for a reported £16.5m. After taking some time out, Charlie's keen to get back in the game and "make some serious money". Atul Kochhar, chef and entrepreneur, was the first Indian chef to be awarded a Michelin star in the UK, and now oversees a portfolio of five restaurants, with a combined value of between £8m - £10m. Having invested £1m in series 1 in Epoch, which is set to launch once a location is found, Atul is now seeking to grow his group. Chris Miller, a former commercial director of Soho House Group, founded White Rabbit Investment in 2016 and has backed 11 restaurants across four different brands since. With a keen eye and palette for the next big thing, Chris is keen to find the next idea to open on the high street. Sanja Moll is the co-founder of the Salt Yard Group of restaurants in London, and a non-executive director of Investing Women, Scotland's only all-female angel investment group. Sanja is also currently setting up an 11-room, low-key boutique hotel with restaurant, in the Highlands, due to open in 2020.
In each episode the winning idea has two days in a brand new 50-seater restaurant in the heart of Manchester's bustling bar and restaurant district to prove that their food, menus, pricing, service, team-management and business plans are worth the big money investment they are asking for.
On the first night they open for a half-price soft launch to the public and the investors, before being grilled in detail on their numbers and business plans the following morning.
Finally, they open for a full-priced lunch service, during which the investors must consider whether to invest or not. As the investors are in competition with each other, Fred sets them a deadline by which time they have to return to the restaurant if they intend to invest. With final service over, the operators face an anxious wait with Fred to see if anyone returns. All they need is for one investor to walk through the doors and make them an offer, and their business fortunes and restaurant dreams will change forever.
Credits
| Role | Contributor |
| --- | --- |
| Presenter | Fred Sirieix |
| Editor | Mike Brierley |
| Editor | Niels Bellinger |
| Executive Producer | Meredith Chambers |
| Series Editor | Mark Leslie |