Main content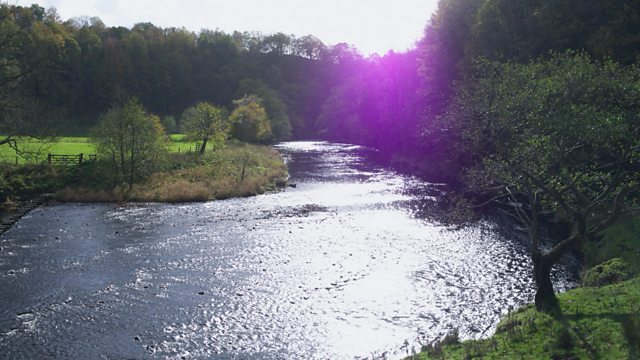 The Nidd
Blind adventurer Amar Latif takes us along one of Yorkshire's most stunning river valleys. He abseils into a hidden gorge, canoes across a reservoir and meets the local llamas.
Blind adventurer Amar Latif takes us on a route along one of Yorkshire's most stunning river valleys. He abseils into a hidden gorge, canoes across a reservoir, and meets the local llamas while following a riverside trail along the Nidd.
Grab your boots and join adventurer Amar Latif as he takes us on a journey along one of Yorkshire's most surprising rivers. As a blind man with a passion for outdoor adventure, Amar discover how the stunning landscape along the River Nidd has been shaped, while abseiling into a hidden canyon, discovering the remains of an abandoned village, canoeing over Bradford's water supply and meeting the local llamas.
Amar's 13-mile route takes in the most stunning parts of this unique river valley. It's the place where mysterious gorges have been carved out over thousands of years, where villages have been left abandoned after huge civil engineering projects, and where the farms of the future are taking hold in the landscape. It is packed with intriguing history, stunning nature and incredible views.
We hear how Amar was introduced to outdoor adventure after he became blind when he was 18. Climbing Yorkshire's Three Peaks was his first major challenge so the scenery of North Yorkshire still means the world to him.
His journey starts at Scar House Reservoir, where the source of the Nidd rises dramatically behind the dam wall. He starts his journey by canoe with a local instructor, paddling across the reservoir – before he explores the remains of a mysterious vanishing village that was once home to 1,250 people. With impressive archive pictures, he discovers how it housed families working on the revolutionary reservoir project which now provides most of Bradford's water supply. Remains include the projection booth of a stunning 600-seat cinema.
Amar's journey then continues down the Nidd valley – where the landscape is rapidly changing. Farmer Martyn Brown has turned his back on sheep and crops, and spent this year planting 10,000 trees on his 970-acre farm by the Nidd. He is part of a movement to revolutionise the way farms connect with nature. Amar meets him to investigate how this farm is transforming the fortunes of the local wildlife – and also helps out with a spot of dry stone walling to stop the sheep nibbling the new trees.
Walking with his guide, Amar then heads up and over the moor before descending to the dramatic How Stean Gorge. On the way, there is a brief stop at Middlesmoor where he explains how blind people can still enjoy stunning views like this.
Putting on his wetsuit, Amar then takes on a spectacular limestone ravine carved out over thousands of years by the power of the river. With instructor Tony Liddy, he abseils 45 feet into the gorge below. With specialist waterproof cameras, they explore a hidden area of incredible beauty and examine the natural rock formations and how the gorge came to be.
Continuing downstream, with stunning aerials and idyllic filming, Amar and his guide continue to Pateley Bridge – stopping to help catch wild brown trout on the river.
Amar then heads to what is officially the oldest sweet shop in England. Tasting the old classics, operating the vintage confectionary machines and talking all things sweet with its charismatic owner, Amar revels in the nostalgia that brings so many visitors to this beautiful village.
His journey then continues down the river valley – as the autumn leaves line the path as the river widens. His journey concludes by meeting a remarkable farmer's wife. After going to buy a horse and coming home with a llama ten years ago, Suzanne Benson is the proud owner of a llama trekking farm in the beautiful countryside beside the River Nidd. Suzanne takes Amar on a llama trek, where he reflects on how he was in Peru when he last came across one, and wonders if a llama would make for a good guide dog replacement. They finish with a scenic trek overlooking this unique part of the Yorkshire Dales.
With high quality drone filming, stunning helicopter aerials, shots under the surface of the river itself and bespoke craft filming, this is a high quality film showcasing one of the most impressive but rarely visited parts of Yorkshire – all fronted by a witty, engaging and dynamic new presenter.