Main content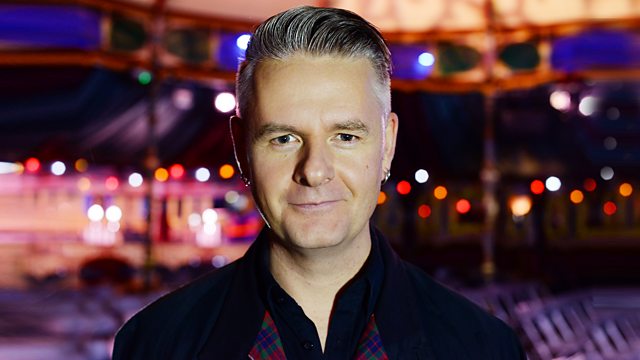 Guest-List Interviews Special
A selection of interviews from Vic's show including Scott Hutchison, Kathryn Joseph, Stephen Malkmus, Kim Deal and Ross Leighton of Fatherson.
Vic has curated a few of his favourite guest-list interviews recorded for the show; including an extended interview with Stuart Braithwaite of Mogwai and Stephen Malkmus of Pavement.
We caught up with Scott Hutchison when the Mastersystem album was released - tune in to hear some of Scott's musical influences and inspirations.
Alongside those we've got interviews with Kim Deal, Kathryn Joseph, Ross Leighton of Fatherson and Thomas Sanders of Teleman.
Music Played
Kathryn Joseph

Weight

From When I Wake The Want Is.
Rock Action.

The Postal Service

Such Great Heights

Iron & Wine

Such Great Heights

Such Great Heights.
One Hill Records.
4.

Madonna

True Blue

Madonna - True Blue.
Sire.

Madonna

Live To Tell

Madonna - Something To Remember.
Maverick.

Mogwai

Hungry Face

Central Belters CD3.
Rock Action Records.
8.

Mogwai

What Are They Doing In Heaven Today?

What Are They Doing In Heaven Today?.
Rock Action.
1.

Kenny Loggins

Footloose

Footloose (Original S/Track).
CBS.

Kenny Loggins

I'm Free (Heaven Helps The Man)

Original Motion Picture Soundtrack: Footloose.
Sony Music Entertainment UK Ltd.
6.

Carole King

Back to California

Music.
Sony Music Entertainment UK Ltd.
12.

Low

Disarray

Double Negative.
Sub Pop Records.

Mastersystem

Old Team

Dance Music.
Physical Education Recordings.
6.

James Yorkston

Border Song

I Was A Cat From A Book.
Domino.
3.

Ryan Adams

To Be Young (Is to Be Sad, Is to Be High)

Heartbreaker.
Universal Music Ireland Ltd.

Frightened Rabbit

I Wish I Was Sober

Painting Of A Panic Attack.
Atlantic Records.

The Twilight Sad

I Could Give You All That You Don't Want

Nobody Wants To Be Here And Nobody Wants To Leave.
FatCat Records.

The Band

The Night They Drove Old Dixie Down

Across The Great Divide.
Capitol.
9.

Wilco

Kamera

Yankee Hotel Foxtrot Demos.
Nonesuch.
006.

King Creosote

Not One Bit Ashamed

KC Rules OK.
679 Recordings Ltd.
1.

The Stone Roses

Waterfall

(CD Single).
Silvertone.
8.

Stephen Malkmus

Middle America

Monty Python

Always Look On The Bright Side Of Life

Candi Staton

Young Hearts Run Free

Disco Fever (Various Artists).
Global Television.

Demi Lovato

Sorry Not Sorry

Band of Horses

No One's Gonna Love You

Sigur Rós

Svefn-g-englar

Agaetis Byrjun.
Fat Cat.
2.

Craig David

7 Days

Now 47 (Various Artists).
Now.

Craig David

Magic

The Time Is Now.
Insanity Records.

The Twilight Sad

Videograms

It Won/t Be Like This All The Time.
Rock Action.

The Breeders

Wait In The Car (6 Music Session, 19 Oct 2017)

Roger Miller

King of the Road

60 Number Ones Of The Sixties.
Warner.
26.

Iggy Pop

&

Kate Pierson

Candy

Candy.
Virgin Records America.
001.

Shani Wallis

As Long As He Needs Me

Billy Eckstine

I Apologise

Teenage Fanclub

Everything Flows

Wendy Colter

&

Willie Aron

Burger And Fries

Mogwai

Crossing The Road Material

Television

Marquee Moon

Marquee Moon.
Elektra.
4.

The Yummy Fur

Supermarket

John Carpenter

Halloween

Compass International Pictures.

4 Non Blondes

What's Up

The Best of Drivetime.
Polygram TV.
1.

The Stooges

I Wanna Be Your Dog

Million In Prizes, A - Iggy Pop The Anthology.
EMI / Virgin.
3.

The Cramps

Surfin' Bird

Gravest Hits.
Illegal Records.
4.

Nirvana

Molly's Lips

Bleach 20th Anniversary.
Sub Pop.
14.

The Velvet Underground

I'm Waiting For The Man

David Bowie

Lazarus

Blackstar.
Columbia.
001.

PJ Harvey

Down By The Water

To Bring You My Love.
Island.
6.

PJ Harvey

The Words That Maketh Murder

Let England Shake.
Island.
4.

New Order

Blue Monday

(CD Single).
Factory Records.

Martha Reeves and The Vandellas

Nowhere To Run

Going To A Go Go!.
Sony Music TV / Columbia.
4 / 1.

MC Hammer

U Can't Touch This

Fast Forward (Various Artists).
Telstar.

Roxy Music

Dance Away

Bryan Ferry/Roxy Music - Street Life.
Eg.

Bryan Ferry

Let's Stick Together

Bryan Ferry/Roxy Music - Street Life.
Eg.

Ty Segall

The Main Pretender

Kate Bush

Babooshka

Kate Bush - The Whole Story.
EMI.

Kate Bush

Running Up That Hill (A Deal With God)

Kate Bush - The Whole Story.
EMI.

Kraftwerk

Europe Endless (Europa Endlos)

Trans-Europe Express.
Kling Klang/EMI.
1.

Mogwai

U-235

Atomic.
Rock Action Records.
4.

Belle and Sebastian

The Monkeys Are Breaking Out the Zoo

Colours Are Brighter.
Rough Trade.
10.

Franz Ferdinand

Take Me Out

Crash! Indie Anthems 1982-2004 (Var).
BMG.

Franz Ferdinand

Walk Away