Main content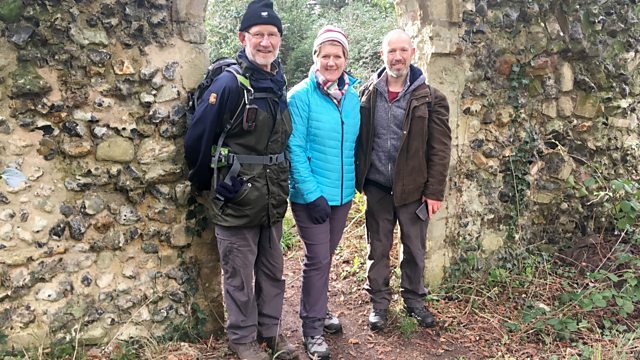 Clare Balding and her fellow walkers take in the delights of rural Suffolk which include a severed head and a drove of hares.
Our original plan for today's walk fell apart. David Bradbury had invited us to join his lunch-time walking group. Instead of eating a sandwich at their desks, he and his colleagues would make the effort to go for midday rambles which were bonding, supportive and great exercise. He says the group held him together when some difficult personal problems arose. But then David left the company and, therefore, his walking group. However, he remains a keen walker, so we kept our date to walk with him near Bury St. Edmunds in Suffolk. Instead of colleagues, he brought along his daughter, his mother and his friend, Ron the Human Google.
Together, they take a circular route which starts at the Rushbrooke Arms in Sicklemere, passes Nowton Church which has some truly beautiful Flemish stained glass windows, plus views of the British Sugar factory and its huge plumes of steam. They bypass a shoot (quickly), and enter Nowton Park where there is a colourful totem pole which - uniquely - includes a wolf holding the severed head of St. Edmund himself. The walk ends back at the pub. Clare is quite certain that the landscape contains only gentle slopes. In Suffolk, David says, they are definitely hills.
Producer: Karen Gregor
Outside Nowton Church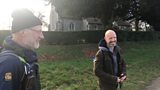 Distant hares across a Suffolk field