Main content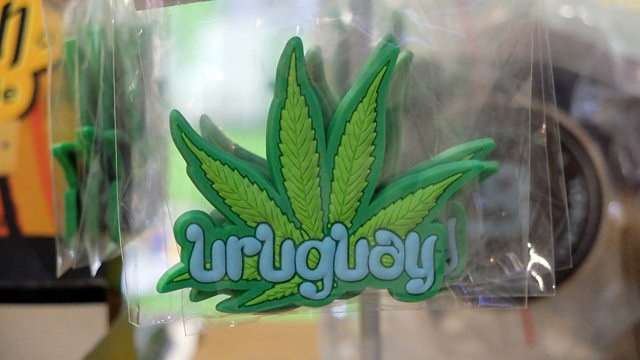 Take it steady
Uruguay's cautious route to legal cannabis sales, selection for the Gurkhas in Nepal, Haitian tensions, Pakistani painted trucks and moth silk from Madagascar.
Uruguay's anti-drug laws were never as strict as expected - and its path to decriminalisation of cannabis has also been full of paradox. Simon Maybin explores why the country's taken a slow and steady path to regulate marijuana growers and sellers - and visits a greenhouse full of legal weed.
Kate Adie introduces this and other stories from correspondents around the world.
In Nepal, joining the ranks of the British Army's Gurkhas has long been one of the few options for a stable income. Regimental wages have kept some whole villages, not just families, solvent - so there's a lot riding on the selection process. Hannah King of BFBS witnessed the most recent intake and saw how these young men are prepared for a drastic change in their lives.
Over recent weeks the streets Haiti have simmered with discontent, with protesters confronting police and army in the capital, Port au Prince, over systemic corruption, rising food prices and enduring inequality. Thomas Rees describes how the rising tensions made themselves felt on the streets.
On the Karakorum Highway, Chris Haslam sat down to talk business with the driver of one of Pakistan's famous painted trucks - the elaborately-decorated palaces on wheels which haul goods and passengers along one of the highest-altitude roads in the world. But times are changing for them, with competition from "vast Chinese behemoths" now plying the same route as part of the Belt and Road expansion.
And amid about deforestatin and dwindling insect numbers around the world, Emilie Filou has a rare tale of revival from Madagascar - with the story of how one NGO has brought back the art of weaving a special kind of silk, made not by worms but by a unique local moth.
Producer: Polly Hope