Main content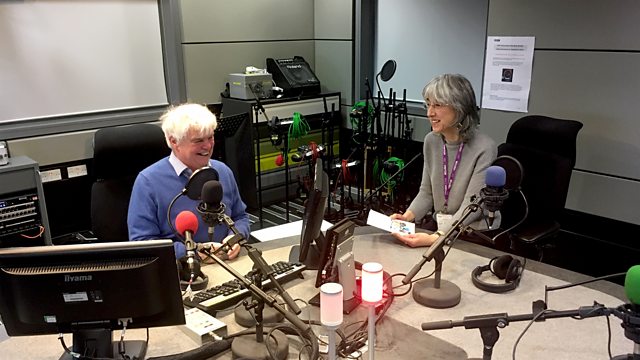 Gene therapy aims to halt AMD
Cathy Yelf, the chief executive of the Macular Society, discusses developments in gene therapy and the implications for people with AMD.
Peter White talks to Cathy Yelf, the chief executive of the Macular Society, about the first treatment to target the underlying genetic cause of age-related macular degeneration (AMD).
We feature feedback from last week's programme in which we heard from Emily Brothers, whose guide dog was attacked by another dog. Guide dog owner Sandra Drewell, has had a similar experience.
And Peter talks to Charmian Cvek about her experience of caring for her mother who was losing her sight. Charmian tells us how her mother's sight loss affected their relationship.
Presenter: Peter White
Producer: Lee Kumutat and Tom Walker
In Touch Transcript: 19-02-19
Downloaded from www.bbc.co.uk/radio4
THE ATTACHED TRANSCRIPT WAS TYPED FROM A RECORDING AND NOT COPIED FROM AN ORIGINAL SCRIPT.  BECAUSE OF THE RISK OF MISHEARING AND THE DIFFICULTY IN SOME CASES OF IDENTIFYING INDIVIDUAL SPEAKERS, THE BBC CANNOT VOUCH FOR ITS COMPLETE ACCURACY.
IN TOUCH – Gene Therapy Aims to Halt AMD 
TX:  19.02.2019  2040-2100
PRESENTER:           PETER WHITE
PRODUCERS:          TOM WALKER, LEE KUMUTAT
White
Good evening.  Tonight, controlling the biggest cause of blindness in the Western world.  It's a large aim.  We discuss the significance of a ground-breaking operation for current and future patients.
And how the loss of vision for one member of a long-standing relationship can affect the other one.
Clip
She couldn't see me, she couldn't see me ageing, I wanted her to be able to see my wrinkles, you know, my greying hair.  I got a new haircut, she couldn't see it.
White
Charmian Cvek, who'll be talking later about how her mother's loss of sight affected her.
But first, a medical team in Oxford has just taken the latest step in the attempt to halt a form of eye disease using gene therapy.  AMD or age-related macular degeneration affects around 600,000 people in the UK, when you include those who have not registered as visually impaired. 
Janet Osborne, who's part of a trial to test the safety of the operation, had a synthetic gene injected into the back of her eye to prevent more cells from dying.  She already has blurred central vision.  Part of the process was filmed by BBC News, as the leader of the team of surgeons – Professor Robert MacLaren – tested Janet's current vision.
Clip BBC News
MacLaren
Can you see the letters on this line, the next one down?
Osborne
No, it's become a blur.  But I can see your glasses and your ears.
MacLaren
Can you see the colour of my eyes?
Osborne
No.
MacLaren
Approximately 350,000 people in the UK are severely sight impaired by age-related macular degeneration.  A genetic treatment administered early on to preserve the vision in patients who'd otherwise lose their sight would be a tremendous breakthrough in ophthalmology and certainly something I hope to see in the near future.
White
Professor MacLaren admits there can be no certainty yet that the loss of Janet's vision will be halted.  But the ultimate aim of this procedure will be to inject the gene into the eyes of people at risk before their sight has deteriorated.  But inevitably such publicity raises a mass of questions in the minds of people who already have the condition.
Cathy Yelf is CEO of the Macular Society, which supports people with the condition.  I asked her what she thought was the significance of this latest procedure.
Yelf
Well I think the excitement that this procedure causes, this particular trial arouses, is that it is the first gene therapy trial in dry AMD.  And the reason that that is important is that there is no current therapy at all for dry AMD.  And so, it is the great hope of probably the majority of people with age-related macular degeneration, the hope is to find a first therapy for dry AMD.
White
So, just remind us of the current forms of treatment that are actually available to people who have AMD, perhaps particularly wet AMD, which can be treated.
Yelf
Yes, wet AMD is the only form of age-related macular degeneration for which there is a treatment and it's given as an injection into the eyeball to get the drug to the back of the eye and the drug slows down the development of abnormal blood vessels that grow and leak in wet AMD.  And so, in most people who have the treatment, not everybody but most people it will significantly slow down the progress of the disease.  But it doesn't work for everybody and it doesn't work forever and so longer-term therapies are needed and ones which are less burdensome really because these injections have to be given very frequently.  And there is no treatment at all for dry AMD.
White
Now clearly, however level-headed people try to be about this the question it's bound to raise for them, when they hear this kind of publicity, is will this restore any of my sight or at the very least will it prevent my AMD from getting worse.  What do you say to people who come to you with those kinds of questions?
Yelf
It's very hard because people are desperate to regain or prevent the loss of their sight.  So, it is very difficult with early stage trials, and as you say this is a safety trial at this stage to make sure that the treatment doesn't do any harm to patients.  So, at very early stage in medical research it's quite difficult for people to keep their feet on the ground, hope is a very important part of people's lives and we do hope very much that this will prove to be an effective therapy but it is at a very early stage.  The other thing is, that it is designed, I think, not to restore sight but to prevent sight from deteriorating.  And the other important thing is that this particular gene, that is being targeted with the gene therapy, so the gene that is defective in this particular case, affects only about 5% of people with age-related macular degeneration.  We know that AMD is a very complex disease, it involves many genes are associated with AMD, as well as lifestyle factors.  So, it is not a single gene that causes this disease, and in fact it may not even be a single disease.  So, this particular gene, the CF-1 gene, that's being targeted in this trial, affects about, we think, about 5% of people with Macular Degeneration.  But it's a very important proof of concept here and if we can do it with this gene then we might be able to do it with all the others as well.
White
So, of course, when this kind of thing hits and when you get this kind of publicity, I just wonder what happens in your offices when this happens.
Yelf
Well people phone us, of course, for more information.  So, I just spoke to the manager of our advice and information service today and he said 75% of the calls that our helpline has taken this morning have been about this therapy.  So, that's the sort of impact it has, people clearly want to know more about it and whether it's something that might be able to help them.
White
And I guess our role has always been to try and put these things into perspective and I guess even when the treatment does become more available there will still, won't there, be the issues of cost, of beds, of staffing with 600,000 potential patients and all the ones that they want to help before they start to lose their sight, this is a heck of a challenge isn't it?
Yelf
It is, there are many steps along the way to get a brilliant idea and even a proven concept through to actually a drug that we can deliver in the clinic.  It has to be commercially viable, it has to be affordable, it has to be deliverable – there has to be a way of actually getting into the patient's eye or the bit of the patient that it needs to get into.
White
Cathy Yelf, CEO of the Macular Society.  And we'd like your reactions please.
We've already had a number of your reactions to our item about the rising number of attacks on guide dogs and one woman's disappointment at the level of support she received afterwards.  Here's an example of what we've heard.
Drewell
I'm Sandra Drewell.  I, too, am a guide dog owner and my previous guide dog, he was attacked in December 2015.  Obviously, I contacted Guide Dogs and told them what had happened.  Someone did phone up and do an accident report form but that was the only contact I had from them.  They never came out to make sure the dog was working well, was not scared of other dogs or anything.
White
And it's good to see that some of you are already using our new voicemail system which allows people to leave messages for us with your views and it's good to hear the real voices of the people who listen to us.  Michael, for instance, who said he'd been a guide dog owner for almost 60 years, was now on his seventh dog and had always had excellent service from the association.  And Angie Fairclough with the interesting idea of some kind of pendant system, such as those used by older people, so that guide dog owners could call for advice or assistance if they needed it.  The number to call us 0161 836 1338.  And we'll be giving you that number again at the end of the programme.
We've had another statement from the Guide Dogs Association.  They tell us: "On average we supported 12 guide dog owners every month through what can be a very difficult time.  We've also designed a special workshop for guide dog owners which focuses on helping them manage situations around other dogs.  This is often attended by people who have experienced a dog attack as a means to support them during their recovery."
Now, Charmian Cvek's mother, was just one of those people we've just been talking about, people who developed AMD or age-related macular disease, in her case in her 80s.  But what effect does someone's gradual loss of sight have on the person they live with?
Her daughter, Charmian, emailed us to suggest that this was something she hadn't heard tackled on In Touch and I certainly couldn't remember many examples where we had made this the focus of a report.  So, we invited her into the studio to explain what she meant.  It was a thought-provoking conversation and Charmian began by telling me a little about her mother.
Cvek
We'd always been together.  She was a teacher.  She was very artistic.  She loved painting and she loved gardening.  She was my best friend.  She'd had cataracts in her 60s and that was the first sort of time that I encountered visual problems with her.  I remember even friends and relatives who knew there was a problem.  They'd still, you know you'd visit them and they'd give you photo albums to go through and there'd be me thinking, very protective, thinking she can't see them for heavens sake. 
White
Now clearly a relative's loss of sight is distressing because it's distressing for them, which is why it's partly distressing for you, but you really seem to be describing something more than that – the loss of visual reference points, I think.
Cvek
Yes, my mother had a cataract operation, had a new lease of life but then in her 80s Macular Degeneration kicked in and it was a gradual process.  So, you start off where you find your life is being put in aspic a bit because you can't come in, kick off your shoes, leave them there to be fallen over.  You can't just leave your handbag anywhere.  You can't change the furniture around.  You can't – you can't change anything really.  If something breaks down – my mother was still cooking at this point – we needed a new cooker, we had to get one as much like the previous one as possible.
White
And presumably there's also a bit of a tendency to over-protect maybe?
Cvek
I'm sure there was on my part, absolutely.  Very, very difficult to come to terms with when it's somebody that you love so very much and you're finding the visual world is starting to retreat for them.
White
And that was in a way what you emailed us about, which seemed to be the biggest thing, things you couldn't share.
Cvek
Yes.  My own loss was profound.  The things I could not share with her.  We loved going around art galleries but now I couldn't even show her pictures of paintings in books.  Obviously, we couldn't watch television together.  At one point we'd used audio description but even that, it just got… She couldn't see me, she couldn't see me ageing.  I wanted her to be able to see my wrinkles, my greying hair.  I got a new haircut, she couldn't see it.  I'd get her to run her hand over it but she didn't know what I looked like in my clothes, if I bought anything.  If I bought anything for her, she couldn't see it.  I'd be describing – oh your new nightie, it's got those little rose buds on it.  And I would never buy her anything that she wouldn't have liked, even though she couldn't see them.  It was quite devastating, you don't realise how much somebody else's perception of you and the things you share brings to your own life and that you need that validation.
White
And you went on holidays, I think, after she lost her sight and that that created problems too?
Cvek
It was, it was difficult, yes.
White
Because?
Cvek
Well, she couldn't do anything without holding my arm.  I had to tell her absolutely every step, there's another step here, put her hand on a banister, she couldn't see the sights that we'd shared.  She could still smell the sea and the – feel the sun on her but…
White
I was going to ask you about that because I mean one of the things this programme's – always tries to be about are some of the positives and we try to make the point of how much there is left in life.  I just wonder if you found any – any compensations or things that you did that you might not have thought of doing?
Cvek
One of the best things I ever did was getting a little Dictaphone, so that when I read a book to my mother, I would actually record it at the same time and then later on she could replay it, she didn't mind hearing things again.  And it was my voice, the comfort of my voice.
White
There was an added problem because you feel that though it wasn't diagnosed, your mum had begun to suffer from some elements of dementia before.
Cvek
People who didn't know her, who would come to see her, would say – oh, isn't it wonderful, you know, she's still got all her marbles and I'd be thinking, oh well you didn't have a conversation with her last night, she would forget that people had died and keep going over the same things.
White
People know perhaps now some of the things that can be done to help, as far as that is concerned, triggers and things like that but I think the loss of vision, that got in the way of some of the triggers that people advised you to use.
Cvek
That's right.  I couldn't write her notes to remind her of things.  I couldn't show her old photographs – family photographs, whatever, places that we'd been – those memory triggers, they weren't available.
White
And again, the kind of things that people advise you to use – technology and the things that are available now – any good in this instance?
Cvek
Definitely the radio, that was a great blessing to her.  I do think there's a need perhaps for some more cheerful radio.  Radio 4 can tend to be rather depressing. 
White
We'll see if they allow that – us to put that out, we'll see if it survives the edit.
Cvek
Yes, yes indeed.
White
I'm going to ask you a potentially difficult question, so forgive me, but I wonder how well did your mother and your relationship survive this experience?
Cvek
Very well, yes.  We loved each other deeply and it was a strain but that's one of the things –you become a carer and I don't really like that label, to a certain extent, I was her daughter.  One thing that few people seem to be aware of as well, is the possibility of old people seeing hallucinations because they're losing their sight.  It isn't necessarily down to dementia or anything, I believe it's called Charles Bonnet syndrome?
White
It is and we've talked about it on the programme.  Did you mother suffer from it?
Cvek
She did, yes, earlier on in the process of her losing her sight.  She was plagued by a boy with ginger hair at one point, we don't know where he popped up from.  But if I hadn't been able to reassure her, if I hadn't known about it, she would have been afraid, she would have thought she was seeing a ghost.
White
Just finally, I think you believe also that there were health implications of the loss of sight, not necessarily related to the loss of vision but other associated things.
Cvek
Well it was the loss of vision that stopped my mother going out, then stopped her moving around even in her own house.  And if you don't keep moving you lose the ability to move and she did end up bed ridden, although there was nothing physically wrong with her.
White
I just wonder what you would say to people listening to this because you've highlighted the things that were a problem?
Cvek
Well I suppose it is keep talking, keep responding, don't withdraw.  It is a very visual world, we live in, I think it's becoming even more so with phones – everybody's looking at them all the time.
White
So, perhaps keeping talking is the key.
Cvek
I think so, I wish I could offer some more insights but I think that perhaps my mother's age and everything else, there wasn't a lot I could offer except for my love and patience and continuing communication.
White
Charmian Cvek.  We'd like to hear your reactions to that and perhaps particularly positive suggestions of how the loss of visual stimuli could be overcome or maybe replaced with something else.
And that's it for today.  But, as I promised, we can tell you about a change in the way that you can contact the programme to make your comments or give your views.  You can now call 0161 836 1338 and when you do call this number calls are charged at the standard geographic rate although calls from mobiles may cost more.  You can leave us a message there, we'll get back to you.  Or, as usual, you can do lots of the other things we suggest, you can email intouch@bbc.co.uk or visit our website www.bbc.co.uk/intouch, from where you can also download tonight's programme and previous editions.
That's it, from me Peter White, producer Tom Walker and the team, goodbye.