Main content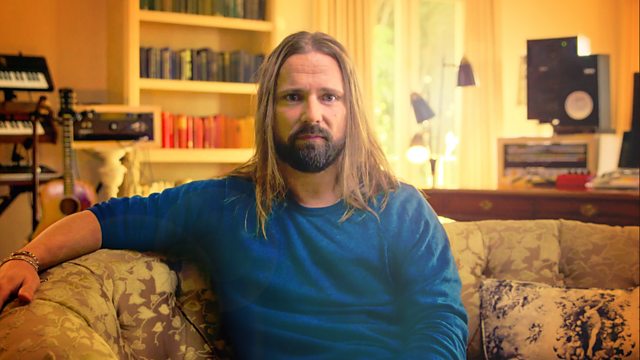 Flat Pack Pop: Sweden's Music Miracle
Charting Sweden's remarkable rise as a music superpower. James Ballardie explores the unique Swedish songwriting formula behind some of the biggest pop hits since the 1990s.
Flat Pack Pop: Sweden's Music Miracle charts the remarkable rise of Sweden as a global music superpower. Journalist James Ballardie explores the uniquely Swedish songwriting formula created by record producer Denniz Pop, discovering how the biggest chart hits of the last 30 years have been inspired by the myths and legends of this Land of the Midnight Sun.
In the 1990s, an elite band of unlikely entrepreneur songwriters and producers became responsible for the most dramatic revolution in music since Elvis first shook his hips. What started out as an experiment on the Stockholm underground club scene soon blossomed into an entire genre of its own. These unlikely heroes of bubblegum pop surfed the wave of the dotcom boom, launching the careers of Britney Spears, the Backstreet Boys, Westlife and many, many more. Hundreds of millions of record sales later, today they have a combined net worth of many billions.
Featuring interviews with key Swedish songwriters, plus producers and artists including Katy Perry, Justin Timberlake, Ace of Base and Robyn, James's search for the real lever-pullers behind today's top tunes takes him from the icy streets of Stockholm to the barren plains of Kronoberg.
But why should Sweden – of all places – have become such a hotbed for hot tracks? Some say it's the terrible weather and long months of darkness that created the perfect environment for Swedes to refine their craft. Others praise the stellar state-funded musical education programmes promoted by the socialist governments of the 60s and 70s. A Swedish love for simplistic melodies – harking back to the medieval cattle-herding calls that form the basis of Swedish folk music – is also a key weapon in the Swedish musical juggernaut's arsenal.
Perhaps most impressive of all about Sweden's musical miracle is the sheer duration of its success - with a streak of hits that has lasted longer than any of the classic songwriting factories that have defined pop history - from Motown and Tin Pan Alley to the Brill Building, Leiber and Stoller, and the Wall of Sound.
At its heart – Swedish pop sounds effortless and uncomplicated. In reality, it is the most intricate and precise songwriting method of any genre. These are industrial-strength melodies handcrafted to pierce the 21st century's hubbub - in malls, stadiums, airports, casinos, gyms and the Super Bowl half-time shows.
It is the same ethos that drove IKEA and H&M to become such world-beating brands. Swedes are so successful at exporting their culture because ingrained in the Swedish mindset is a curious knack for appealing to the residents of other countries. Pulling apart the very best ideas from British and American music, and then rearranging them in a more effective and efficient way is the cornerstone of Swedish musical thinking.
As the 1990s drew to a close, the songwriting formula created by Denniz Pop made him and his followers filthy rich, a potential source of embarrassment in equality-obsessed Sweden. In accordance with Swedish 'Jante Law' – a social code that promotes the good of the community over the individual – Denniz and his team shunned the limelight, preferring to leave the pressures of fame to the unabashed Brits and Americans who sang their hits. But the dream could not last forever. In 1997 Denniz was diagnosed with stomach cancer. He died a year later at the age of just 35, less than two months before his greatest creation yet – Britney Spears's Baby One More Time hit record store shelves.
Today, the most successful of Denniz Pop's motley band of followers is his protégé Max Martin. Max is famously modest about his mixing desk wizardry – but he is responsible for some of the most potent melodies of our time, standing third only to John Lennon and Paul McCartney when it comes to racking up US No 1 hits.
Mysterious Max has turbocharged Denniz's songwriting formula into a theory he calls 'Melodic Math'. It is a complex musical algorithm perfect for the digital age. Decoding the secrets of Melodic Math, James will uncover centuries-old Swedish customs and folklore hidden in the unlikely music of One Direction, Nicki Minaj and Justin Bieber.
With its huge hooks, massive drops and unmistakable sense of melancholy, the sound of Swedish pop is in fact the sound of modern pop. In Flat Pack Pop: Sweden's Music Miracle, BBC Four will uncover how this bizarre brew of influences came to dominate our charts, without us even knowing where it came from.
Music Played
Timings (where shown) are from the start of the programme in hours and minutes
00:07

Robin S.

Show Me Love

00:12

ABBA

I Have A Dream

00:13

ABBA

I Have A Dream

00:16

Herbie

Right Type of Mood

00:16

It's Alive, It's Alive

Pretend I'm God (feat. Max Martin, Max Martin)

00:19

ABBA

Take a Chance on Me

00:20

Five

Until The Time Is Through

00:21

Ace of Base

The Sign

00:22

Robyn

Do You Know (What It Takes)

00:25

Five

Everybody Get Up

00:27

Five

Got The Feelin'

00:28

ABBA

The Name Of The Game

00:29

Westlife

Fool Again

00:30

'N Sync

I'll Never Stop

00:31

Backstreet Boys

We Got It Going On

00:39

Britney Spears

(You Drive Me) Crazy (The Stop Remix!)

00:44

Backstreet Boys

Show Me The Meaning Of Being Lonely

00:45

Backstreet Boys

Larger Than Life

00:52

The Weeknd

Can't Feel My Face

00:46

ABBA

The Winner Takes It All

00:47

Westlife

If I Let You Go

00:49

Britney Spears

Oops!... I Did It Again

00:56

Will Young

Evergreen

00:57

Ricky Martin, Ricky Martin

The Best Thing About Me Is You (feat. Edita, Marlow Rosado, Edita)

00:57

One Direction

What Makes You Beautiful

00:59

Backstreet Boys

Everybody

00:59

Tove Lo

Talking Body
Credits
| Role | Contributor |
| --- | --- |
| Interviewed Guest | Andreas Carlsson |
| Interviewed Guest | Herbie Crichlow |
| Interviewed Guest | Jörgen Elofsson |
| Interviewed Guest | Robyn |
| Interviewed Guest | Tove Lo |
| Interviewed Guest | Berggren Jenny |
| Interviewed Guest | Ulf Ekberg |
| Interviewed Guest | Jan Gradvall |
| Interviewed Guest | Sten 'Stonebridge' Hallstrom |
| Interviewed Guest | Jeanette von der Burg |
| Interviewed Guest | Rami Yacoub |
| Presenter | James Ballardie |
| Producer | James Ballardie |