Main content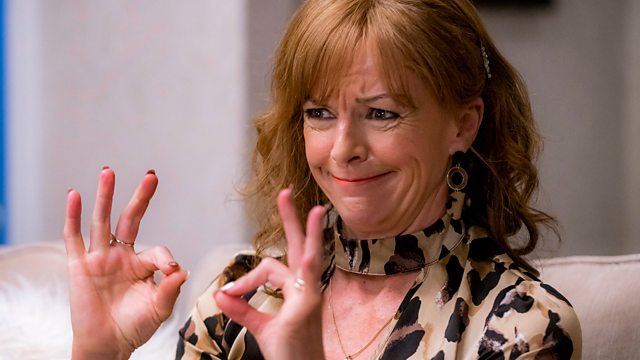 Housewarming
Michelle and Alan throw a housewarming party for their neighbours, to show off their freshly decorated home.
As the episode opens, Michelle and Alan are making the last minute tidy-ups before the neighbours arrive for the housewarming of their freshly decorated home.
Beth and Eric are first in the door, followed by Christine wearing an eye patch (from a rogue newspaper eye-scratching incident), with Colin and Cathy not far behind.
Cathy is of course not backward in coming forward with less than complimentary comments about the couple's new-look home.
Then in comes Louise, Michelle's long-term friend, who has unexpectedly come by to drop off a housewarming gift. As Louise is deaf, she and Michelle talk in sign language, further frustrating Cathy's determination to be the centre of attention.
Music Played
Timings (where shown) are from the start of the programme in hours and minutes
Credits
| Role | Contributor |
| --- | --- |
| Beth | Arabella Weir |
| Writer | Simon Carlyle |
| Eric | Alex Norton |
| Writer | Gregor Sharp |
| Cathy | Doon Mackichan |
| Director | Sasha Ransome |
| Colin | Jonathan Watson |
| Producer | Catherine Gosling Fuller |
| Christine | Elaine C Smith |
| Michelle | Joy McAvoy |
| Alan | Graeme 'Grado' Stevely |
| Louise | Sophie Stone |