Main content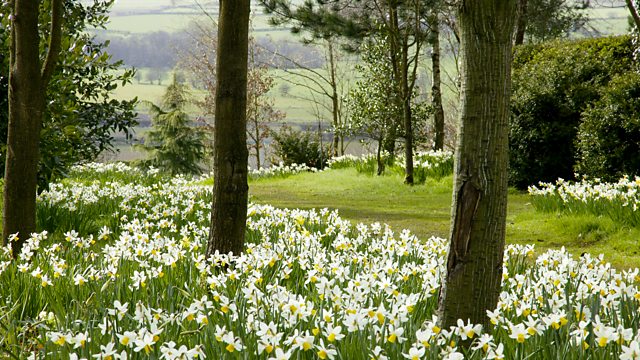 Dorothy Clive Garden
Eric Robson hosts the horticultural panel programme from the Dorothy Clive Garden in Shropshire.
Eric Robson hosts the horticultural panel programme from the Dorothy Clive Garden. Bunny Guinness, Chris Beardshaw and Bob Flowerdew answer the audience questions.
This week the panellists recommend their favourite potato varieties, suggest ways to improve the life of an ailing Aucuba, and nominate the best plants to attract seed-feeders.
Away from the questions Bunny Guinness visits David Austin Roses in Wolverhampton to pay tribute to her uncle, the late-Godfather of the English Rose.
Back in the hall, the there's debate on how to tame a magnificent (but large) Daphne, diagnosis of a sickly Acer, and suggested uses for pine needles in the garden.
Produced by Hannah Newton
Assistant Producer: Laurence Bassett
A Somethin' Else production for BBC Radio 4
Fact sheet
Q – Have I left it too late to plant my tulip bulbs?
Chris – Yes.  Ideally you'd want them in October/November time… definitely by Christmas.
Bunny – If they're in good condition I'd give them a go; see what happens.  You might get lucky if we have a spring like we did last year.
Bob – Put them in big tubs and put them in the greenhouse (if you have one).
Q – It's our local potato festival on Saturday.  What varieties can you recommend?
Bob – I love 'Dunluce' and 'Concorde' for earlies.  I like 'Rocket' because it grows quickly.  May favourite for chips is 'Cosmos'.  Recently I've discovered 'Markies'.  If you want to keep them then go for 'Russet Burbank'.
Bunny – I love 'Charlotte'.  'Pink Fir' as well. 
Eric – 'Arran Victory'
Q – Why is my eight-year-old Aucuba japonica 'Crotonifolia' starting to lose its colour and why has it stopped growing?  It's in clay soil between a Laurel and a Photinia 'Red Robin'
Bunny – Move it into a sunnier spot and give it some water (the other plants will be taking a lot of moisture from the soil)
Chris – The Aucuba likes a drier soil than you've got it in
Bob – Get rid of the lot and replace with some beautiful Daphnes
Q – I have recently had goldfinches feeding on the heads of Verbena.  What plants can you recommend to attract seed-eaters?
Bob – Teasels.
Bunny – Sunflowers.  Apples.
Chris – Rudbeckia.  Monarda.  Verbascum.  Phalaris ('Gardener's Garter').  Fennel.
David Austin feature:
'Constance Spry' (the first cross between a Floribunda and an old rose)
Hydbrid Tea roses
'Wife of Bath'
Q – We planted a Daphne Bholua 'Jacqueline Postil' fifteen years ago.  We've never pruned it and it's over 7ft (2.1m) tall.  Should we prune it and, if so, how should we do it?
Bunny – I wouldn't prune it unless it's really getting in the way.  I had a Daphne odora 'Aureomarginata' and I pruned it regularly without doing any harm. 
Bob – I would 'air layer' it
Chris – Lift the canopy up to three or four feet.  Then it will look more like a Daphne tree and you could run a Clematis up through (an alpina or a macropetala). 
Q – We inherited two Red Acers over twenty years ago.  This year one tree's leaves dried and crumpled on the branch rather than dropping to the floor as normal.  Are we going to lose this tree?
Chris – This would normally be because the plant was forced to close down earlier than it wanted to.  I had an Acer Bloodgood that suffered with Coral Spot and was heavily frosted and did it the same as yours.  I cut it down to 4ft (1.2m) and waited.  It came back with vigour.  Do it in spring
Q – A neighbour's pine tree overhangs one of my borders and sheds vast quantities of needles.  Can I put them to use in the garden and are they affecting the pH of my soil?
Bob – They're bad for compost.  Very good for strawberries. 
Bunny – Go for acid-loving plants in this area
Chris – Use them as a general mulch – annual weed seeds won't germinate through it.  You can put them on a compost heap if you shred them with the mower first.