Main content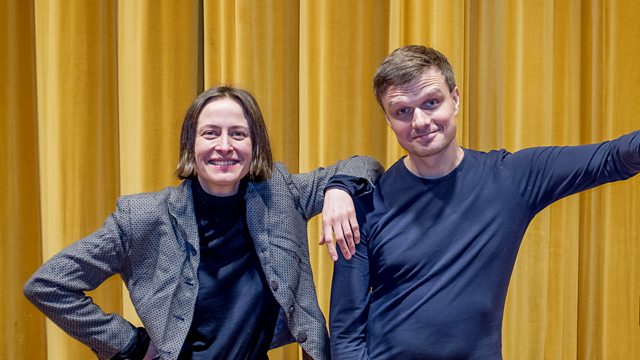 Keeley Forsyth and Hubert Zemler in session
Max Reinhardt presents the latest Late Junction collaboration session, which tonight unites a virtuoso percussionist with a timeless singing voice.
Max Reinhardt presents the latest in a series of Late Junction collaboration sessions, in which artists who have never met before come together to spend the day making music in the BBC's Maida Vale Studios. Tonight we unite the virtuoso percussion playing of Hubert Zemler with Keeley Forsyth's timeless singing voice.
Hailing from Warsaw, Poland, Hubert Zemler is as adept performing free jazz as he is avant-pop, as he is new classical music. In 2009 his drumming earned him a bronze medal at the Delphic Games in South Korea. Alongside his solo projects he is currently a member of several exciting groups, one of which is The Kesh Ensemble, who were formed by Todd Barton to perform music conceptualised by esteemed novelist Ursula K. Le Guin.
Born in Oldham, Greater Manchester, Keeley Forsyth is a film and television actor, turned musician and singer. Her distinctive voice has immediate impact, invoking the spirit of ancient, otherworldly, unknown ritual. In her solo work she accompanies herself with harmonium drones and sparse electronics. Past collaborators of hers include Matthew Bourne, Eccentronic Research Council, and fellow Lancastrian actor Maxine Peake.
Produced by Jack Howson for Reduced Listening.
Featured in...
We broadcast more live and specially-recorded concerts and opera than any other station.
Late Junction Albums of the Year 2018
The Late Junction Festival