Main content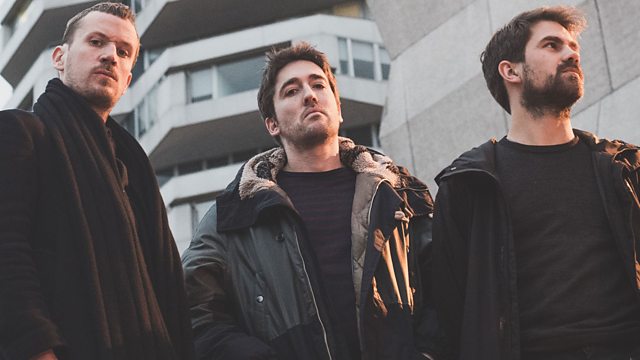 Enemy
Kit Downes and Enemy in concert presented by Soweto Kinch. Plus Emma Smith with this month's selection of tracks uploaded to BBC Introducing.
PLAYLIST
DISC
Artist Soweto Kinch
Title The Healing
Composer Kinch
Album The Legend of Mike Smith
Label Soweto Kinch Recordings
Number SKP003 CD 2 Track 39
Duration 20"
Performers: Soweto Kinch, as, rhodes, prog; Shabaka Hutchings, ts; Karl Rasheed-Abel, b; Graham Godfrey, d. . 2015
Clip - Enemy – Fogo – 43"
Clip - Jasmine – King Cobra – 39"
Enemy perform at the Unterfahrt Jazz Club in Munich, and bassist Petter Eldh is replaced by Phil Donkin.
Music:
Prospect of K/Mani (Petter Eldh) – 7'03"
Fogo (Petter Eldh) – 6'11"
Jinn (Kit Downes) – 6'35"
Ruster (Kit Downes) – 11'18"
Outlawed (Kit Downes) – 3'09"
Faster Than Light (Kit Downes) – 8'45"
Mani (Petter Eldh) – 5'26"
Personnel: Kit Downes, p; Phil Donkin, db; James Maddren, d.
BBC Introducing:
King Brasstards – Mugsy Balone – 3'19"Sam Knight Quintet – Musk Of The Underground – 7'34"Archipelago – Earth – 7'56"Miguela Delgado – August Brill – 4'50"Jasmin – King Cobra – 6'06"
DISC
Artist Soweto Kinch
Title The Healing
Composer Kinch
Album The Legend of Mike Smith
Label Soweto Kinch Recordings
Number SKP003 CD 2 Track 39
Duration 51"
Performers: Soweto Kinch, as, rhodes, prog; Shabaka Hutchings, ts; Karl Rasheed-Abel, b; Graham Godfrey, d. . 2015