Main content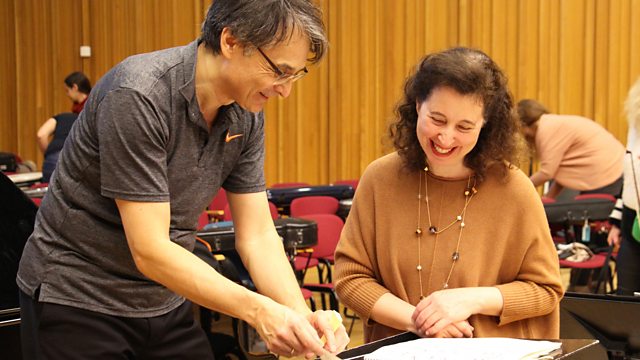 Viva Espana!
Jun Markl conducts the BBC NOW in Ravel's Bolero with a fiesta of Spanish and Spanish-influenced music, including Falla's Nights in the Gardens of Spain with pianist Angela Hewitt.
Recorded in St. David's Hall, Cardiff
Presented by Nicola Heywood Thomas
Falla: Nights in the Gardens of Spain
Ravel: Piano Concerto for the Left Hand
8.20 Interval music
Falla: Suite No 1 (The Three-Cornered Hat)
Debussy: Iberia (Images)
Ravel: Bolero
Angela Hewitt (piano)
BBC National Orchestra of Wales
Jun Märkl (conductor)
Jun Märkl transports the BBC National Orchestra of Wales to early 20th Century impressionist Spain, through the music of Manuel de Falla and his French counterparts, Ravel and Debussy. Starting with a back-to-back performance from one of the world's leading pianists, Angela Hewitt, we hear Falla's Nights in the Gardens of Spain, the sultry nightscape of a flowering garden, and Ravel's ominously dark and jazz tinged piano concerto for the left hand, which was commissioned by the one-armed pianist Paul Wittgenstein. In the second half, the lighter, brighter side of Spain is at the fore. The first suite of music from Falla's ballet The Three-Cornered Hat draws the listener in with its Andalusian folk melodies, and this is followed by Iberia, the centrepiece to Debussy's orchestral triptych Images, which completely encapsulates Spain, even though Debussy had spent less than a day in the country prior to writing the piece. Ravel's much-adored Bolero finishes the concert, a piece which was originally a ballet but which the music has outstripped its original purpose. The piece is in essence a long crescendo without any development, and questions the expected forms of classical music, and is notably included in Our Classical Century.
Featured in...
We broadcast more live and specially-recorded concerts and opera than any other station.