Main content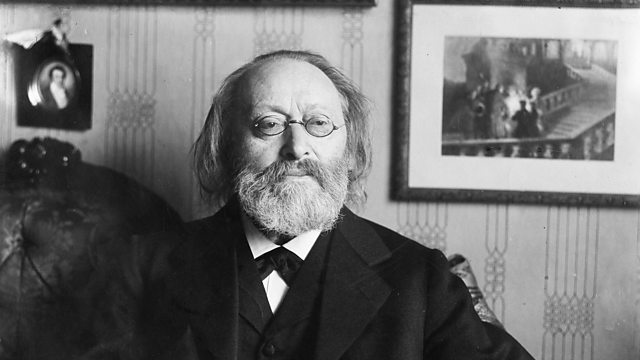 A Wunderkind
Donald Macleod explores Max Bruch's violin works. Today his best known work, the first violin concerto.
Donald Macleod explores Max Bruch's violin works. Today his best known work, the first violin concerto in G minor.
Melody, said Bruch, represents the "soul of music" and nowhere is that better represented than in his famous violin concerto. It's a work which brought him fame and fortune, but it's also a work he came to hate, since he felt its popularity suppressed performances of his other compositions. It's a sentiment that has some justification, since Bruch wrote some two hundred odd works, the majority of which are rarely performed.
Aside from a natural outspokenness and a tendency to take umbrage, which lead to some very prickly professional relationships, he also had to contend with some unlucky timing. Born in Cologne in 1838, Bruch was five years younger than Brahms. Even though he outlived him by some twenty years Bruch remained over-shadowed by one of the great luminaries of German music.
This week though the spotlight falls firmly on Bruch, as Donald Macleod explores his concerted works for the violin, an instrument with which he had a very close relationship. Starting with that most famous example Bruch came to resent so much, you can also hear the second violin concerto, which was championed in more recent times by Itzhak Perlman, the third violin concerto, the folk-inspired Scottish Melody and one of his final utterances for the instrument, the Konzertstück, Opus 84.
Today, Donald Macleod gets his first taste of Bruch's unfortunate ability to undermine the positive, while some timely advice from a star violinist of the day, Joseph Joachim helps Bruch to rekindle his confidence in the first violin concerto.
Adagio Apassionato
Jack Liebeck, violin
BBC Scottish Symphony Orchestra
Martyn Brabbins, conductor
Septet (2nd movt Adagio)
Consortium Classicum
6 pieces for solo piano op.12 No 4 to 6
Sophie Rahman, piano
Violin Concerto no 1 in G minor, op.26
Nigel Kennedy, violin
English Chamber Orchestra
Jeffrey Tate, conductor
Produced in Cardiff by Johannah Smith
Featured in...
We broadcast more live and specially-recorded concerts and opera than any other station.