Main content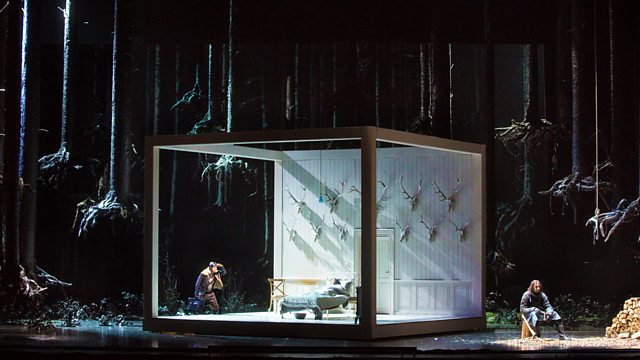 Iolanta and Bluebeard's Castle
Tonight's opera from the Met is a double bill of Tchaikovsky and Bartok one-act operas with two put-upon heroines sung by Sonya Yoncheva and Angela Denoke.
Tonight's opera from the Met is a double bill of Tchaikovsky and Bartok one act operas. Soprano Sonya Yoncheva sings Iolanta, a blind princess hidden away by her father who's determined that she should never find out about her blindness. She has been promised to Robert, but it's his friend the dashing knight Vaudémont who falls for her. Then to a less fortunate wife, as Angela Denoke sings Judith who learns some unpleasant truths about her new husband behind the castle doors.
Presented from New York by Mary Jo Heath and Ira Siff.
Iolanta:
Iolanta.....Sonya Yoncheva (Soprano)
Count Vaudemont.....Matthew Polenzani (Tenor)
Robert.....Alexey Markov (Baritone)
Ibn- Hakla.....Elchin Azizov (Baritone)
Rene.....Vitalij Kowaljow (Bass)
Almeric.....Mark Schowalter (Tenor)
Bertrand.....Harold Wilson (Bass)
Marta.....Larissa Diadkova (Mezzo-soprano)
Brigitta.....Ashley Emerson (Soprano)
Laura.....Megan Marino (Mezzo-soprano)
New York Metropolitan Opera Orchestra
New York Metropolitan Opera Chorus
Henrik Nánási (conductor)
Bluebeard's Castle:
Judith.....Angela Denoke (Soprano)
Bluebeard.....Gerald Finley (Bass)
New York Metropolitan Opera Orchestra
New York Metropolitan Opera Chorus
Henrik Nánási (conductor)
For full synopsis visit programme page
Last on

Music Played
Franz Schubert

Sonata in A major for violin and piano, D 574, 'Grand Duo'

Performer: Julia Fischer. Performer: Martin Helmchen.
Synopsis
IOLANTA
Iolanta is blind. She lives a secluded life and is treated like a doll. A long time ago her father, King René, hid her from the world and placed her in the care of simple people, Martha and Bertrand. His greatest concern is for his daughter never to find out she is blind. He also doesn't want the news of Iolanta's blindness to reach Robert, her future husband. Iolanta is convinced that eyes are only for crying. But she is becoming anxious and has some vague presentiments.
Alméric arrives at Iolanta's dwelling, announcing a visit from the King and a famous Moorish physician. The doctor's diagnosis is clear: Iolanta must be told of her disability before treatment can begin. René says no.
Robert and Vaudémont appear at Iolanta's house. They are overawed—the place seems to hide a secret, danger, they feel threatened. They meet Iolanta, not knowing who she is. Robert doesn't realize she is his betrothed, whom he doesn't want to marry because he loves someone else. Vaudémont is enchanted with the girl while Robert is worried by this mysterious place. Enthralled with Iolanta's beauty, Vaudémont asks her to give him a red rose as a keepsake. Iolanta hands him a white one, twice. Vaudémont realizes that she can't see. Iolanta has no idea what it means to see, she isn't aware what she is missing. King René catches Vaudémont talking to Iolanta and is furious with him for revealing the secret to her. With no will of her own, Iolanta doesn't even know whether she wants to be able to see—she will do anything her father tells her. This only confirms the doctor's words that without an inner desire, no change is possible. To awaken her desire to regain her sight, the King threatens that if the treatment fails Vaudémont will be killed. Iolanta is healed and her father consents to her marriage to Vaudémont. But regaining her sight doesn't bring Iolanta the expected deliverance. Blinded by the world, she can't believe that the people she loves look the way they do. Her love for Vaudémont and the wedding ceremony subdue her fears.
BLUEBEARD'S CASTLE
Judith has come to live with Bluebeard, having left her family home and her peaceful, ordered existence. Bluebeard's secret mesmerizes her—she knows the terrifying rumors, she fears she may be on a road of no return, yet she decides to enter his home. The door closes. Judith confesses her love for Bluebeard, believing that it will change him and light up his gloomy home. She repeats her profession of love like a mantra as she demands that the doors to seven rooms be opened. The first one is a torture chamber, the second an armory. These rooms fill her with terror. The next doors conceal a treasury and a garden. Then Bluebeard shows his empire to Judith. She sees blood everywhere: on jewels, weapons, flowers. She doesn't want to defer to Bluebeard who says, "Love me" and "Ask no questions." Judith responds that she loves him and wants him to open up to her, reveal his inner self, uncover his fears. She demands that all the doors be opened. The sixth door, which conceals a sea of tears, is where Judith reaches the limit of knowledge. That leaves the seventh door. Behind it is a space beyond life, on the border of life and death. There are concealed Bluebeard's previous wives. Passing through the seventh door, Judith joins them. She is made a part of Bluebeard's space forever. The circle of her journey closes.
Broadcast