Main content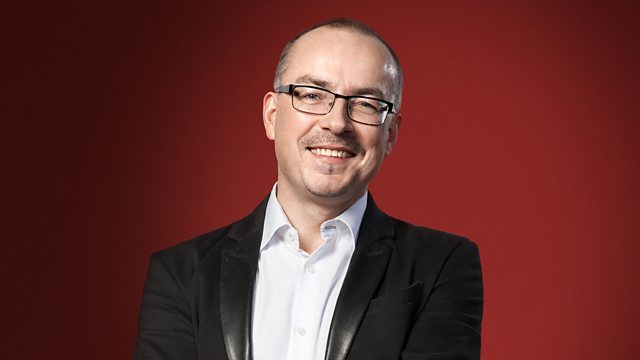 Andrew McGregor with Nicholas Kenyon and Sarah Walker
Andrew McGregor rounds up the best new and recent releases, and in Building a Library Sir Nicholas Kenyon compares recordings of Beethoven's 5th Piano Concerto, Op. 73, 'Emperor'.
with Andrew McGregor.
09.30
Building a Library: Sir Nicholas Kenyon listens to and compares some of the available recordings of Beethoven's Piano Concerto No.5 in E flat major, Op.73, 'Emperor'.
Beethoven's 5th Piano Concerto in E flat major, Op.73, nicknamed the 'Emperor' is the grandest and even the most symphonic of Beethoven's concertos. It is also the best known of Beethoven's five piano concertos and the most often performed. From the very first bars, the orchestra and soloist engage in what sounds like an heroic battle.
The Emperor Concerto, as it has come to be known, was begun in 1808 and dedicated to Beethoven's friend and student, the Archduke Rudolf who gave its Leipzig premiere in 1811. The piano had become a more expressive instrument through new technological developments, and the Emperor Concerto therefore quickly became very popular. Carl Czerny gave its Vienna premiere in 1802 and Franz Liszt also loved to play the concerto.
11.00
Sarah Walker reviews some of the most exciting new releases of chamber music.
11.45
Andrew chooses an outstanding new release as his Disc of the Week.
Record Review
9.00am
Arriaga: Overture to 'Los esclavos felices', Herminie, Overture Op.20, Air de l'Opéra Médée & Symphonie a grand orchestra
Berit Norbakken Solset (soprano)
BBC Philharmonic
Juanjo Mena (conductor)
Chandos CHAN 20077
https://www.chandos.net/products/catalogue/CHAN%2020077

'Extravagantes Seicento: Sonatas for violin and viola da gamba at the Habsburg Court' including works by Albertini, Mealli, Kerll, Schmelzer, Biber & Capricornus
Girandole Armoniche (ensemble)
Esther Crazzolara (violin)
Teodoro Bau (viola da gamba)
Federica Bianchi (harpsichord)
Arcana A113
https://outhere-music.com/en/albums/extravagantes-seicento-sonatas-for-violon-and-viola-da-gamba-at-the-habsburg-court-a113
'Jeremy Denk c.1300-c.2000' including works for piano by Machaut, Binchois, Gesualdo, Bach, Mozart, Chopin, Debussy Stockhausen, Ligeti, Philip Glass etc.
Jeremy Denk (piano)
Nonesuch 7559-79347-1 (2 CDs)
https://www.nonesuch.com/albums/c1300-c2000
9.30am – Building a Library – Nicholas Kenyon on Beethoven's Piano Concerto No.5 in E flat major, Op.73 'Emperor'
Composer: Ludwig van Beethoven
Reviewer: Nicholas Kenyon
Recommended Recording:
Hannes Minnaar (piano)
Netherlands Symphonic Orchestra
Jan Willem de Vriend (conductor)
Channel CC72672
https://challengerecords.nativedsd.com/albums/CC72672-piano-concertos-4-5
Other Recommended Recordings:
Classic
Claudio Arrau (piano)
Philharmonia Orchestra
Alceo Galliera (conductor)
EMI CDZ 7 67384
Later generation
Krystian Zimmerman
Wiener Philharmoniker
Leonard Bernstein
DG 435 470-2
10.20am – New Releases
Mahler: Symphony No.2 in C minor, 'Resurrection'
Ruby Hughes (soprano)
Sasha Cooke (mezzo-soprano)
Minnesota Chorale
Minnesota Orchestra
Osmo Vanska (conductor)
BIS-2296 SACD (Hybrid SACD)
http://bis.se/conductors/vanska-osmo/mahler-symphony-no2-resurrection
Liszt: Années de pèlerinage, troisième année & other late piano works
Cédric Tiberghien (piano)
Hyperion CDA68202
https://www.hyperion-records.co.uk/dc.asp?dc=D_CDA68202
10.50am – Sarah Walker on new chamber music releases
Bartók: String Quartets Nos. 1-6
Quatuor Diotima
Naive V5452

Beethoven: Septet Op.20 + Strauss: Fruhlingsstimmen, Perpetuum Mobile & Weber: Introduction, Theme & Variations for Clarinet & String Quartet
Emma Johnson (clarinet)
Peter Francombe (horn)
Philip Gibbon (bassoon)
Carducci String Quartet
Chris West (double bass)
SOMMCD 0190
https://www.somm-recordings.com/recording/emma-johnson-friends-2/
Górecki: String Quartets Nos. 1 & 2 + Genesis I: Elementi
Tippett Quartet
NAXOS 8.573919
https://www.naxos.com/catalogue/item.asp?item_code=8.573919
'So many stars' – Sonatinas for violin and piano by Alwyn, Berkeley, Crosse, Francaix, Frances-Hoad & Sibelius
Fenella Humphreys (violin)
Nicola Eimer (piano)
Stone Records, 5060192780826
http://stonerecords.co.uk/album/so-many-stars/
Fauré: Piano Trio in D minor, Op.120; Chausson: Piano Trio in G minor, Op.3 & Satie: Le Piege de Méduse (arr. White)
Fidelio Trio
Resonus RES10232
https://www.resonusclassics.com/faure-chausson-satie-piano-trios-fidelio-trio-res10232

11.45am – Disc of the Week
Tchaikovsky: The Queen of Spades, an opera in 3 acts
Vitaly  Tarashchenko (tenor)
Natalia Datsko (soprano)
Irina Arkhipova (mezzo-soprano)
Dmitri Hvorostovsky (baritone)
Nina Romanova (mezzo-soprano)
Grigory Gritsyuk (baritone)
Alexander Vedernikov (bass)
Alexander Dyachenko (tenor)
Vladimir Grishko (tenor)
Oleg Klenov (baritone)
Vladimir Grishko (tenor)
Tatiana Kuzminova (mezzo-soprano)
Lidia Chernykh (soprano)
Moscow Radio Symphony Orchestra
Yurlov Republican Academic Choral Capella
Vladimir Fedoseyev (conductor)
Melodiva MEL CD 10 02549 (3 CDs)